September 30, 2011 -
Dave Miller
What happened to South Florida at Heinz Field?
Playing on Thursday nights just isn't working out for South Florida.
Whether it's Jim Leavitt or Skip Holtz on the sideline, the Bulls have yet to break through on the national stage, falling to 0-7 all-time on Thursdays after they were thoroughly beaten by Todd Graham's Pittsburgh squad 44-17 last evening.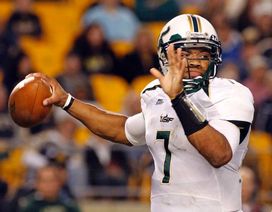 B.J. Daniels and the USF offense were made one-dimensional by Pitt's defense Thursday night.
Entering the game ranked third in the Big East in rushing defense, allowing just 82 yards per game, the previously unbeaten Bulls allowed Pitt star tailback Ray Graham to rush for 226 yards and two touchdowns, and the dynamo finished the night with 303 all-purpose yards. Despite the stout numbers against the run coming into the game, the USF rush defense now is a major concern considering Notre Dame running back Cierre Wood rushed for 110 yards and a touchdown in Week 1. Certainly, the inferior ground games they faced in between those contests helped their overall numbers against the run.
Panthers quarterback Tino Sunseri, who was struggling to perform well in the new spread attack up until last night, unquestionably had his best performance of the season. He went 22-of-33 for 216 yards with a touchdown and also ran for 35 yards and a score. What was most impressive about his performance was he looked comfortable running on the zone reads -- something that signal-callers have to be able to do in this offense. He also got rid of the football on time and avoided getting sacked after being dropped to the ground six times by ND last week.
With help from an offensive line that was missing two starters, Sunseri and the ground attack really dominated a Bulls front four that didn't bring their customary aggression.
USF was supposed to be the more confident team, coming in unbeaten and with a quarterback playing the best football of his career. But dual-threat signal-caller B.J. Daniels had his worst game of the season, completing only 18-of-36 for 223 yards with 43 more yards coming on the ground. However, USF did have to give up on the run game when the game was out of reach, so Daniels had to serve as a one-man crew, which won't bode well for the team's fortunes if he's put in that position again.
The main concern for Holtz is the team's defense, which was out of sync and played its worst game of the year against a team coming off of back-to-back brutal losses to Iowa and Notre Dame. It was Pitt, and not USF, who looked like the real competition for West Virginia in the race for the Big East title Thursday night at Heinz Field. And that wasn't expected coming into the contest.
The Bulls still have a chance to change our opinions, but last night was not a good showing at all. And now they'll have an abundance of time to think about this loss, as their next game isn't until October 15 at UConn.
Email dave.miller@nationalfootballpost.com or follow me on Twitter at Miller_Dave