September 15, 2011 -
Dave Miller
What to watch in tonight's LSU-Miss. State showdown
Just five days after falling short in its 41-34 slugfest at Auburn, Mississippi State has to refocus and prepare for an incredibly difficult test against the NFP's top-ranked team, LSU.
Will Dan Mullen's squad rebound from the oh-so-close loss last weekend and avoid essentially falling out of the SEC West race? Or can the Tigers win their 12th straight against Bulldogs behind some Les Miles magic while overcoming the deafening sound of cowbells in Starkville?
Here's what to watch tonight when this SEC showdown kicks off.
And check out Wes Bunting's take on the game from a scout's perspective.
The Tigers' run defense is top-notch under Chavis
In their season opener against Oregon, LSU held the Ducks' prolific rushing attack to just 95 rushing yards and forced quarterback Darron Thomas to throw 54 times. Chip Kelly's squad had just 28 rushing attempts in the game, taking the entire up-tempo offense out of its rhythm. In two games this season, LSU is giving up just 215 yards per game, and the defense features a deep, strong and quick front four. Mississippi State at least matches up better than the Ducks because they have running back Vick Ballard and quarterback Chris Relf, two big bodies who can hold up against the physical pounding it will take against bigger defenders.
The Bulldogs are averaging 321 rushing yards in their first two games, but the Tigers' rushing defense ranks eighth nationally at 45.5 yards per game. Power versus power. And certainly a much different run defense for the Bulldogs to face than Memphis and Auburn, whose rebuilt defensive line has potential but is raw.
Mullen said Wednesday that offensive tackle James Carmon will miss the game with a knee injury and that center Quentin Saulsberry is questionable. That could be troubling against a deep and talented Tigers defensive line. Keep an eye on Bulldogs running back LaDarius Perkins, who can get to the outside a little quicker than Ballard and who will need to break off a big run or two in this contest.
Can the Bulldogs generate pressure against Lee?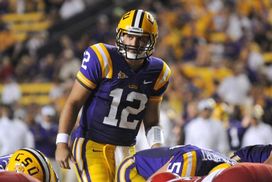 ICONJarrett Lee was the last LSU quarterback to throw an interception against Mississippi State -- in 2008.
Something is missing on this Bulldogs defense. And it's not just disruptive end Pernell McPhee and star linebacker Chris White. The loss of former coordinator Manny Diaz really was evident in the loss to Auburn, so the question is whether co-coordinators Chris Wilson and Geoff Collins can make the necessary adjustments in a short week to disrupt a Tigers offense that has been so dominant on the ground in its first two games behind the running of Spencer Ware and Michael Ford. Auburn racked up 235 yards on the ground last week against the Bulldogs, paced by super sophomore Michael Dyer. MSU's best bet might be to stack the line and dare LSU quarterback Jarrett Lee to beat them. While the last time the Tigers threw an interception against the Bulldogs was in 2008, the quarterback for LSU that game was Lee. But that was his freshman season, the same year he was nicknamed "Pick Six" for his propensity to give the opposition a quick touchdown. Will Wilson and Collins take a page from the book of Diaz and pressure Lee enough to make mistakes?
Can the Bulldogs seize the moment?
Mullen has talked many times about taking that next step as a program in his third year in Starkville. After the team's demolition of Michigan in the Gator Bowl to close out last season, MSU was expected to be a darkhorse contender for the SEC West title. But a loss would essentially eliminate them from the race before October's arrival. The enthusiastic Mullen has just two wins versus the West in his career -- against Houston Nutt and rival Ole Miss. Mississippi State's last win over a Top 10 program was in 2000 when it scored a 47-35 victory over then-No. 3 Florida. Then there's that losing streak to LSU. Are the Bulldogs ready for their moment? They almost were last year when they came close to beating Cam Newton and Auburn on a Thursday night. Will this year be different?
Email dave.miller@nationalfootballpost.com or follow me on Twitter at Miller_Dave