October 13, 2011 -
Dave Miller
What to watch in tonight's USC-Cal showdown
California will play in its second consecutive Thursday night contest when the Golden Bears host USC at AT&T Park in San Francisco.
In last season's meeting, USC quarterback Matt Barkley tied a school record with five touchdown passes in a 48-14 win — all of the scores coming in the first half. In all, he's tied that USC mark three times in the last two seasons.
Can the Bears steal a win over the Trojans and avoid an 0-3 start in league play? Here's what to watch tonight when this Pac-12 showdown kicks off.
And be sure to check out Wes Bunting's take on this contest from a scout's perspective.
Can Cal defend the Barkley-to-Woods connection?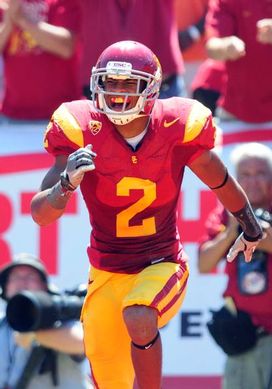 ICONWR Robert Woods has lit up scoreboards all season long for the Trojans.
There's not too many QB-WR combos better than Matt Barkley and Robert Woods right now. Last time the Trojans were in action, Barkley threw for a school-record 468 yards while completing 32 of 39 passes, while Woods had 14 receptions for 255 yards and two scores. Last year when these teams met at the Coliseum, Barkley and Woods connected on two of the five touchdown pass plays, and the junior signal-caller completed 25 of 37 passes for 352 yards. No matter how many times Cal defensive coordinator Clancy Pendergast tried to confuse Barkley with a variety of fronts and schemes, the quarterback was not rattled. This season, Barkley has thrown 14 touchdowns against four interceptions and is ranked eighth nationally in passing yards per game and 14th in passing efficiency. Woods has already put up numbers that wouldn't be too shabby for an entire season: 55 catches for 747 yards and 6 touchdowns. This duo is putting up big numbers, and the Cal secondary has to be able to limit their damage.
Solving the 3-4
Pendergast's defense will be the first 3-4 unit the Trojans have played this fall, but it wasn't a problem for them last year obviously. But the Bears' strength is their front seven, and Cal doesn't play a traditional 3-4 scheme -- Pendergast will employ more variety. Keep in mind that this USC offensive line is a major question mark, so seeing a 3-4 for the first time will be a challenge for these new Trojan starters. But Cal's opponents have been able to average 28.0 points and 364.0 total yards per game this fall, and the Golden Bears are giving up over 13 yards per pass completion while allowing 10 touchdowns through the air. Either generating a pass rush or being stout against the run will be crucial. If they could force Barkley into third-and-longs, they could have some success, as they have limited opponents to 33 percent success on third-down conversion attempts.
Can Maynard consistently deliver to Allen and Jones?
Cal's Zach Maynard isn't the most accurate quarterback in the world, but he can still deliver a strike that results in a big play. In Keenan Allen and Marvin Jones, the Bears possess the best pass-catching duo in the Pac-12 conference. The two have combined for 68 catches, 1,009 yards and seven touchdowns on the season. If running back Isi Sofele could give the Bears balance on the ground, the Cal offense could be tough for the Trojans to stop. Of course, Jeff Tedford's squad will have to cash in on its red-zone opportunities, which has been a problem this fall. Three times at Washington the Bears drove into the red zone but came away with only three points. Against Oregon last week, it occured twice and one other time when Cal moved to the Ducks' 21-yard line.
Email dave.miller@nationalfootballpost.com or follow me on Twitter at Miller_Dave