April 11, 2012 -
Dave Miller
What's next for Arkansas?
Listen to my spot on Yahoo! Sports Radio as I talk with David Nuno about Bobby Petrino and the future of the Arkansas program.
As many had expected, Arkansas athletic director Jeff Long relieved Bobby Petrino of his head-coaching duties Tuesday evening, ending a tumultuous period the last week or so in Fayetteville.
Petrino was fired after hiring his mistress, 25-year-old Jessica Dorrell, and misleading Long about their relationship and her presence at the scene of the motorcycle accident that put the wheels in motion for his dismissal.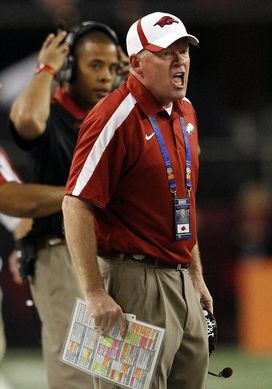 ICONBobby Petrino went 34-17 with a Sugar Bowl berth in four seasons at Arkansas.
"He made the decision, a conscious decision, to mislead the public on Tuesday, and in doing so negatively and adversely affected the reputation of the University of Arkansas and our football program," Long said at the Tuesday evening presser. "In short, coach Petrino engaged in a pattern of misleading and manipulative behavior designed to deceive me and members of the athletic staff, both before and after the motorcycle accident."
The 51-year-old Petrino, who went 34-17 with a Sugar Bowl berth (the school's first BCS bowl game) in four seasons at Arkansas, was fired "with cause," so the former Atlanta Falcons head coach will not receive the $18 million buyout as per his contract. He released a statement shortly after Long's presser.
"The simplest response I have is: I'm sorry. These two words seem very inadequate. But that is my heart," Petrino said. "All I have been able to think about is the number of people I've let down by making selfish decisions. I've taken a lot of criticism in the past. Some deserved, some not deserved. This time, I have no one to blame but myself.
"I chose to engage in an improper relationship. I also made several poor decisions following the end of that relationship and in the aftermath of the accident. I accept full responsibility for what has happened."
So where do the Razorbacks go from here?
Petrino helped build Arkansas into an SEC power and recorded a 21-5 mark the last two seasons, including taking the Razorbacks to the Sugar Bowl in 2010. Can the Hogs maintain that success both in the short and long term?
Let's take a look at the two routes that Long can take in the wake of Petrino's dismissal.
Option 1: Focus on 2012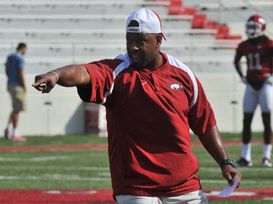 Keeping Taver Johnson as the interim head coach through the 2012 season may be AD Jeff Long's best bet.
Long and the Razorbacks could decide to keep assistant head coach Taver Johnson, who was just hired this offseason, as the team's interim head coach past spring practice and into the 2012 season. Johnson was an Ohio State assistant last season when the Buckeyes were dealing with a memorabilia-for-cash scandal that cost head coach Jim Tressel his job. Because of his experience dealing with the toxic situation in Columbus, he could be the tonic that this Hogs program needs at this time. But how will the current crop of Razorback players relate to Johnson once the season begins, especially at the first sign of on-the-field adversity? Will they tune him out, knowing that he likely is the head guy for just one season? Long will need to determine just how much of an impact Johnson makes this spring and whether he could navigate a talented Hogs team through the 2012 season until a permanent replacement is found. The AD could also promote another assistant to the interim job, but that is unlikely with Johnson currently at the helm. In terms of short-term solutions, Johnson has been pegged as the guy. We'll now see how long that lasts and whether Long feels that this program can sustain success this fall with an interim guy.
Option 2: Think longterm future immediately
Long has said that a search for a permanent replacement for Petrino will begin immediately. In the meantime, Johnson will remain the interim head coach at least through spring drills. At that time, Long will decide whether Johnson is the right person to lead the Hogs into the 2012 campaign. So this fall, we will see either Johnson, another assistant (not very likely, as mentioned above) or a person outside of the program running out of the tunnel for the season opener.
As I wrote earlier today at the NFP, there are a variety of candidates who could be on Long's wish list. The problem is the timing issue. The already employed bigger-name coaches who would have been interested in this job if it were open earlier in the offseason may be uncomfortable arriving in Fayetteville with spring drills already nearly completed. And this is compounded by the fact that potential top candidates Garrick McGee and Gus Malzahn have just become head coaches at the college level for the first time. Other potential candidates such as Charlie Strong and Gary Patterson are leading emerging or already solid programs, and Butch Davis just doesn't seem realistic because of the turmoil that went on during his UNC days. At this point, coaches such as Paul Rhoads or Dave Wannstedt may be the most likely targets, but the timing just doesn't seem right. That's why, outside of McGee, standing pat and going the interim route for 2012 with a talented Razorbacks squad seems like Long's best choice. So keeping Johnson in charge, in my opinion, has to be the way to go.
Email dave.miller@nationalfootballpost.com or follow me on Twitter at Miller_Dave