February 09, 2011 -
Dave Miller
What's next for Nebraska commit Starling?
So Bubba Starling signed his letter-of-intent with the Nebraska football team last Wednesday. But does that really mean anything for head coach Bo Pelini and the Cornhuskers?
The dual-threat quarterback from Gardner, Kan., is one of the most talented baseball players in the country, and his signature in Lincoln doesn't prevent him from signing with an organization in Major League Baseball after June's amateur draft.
And as Baseball America's top high school prospect, the contract will be worth millions of dollars.
The four-star quarterback recruit said he is focused on just having a good season on the diamond this spring and letting things fall into place. Whether he plays pro baseball or enrolls at Nebraska as a two-sport athlete, he'll win either way.
But he certainly has Huskers fans on the edge of their seats.
The deadline for MLB teams to sign a player who is drafted this summer is Aug. 15. If Starling opts not to sign a baseball contract, he is expected to put his pro baseball career on hold for three years and focus on football and baseball in Lincoln. He could sign a baseball contract and play football-only at Nebraska, although that's unlikely. The other scenario is to play pro baseball and come back to play football in a few years if he decides the diamond isn't for him.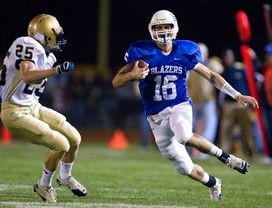 Bubba Starling rushed for 2,417 yards in his senior season.
While his baseball skills are certainly deserving of the hype, the 6-5, 195-pounder remains an intriguing football talent. During his senior season, Starling rushed for 2,417 yards — much thanks to his 4.4 time in the 40-yard dash. A U.S. Army All-American Bowl participant, he could be a real difference-maker on the football field.
He has room to grow into his frame, which will allow him to withstand the pounding he would take in the Big Ten. He has a good enough arm to be a true passing threat, and he has football moxie.
The question is, will we ever see him on the field at Memorial Stadium?
Nebraska fans can only hope.
Email dave.miller@nationalfootballpost.com or follow me on Twitter at Miller_Dave
Want to work in the NFL? Click here to sign up for the NFP's "Chalk Talk at the Combine" Seminar February 25 in Indianapolis.