September 23, 2010 -
Dave Miller
Where does the Pittsburgh offense go from here?
Pat Bostick replaced Tino Sunseri under center early in the fourth quarter of Pittsburgh's 31-3 loss to Miami Thursday night at Heinz Field.
The change at quarterback didn't do anything to build any sort of momentum for the offense moving forward, however, as the Panthers fell to 1-2 on the season.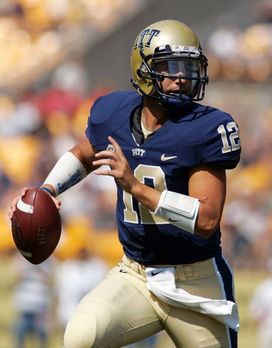 ICONTino Sunseri was replaced by Pat Bostick early in the fourth quarter Thursday night.
Pitt struggled again offensively — specifically the line, which allowed heavy pressure from the Hurricanes defense all night long. Sunseri struggled to get into any sort of rhythm while running back Dion Lewis again was a nonfactor. The nation's leading returning rusher heading into the season finished with just 41 yards on 12 carries and has been held to 143 yards in three games.
Wide receivers Jonathan Baldwin and Mike Shanahan also were taken out of the game early by the Hurricanes defensive backs.
Sunseri finished 8 of 15 for 61 yards in his third college start. Bostick was 5 of 9 for 43 yards with two interceptions, with the second coming when Baldwin gave up on the play.
The Panthers didn't pick up a first down until their final drive of the first half, which ended when they missed a 52-yard field goal. They trailed 10-0 at halftime — and it could have been worse.
Offensive coordinator Frank Cignetti obviously needs to go into his lab and cook up something — anything — for this unit. Not even a trick play featuring Greg Cross taking a handoff and looking to throw could move the ball down the field. That play netted an 18-yard loss.
Pitt will host FIU next week at Heinz, the same FIU squad that played Rutgers and Texas A&M tough. Then the Panthers travel to South Bend to take on Notre Dame.
Could the Panthers possibly have three losses heading into Big East play?
Follow me on Twitter at Miller_Dave or send your college football questions to dave.miller@nationalfootballpost.com
Click here to win cash today playing fantasy football with the NFP and FanDuel.