February 08, 2011 -
Dave Miller
Where will Forcier land?
Tate Forcier's college football career has certainly been one hell of a rollercoaster ride.
The prep star from San Diego was on the national radar almost immediately when he arrived at Michigan, as he debuted with the Wolverines as the starting quarterback to begin the 2009 season — joining Chad Henne and Rick Leach as the lone freshmen in three-plus decades to start an opener for the Wolverines under center.
Things were going well for the 6-1, 192-pounder as he led the team to a 4-0 start and had fans excited for the Rich Rodriguez era. His ability to freelance and make plays — no matter how wacky or unscripted they may have been — helped make Michigan football relevant again.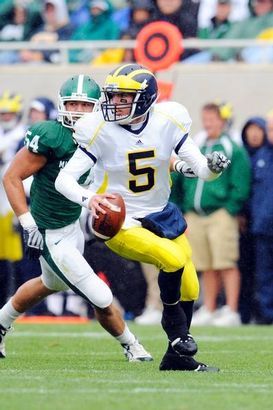 ICONTate Forcier had a promising start to his Michigan career before he fell down the depth chart.
He even wound up on the cover of Sports Illustrated.
And there's that damn curse again.
Forcier began to get hit by the injury bug, the team's defense began to show its true colors and the Wolverines lost seven of their next eight games. The 2009 campaign was a disaster.
Then, last spring, Forcier battled accusations that he wasn't working hard as his teammates in offseason workouts. There were whispers that his attitude and demeanor weren't very inviting. There were academic concerns. There was a perfect storm of doubt.
The shine was off of the armor.
Denard Robinson moved past Forcier on the depth chart and started the 2010 opener, where he began his incredible journey toward the front of the Heisman Trophy race in the early stages of the season.
Then, when freshman Devin Gardner replaced Robinson when he briefly left a contest after getting hit hard, Forcier knew his time in Ann Arbor was nearing an end. He put a towel over his head on the sideline and told annarbor.com after the game, "All you need to know is I'm out."
The frustration was too much to bear, and his stay at Michigan fittingly ended when he was ruled academically ineligible to play in the Gator Bowl against Mississippi State.
So Tate is taking the road that his older brothers, Jason and Chris, paved early in their college careers. Both transferred from the first college they attended. Along with his father, Michael, the former Wolverine isn't quite sure why things didn't work out in Ann Arbor. But, he's only looking forward at this point. And he has a few suitors who are intriguing possibilities.
Forcier has reportedly narrowed his transfer options down to five schools: Arizona, Kansas State, Miami (FL), Washington and Montana. The signal-caller said he hopes to visit all five schools within the next week, so he certainly wants to expedite the process.
The Hurricanes don't seem to be a great landing spot for a few reasons. First, former Rutgers quarterback Tom Savage may be a better fit for head coach Al Golden because academics are a high priority at the private university in Coral Gables. Of course, Forcier had academic issues at Michigan. Second, Savage's grandparents own a home in South Florida, which could be another selling point. Perhaps most important, however, is that Savage's family worked hard to get Rutgers head coach Greg Schiano to give the okay to transfer to a Florida school.
So, Savage's decision could influence that of the former Wolverine. Plus, there's also the fact that Stephen Morris showed well in relief of Jacory Harris last season for the 'Canes, although he will be learning a new offense this spring.
Landing on the West Coast may be a better option for Forcier, who threw for 2,647 yards with 17 touchdowns and 10 interceptions in 20 games at Michigan.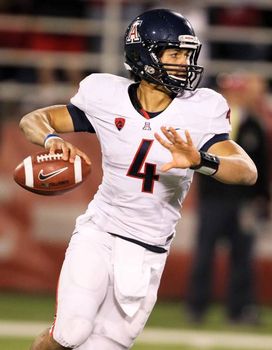 ICONThe possibility of Arizona backup QB Matt Scott redshirting in 2011 could affect Forcier's decision.
Arizona looked like a nice fit with Nick Foles and Matt Scott leaving the school after next season. However, it looks like the Wildcats will redshirt Scott, meaning there would be less of a need for Forcier in 2012. Head coach Mike Stoops also brought in quarterback recruit Daxx Garman.
So what about Washington?
This fall, the Huskies will replace Jake Locker with either Keith Price or Nick Montana, who will battle for the starting gig in the spring. Steve Sarkisian also brought in recruit Derrick Brown. Of course, if Price or Montana play well it will be hard for Forcier to beat him out in 2012.
Kansas State has soon-to-be junior Collin Klein slated to assume starting duties this fall, so Forcier could be looking at a wait until 2013 to start — and that would be his final season of eligibility.
Of course, if he transfers to an FBS school he will have to sit out the 2011 season and will have two years of eligibility remaining. But what if he chose Montana?
While it's likely he would prefer to continue his career at a more high-profile program, Forcier could fit best with the Grizzlies. They currently employ a wide-open offense that plays to his play-making strengths, and they are losing their top two signal-callers from 2010. Rising sophomores Jordan Johnson and D.J. Zapata played as true freshmen last year, but they combined for just 22 pass attempts and 55 passing yards. Forcier obviously would be eligible to play immediately, so he'd probably give Johnson and Zapata serious competition for the starting job.
But neither of Forcier's brothers transferred into situations in which they ended up starting, so perhaps Tate will follow their paths.
However, the jury is still out on whether he can finish his career more successfully than his siblings.
Email dave.miller@nationalfootballpost.com or follow me on Twitter at Miller_Dave
Want to work in the NFL? Click here to sign up for the NFP's "Chalk Talk at the Combine" Seminar February 25 in Indianapolis.