June 14, 2011 -
Dave Miller
Where will top Class of 2012 QB Kiel land?
One of the top quarterbacks in the Class of 2012, Gunner Kiel, was slated to make his college destination known this past Sunday.
But the college recruiting game is sometimes known more for its false alarms than its stone-cold locks, and that was the case over the weekend with the quarterback from the state of Indiana as he held off on an announcement while he continues to ponder his future.
On his Facebook page last Friday, Kiel posted the following message: "I'm sorry to everyone who thought I was going to commit this Sunday. I still have a lot to think about and when I am ready I will announce. Thanks."
The No. 2-rated signal-caller in the NFP's initial Class of 2012 QB rankings, the 6-4, 220-pounder from Columbus, IN, has been recruited by several of the biggest programs in the country, including Notre Dame, Michigan, Georgia, Iowa and Wisconsin.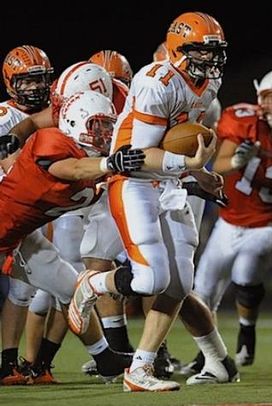 QB Gunner Kiel passed for 2,645 yards and 36 scores as a junior in 2010.
But the Columbus East High School star, who is a pure drop-back passer, is reportedly down to Oklahoma, Indiana, Alabama and Missouri — visiting each campus at least three times — with the Sooners holding a slight edge, according to many recruiting experts.
If OU does have an advantage, it shouldn't come as a surprise. After all, quarterbacks coach and new co-offensive coordinator (and primary play caller) Josh Heupel has been an integral part of the success of recent Sooner quarterbacks, including 2011 Heisman candidate Landry Jones. Working with the OU signal-callers on a consistent basis to maximize their talents is second nature for Heupel, who himself began the decade-long string of prolific Sooner quarterbacks with his national championship season in 2000. And since becoming the quarterbacks coach in Norman in 2005, Heupel has worked hard to keep OU as one of the premier programs in the country for quarterbacks to flourish. His strong acumen on the recruiting trail, where the groundwork for success is laid for any successful program, is also a key selling point for the Sooners. Just ask St. Louis Rams quarterback Sam Bradford, who won the 2008 Heisman Trophy under Heupel's tutelage.
Could Kiel be the next accomplished Sooner and potential NFL franchise quarterback?
Of course, it's well too early to think about such a lofty career path. But the high school star has a very talented skill set. After throwing for 2,300 yards and 25 touchdowns as a sophomore in 2009, he passed for 2,645 yards and 36 scores while being an honorable mention Class 5A All-State pick and first-team all-conference selection last season. His junior campaign followed a strong offseason in which he impressed a lot of schools with his play on the spring and summer camp circuit.
In addition to his talent, Kiel also has the genes, as he comes from a family of quarterbacks. Uncle Blair Kiel played at Notre Dame, older brother Drew lines up under center at Illinois State and older sibling Dusty will likely start at Indiana and run, coincidentally, former Oklahoma offensive coordinator Kevin Wilson's offense in Bloomington.
Any quarterback recruit looking at Indiana has to be enamored with the idea of running Wilson's offense, which was so dominant in Norman for so many years.
Highlights of Kiel are courtesy of 247 Sports.
No matter where Kiel decides to play, it's clear he has options — which is always a good problem to have when you're one of the best players in the nation at your position. If he elects to play at Alabama, can you disagree with wanting to play for a head coach in Nick Saban who runs his program like a well-oiled NFL franchise? Or, if he chooses to enroll at Missouri, how can one argue with playing in Gary Pinkell's system — one which has produced prolific seasons with Chase Daniel and 2011 first-rounder Blaine Gabbert under center.
Kiel has plenty of time to decide, but he certainly has fans of all four reported finalists on the edge of their seats.
Email dave.miller@nationalfootballpost.com or follow me on Twitter at Miller_Dave