November 10, 2011 -
Barry Dorey
Who could be in line to replace Nutt at Ole Miss?
Houston Nutt will no longer lead the Ole Miss football program beyond this season, as the school announced earlier in the week that Nutt will resign at the end of the season and that athletic director Pete Boone will resign within the next year.
The former Arkansas head coach led the Rebels to back-to-back Cotton Bowl wins in his first two seasons in Oxford (when the team won nine games each year), but the progam has really fallen on hard times the last two campaigns, as Nutt's squad has lost 15 of its last 21 games — including 12 straight SEC contests.
Nutt's demise ultimately lies in the fact that he wasn't able to get quality, consistent play from his recruits. It also didn't help that he has been unable to find a steady quarterback. The Jeremiah Masoli Experience didn't quite work out in 2010, and three quarterbacks have been used this season, contributing to a poor offense that ranks 11th in the league in total yards per game (295.7)
Who will chancellor Dan Jones seriously consider for the gig? Let's take a look at some names who could be on his short list...
Gus Malzahn, Auburn offensive coordinator: Any list of potential head-coaching candidates is likely to begin and end with Malzahn, at least when discussing assistants being ready to get their own head gig. The Auburn offensive coordinator was heavily wooed by Vanderbilt last offseason but elected to remain on The Plains. Whatever the reason for his bypassing the Commodores — holding out for a better job? — Malzahn remains on the minds of many athletic directors because of the effectiveness of his offense. While the Tigers are struggling to adjust to life after Cam Newton, Malzahn has proven that his system works at other stops as well, including Tulsa and Arkansas. He could win at Ole Miss, but will the fans burden him with unrealistic expectations? And would he even be interested in a job that might pay $2 million per year when he already makes $1.5 million?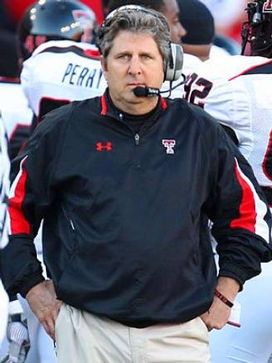 Will 2012 be the year that Mike Leach returns to the sideline?
Mike Leach, former Texas Tech head coach: Leach's name seemingly comes up whenever there is a vacancy because of his great success at Texas Tech. While he said Tuesday that he hasn't had contact with anyone from Ole Miss, he did admit that he's interested in the pending vacancy, noting that it's "a great job." The 50-year-old Leach is currently working for the CBS College Sports Network and for Sirius satellite radio in his second season away from the sideline following a 23-year coaching career. Bringing the "Air Raid" offense to Oxford would certainly produce exciting offenses, and it produces winning seasons. In 10 years in Lubbock, Leach went 84-43 and guided the Red Raiders to a bowl every season. Even though the SEC has been known for its defenses, Arkansas is a good example of a team that has excelled because of its prolific offense. The biggest stumbling block for Leach remains his involvement in two ongoing lawsuits over the Adam James incident at Texas Tech. Would Ole Miss want to deal with that potential distraction?
Kevin Sumlin, Houston head coach: Sumlin will be one of the hottest names on the lists of BCS athletic directors because of his body of work at Houston, where he is 32-16 in less than four seasons. The Cougars are undefeated and currently ranked No. 11 in the latest BCS standings, and he brings a wealth of knowledge to the job after working under Bob Stoops at Oklahoma among many other stops. He certainly would bring fans to the stadium because of his high-powered passing attack, and he is regarded as a good recruiter.
Kirby Smart, Alabama defensive coordinator: Anyone associated with Nick Saban is a smart guy, and that's exactly what Smart has proven to be over the years. The Alabama defensive coordinator may get a little help because of his head coach's own great defensive mind, but Smart is a hot commodity because of the Crimson Tide's dominant unit.
Larry Fedora, Southern Miss head coach: Fedora has led the Golden Eagles to an 8-1 start and a Top 25 ranking this fall, and they are positioned to play for the C-USA title. A former coordinator under Ron Zook at Florida and Mike Gundy at Oklahoma State, he's one of the most respected offensive coaches in college football and is 29-18 in four years at Southern Miss, including 3 wins against BCS opponents. Southern Miss is averaging 37.6 points per game this season, and his fun brand of football can bring new energy to Ole Miss.
Charlie Strong, Louisville head coach: Strong is a fantastic recruiter and actually served as wide receivers coach at Ole Miss in 1990. The former Florida defensive coordinator will be coveted by a lot of programs looking for head coaches, but he recently signed a contract extension, which would keep him with the Cardinals until 2018. However, Louisville is currently shut out of the conference expansion arms race. Would Strong jump at the opportunity to compete in a stronger league than the Big East?
Manny Diaz, Texas defensive coordinator: Diaz is ready to become the face of a program after rising up the assistant ranks. He worked wonders at Mississippi State and is having success this season at Texas as defensive coordinator. He also has worked at Florida State, N.C. State and Middle Tennessee State. He has an infectious personality and knows the state of Mississippi.
Lesser-known names that could be a fit: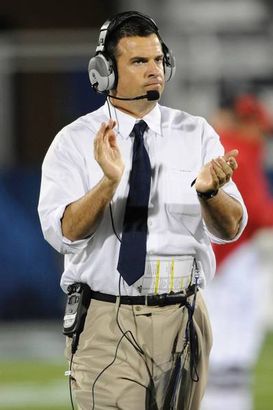 ICONMario Cristobal has overhauled the FIU program after it suffered through NCAA sanctions.
Mario Cristobal, Florida International head coach: Cristobal took the Golden Panthers to their first bowl game last season, though it would be tough to sell a fan base on a coach who has a 21-36 record in four-plus seasons at FIU. But he inherited a program in disarray after NCAA sanctions, and his seven victories last year were the most in program history. Cristobal can turn around a program, and he also is a good recruiter who can bring players from Florida into the Ole Miss program.
Hugh Freeze, Arkansas State head coach: Freeze worked in Oxford from 2005-07 under Ed Orgeron, and he has led the Red Wolves to a 6-2 record in his first season. Arkansas State is the only undefeated team in Sun Belt play but he doesn't have a lot of head coaching experience on the FBS level.
Mark Hudspeth, UL-Lafayette head coach: Hudspeth has the Ragin' Cajuns at 8-2 in his first season at the Sun Belt school. Before his arrival at Louisiana-Lafayette, Hudspeth recorded a 66-21 record at North Alabama and coached wide receivers at Mississippi State.
Nutt didn't get a lot of production from his recent recruiting classes until this season, so the new head coach will likely be playing with a young roster in his first season. The Rebels' 12 commitments for the 2012 class will now have to weigh their options. Interestingly, only two of the commits are from the state of Mississippi, and that was a major problem of the Nutt regime. He wasn't able to consistently recruit the state of Mississippi until winning the recruiting battle with Mississippi State head coach Dan Mullen this past February.
Email dave.miller@nationalfootballpost.com or follow me on Twitter at Miller_Dave