June 18, 2012 -
Dave Miller
Who is Robert Nkemdiche?
Late last week the No. 1 overall player in the Class of 2013, Robert Nkemdiche, gave a verbal commitment to Clemson.
The Grayson High School (Loganville, Ga.) defensive end, who many thought would land at Alabama or even Ole Miss because his brother, Denzel, is already a Rebel, will play for Tigers head coach Dabo Swinney and new defensive coordinator Brent Venables.
Perhaps it worked in Clemson's favor that Grayson head coach Mickey Conn and Swinney played football and roomed together at Alabama. It also didn't hurt that Swinney offered scholarships to athlete Wayne Gallman and cornerback David Kamara, Nkemdiche's high school teammates who committed to the Tigers. Grayson High, which is just about 100 miles away from Clemson, is expected to be a Top 5 team nationally this fall with the trio leading the way.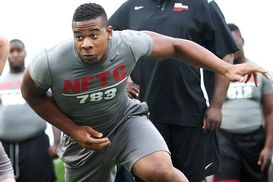 Robert Nkemdiche, the top player in the Class of 2013, gave his verbal to Clemson.
While some have compared Nkemdiche to explosive South Carolina defensive end Jadeveon Clowney, the nation's top player in 2011 coming out of high school, the two have different notable attributes that make them different types of players.
At 6-6 and 254 pounds, Clowney has more length than the 6-5, 265-pound Nkemdiche, and his longer arms make Clowney a bit more disruptive in the backfield. He's also quicker getting into the backfield and has very good footwork that allows him to have great balance. Overall, Clowney's a freak. We saw the impact that he made in several of South Carolina's games last season.
Meanwhile, Nkemdiche is stronger than Clowney was when he was in high school. And Nkemdiche could move inside and play defensive tackle fulltime hypothetically, while Clowney will move inside on obvious passing downs this year, much like former teammate Melvin Ingram.
There's no question that both defenders have the athleticism to play linebacker, but they have more value at end. And while Nkemdiche may not be as freakish as Clowney, he could have a similar impact early in his career on Clemson that Clowney had on South Carolina in 2011. And not just on the field.
The commitment of Nkemdiche shows that Clemson is becoming a major force under Swinney, who not too long ago was considered to be on the hot seat. While players can always decommit considering we are a long ways away from National Signing Day next February, bringing in a player the caliber of Nkemdiche will only help Swinney and the Clemson brand when he is on the road recruiting.
While Nkemdiche is expected to become a dominant defensive force at Clemson, the reigning National Junior of the Year starred on both sides of the ball for Grayson last season while leading the squad to a state title. He rushed for 17 touchdowns on offense, and his 26-yard burst below shows just how versatile of an athlete Clemson is getting next year.
Defensively, Nkemdiche racked up 78 tackles, including 36 tackles for loss, and 18 sacks in 2011. But numbers don't do Nkemdiche justice. Just his physically imposing presence should be enough to make opposing ACC offensive linemen nervous once he hits the field on Saturday afternoons.
The Clemson program is certainly on the rise under Swinney, who has been able to reel in wide receiver Sammy Watkins, running back Mike Bellamy and linebackers Stephone Anthony and Tony Steward in recent seasons -- players who could have easily landed with SEC programs but elected to play in Death Valley.
The commitment of Nkemdiche is just another reason why Clemson is primed to emerge as a consistent force in the ACC. The hard part now is making sure Nkemdiche remains committed to the school and isn't persuaded to change his mind and head to an SEC power. After all, we are talking about the world of recruiting.
But, for now, Clemson fans should be excited that Swinney and Co. were able to reel in the biggest fish in the Class of 2013 pond.
Email dave.miller@nationalfootballpost.com or follow me on Twitter at Miller_Dave