September 14, 2012 -
Dave Miller
Will Notre Dame turn to Rees in East Lansing?
Brian Kelly has maintained that he'd prefer to have one quarterback play the entire game when Notre Dame battles Michigan State on Saturday night in East Lansing.
But given the Fighting Irish head coach's history, seeing Tommy Rees take the field at some point would not be a surprise.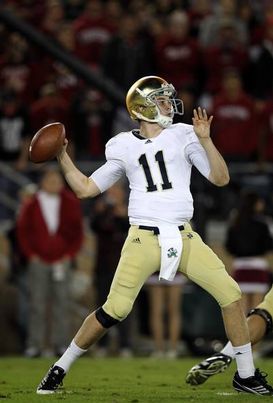 Tommy Rees has significant playing experience and could be a big part of the ND offense after all.
At his stops at Central Michigan, Cincinnati and ND, Kelly has had no problem liberally playing two quarterbacks. And last Saturday in the team's home opener against Purdue, Kelly brought in Rees, the former starter who led the team into field goal range for the game-winning kick in a 20-17 victory.
Rees, who was suspended for the team's game against Navy, entered the contest when first-year starter Everett Golson was shaken up and had trouble gripping the football.
The highlights of the final drive by Rees were key third-down completions of 10 yards to John Goodman and 21 yards to Robby Toma. It was a clutch performance under difficult circumstances for Rees, who before this season threw 575 passes in his ND career.
While Golson remains the starter, playing the Spartans in front of a raucous night crowd will be a real test for the QB with just two games of experience. It will be his first true road start, and he'll be facing a defense that is one of the best in the country, led by end William Gholston.
If Golson doesn't look comfortable at any point against MSU, expect Rees to enter the game. While most every coach would prefer to have a No. 1 QB run the show, Kelly has won in the past with multiple signal-callers. Whoever he feels gives the Irish the best chance to win will play. And if Golson doesn't adjust to the best defense in the Big Ten, the veteran Rees has the experience in big games to run the Irish offense effectively.
Email dave.miller@nationalfootballpost.com or follow me on Twitter at Miller_Dave