January 13, 2011 -
Dave Miller
Will Shaw find long-term success at Stanford?
Stanford football will be a national power once again next season. That would be true for any team with Andrew Luck lining up under center every Saturday.
The real question is how the Cardinal will fare beyond 2011.
With Jim Harbaugh moving onto the San Francisco 49ers of the NFL, Stanford lost one of the best college coaches in America. And the rebuilder of The Farm.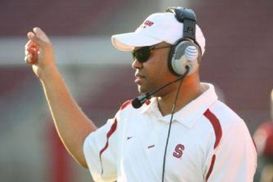 David Shaw has been promoted from offensive coordinator to replace Jim Harbaugh as Stanford's head coach.
So in steps David Shaw, the Cardinal's offensive coordinator since 2007, who was selected to replace Harbaugh as head coach on Thursday. The 38-year-old former Stanford receiver landed the gig over two other members of the team's 2010 staff: associate head coach Greg Roman and defensive coordinator Vic Fangio. Roman and Fangio reportedly will not be brought back, and they very well could be on their way to join Harbaugh with the Niners.
Athletic director Bob Bowlsby also interviewed Yale's Tom Williams, a former linebacker in Palo Alto, and reached out to Boise State's Chris Petersen, who maintained once again that he is comfortable leading the Broncos.
"David Shaw is exactly the right person to lead our football program at this time," Bowlsby said in a statement released Thursday. "David has the experience, intellect, coaching skills and organizational abilities to be a tremendous head coach. He understands and embraces the combination of world class academics and world class athletics that is required at Stanford.
"David has made a substantial contribution to the recent success of our program and our team has great confidence in him. I could not be more excited to work with David and to assist him and his staff in leading our football program to high achievement in the years ahead."
First and foremost, Shaw will have to find excellent coaches to replace both Roman and Fangio, who were instrumental in the team's success the last few seasons. Roman had a hand in many of the team's formations and blocking schemes on offense the least two seasons while Fangio miraculously rebuilt a defense that ranked 90th in the country in '09. As well as the offense played, the Cardinal would not have made it to the Orange Bowl without his work with the defensive unit.
Getting his players to buy into his program won't be a problem at all for Shaw, as the current team will be glad to have a familiar and popular face leading them. The semblance of continuity will be huge as the group tries to refocus after losing Harbaugh.
The other major concern for Shaw will be on the recruiting trail, as the number of recruiting weekends are dwindling with National Signing Day approaching on Feb. 2. Harbaugh had comprised a stellar class for 2011, so Shaw must make sure the previously committed players remain fully in the corner of him and the school.
No matter how this offseason fares, though, the Cardinal should be in good shape come September.
After 2011, though, the real test begins.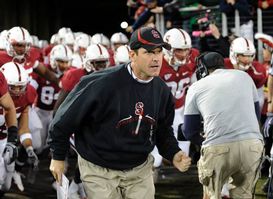 ICONHarbaugh had steadily built up the Cardinal program. Can Shaw maintain that stability?
There are concerns that Shaw, who coached with the Philadelphia Eagles, Oakland Raiders and Baltimore Ravens from 1997-2005 before connecting with Harbaugh at San Diego in 2006, did not have a great role in the team's offensive success.
After an abysmal 2006 season, Stanford's offense steadily improved, culminating in outstanding seasons where it ranked second in the Pac-10 in scoring (35.5 ppg) in 2009 and ninth nationally in scoring (40.3 ppg) in 2010. Harbaugh, however, called the plays. And we know about Roman's role. So where did Shaw fit in? Harbaugh was known for being coy about the inner workings of his offense, so we don't know.
What we do know, though, is that Shaw knows how to coach up running backs, which he did a great job of this past season. He nurtured five rushers — Stepfan Taylor, Anthony Wilkerson, Tyler Gaffney, Usua Amanam and Jeremy Stewart — who combined to gain 2,063 yards on the ground in 13 games, an average of 158.6 yards a game.
But even looking past schemes, Harbaugh was the inspiration and the motivation behind Stanford football. He didn't always have the best talent. But he always had the most-prepared players. The Cardinal also played a tough brand of football, and they didn't beat themselves too many times the last few seasons.
Harbaugh had the "It" factor. That's why so many teams were desirous of his services.
Shaw was there for the success, but can he replicate it? Or will the Cardinal see a fall from grace and spiral down the Pac-10 standings as the current crop of players graduate and move on?
First thing's first though: Shaw must win next year — and he should with the talent on the team.
But it'll be interesting to see how this program progresses once Luck departs. Boosters and alumni may be sold on Shaw now, but will they feel the same two or three years later?
Email dave.miller@nationalfootballpost.com or follow me on Twitter at Miller_Dave
Want to work in the NFL? Click here to sign up for the NFP's "Chalk Talk at the Combine" Seminar February 25 in Indianapolis.