June 22, 2012 -
Dave Miller
Will the Big East and ACC get shut out of the party?
Nothing is official yet. And school presidents could still mess this up. But based off of the latest BCS meetings Wednesday in Chicago, compromise has been made and there is a consensus on a four-team playoff system.
Details still have to be worked out. And there are plenty of aspects that need to be ironed out. But change to the current postseason system will be enacted for 2014.
However, one of the main concerns for fans of teams in the Big East and ACC is whether their squads will get shut out of the postseason party year after year because those are the two weakest leagues out of the six BCS conferences. You just have to look back at the final BCS rankings throughout the years, past bowl performances and, well, the quality of play on Saturday afternoons.
Because it looks as if a selection committee will pick the four playoff teams rather than the current BCS, the group will likely be looking for teams to meet certain criteria, namely being conference champions and strength of schedule. However, being a conference champ won't necessarily be a requirement.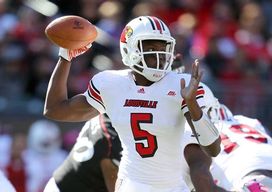 It will be interesting to see if teams in the Big East are looked down upon by a prospective selection committee.
As of now, it's unclear how the selection committee will be chosen and who will make up the group. Perhaps it will be a blend of media, former coaches and athletic directors. Perhaps not at all. Whoever is chosen, though, brings a certain degree of bias. That's just human nature.
There's a reason why the Big East was against a selection committee and wanted conference championships to carry weight. The league knows that it's looked down upon nationally, so bias could come into play. And a Big East champ with one loss will very likely be passed over by a one-loss SEC team that failed to win its league in any given year.
Of course, the Big East wasn't exactly heard loud and clear during these meetings. And it wasn't because it doesn't have a full-time commissioner either. The same went for the ACC. Both leagues know their place in the pecking order.
The reason to be concerned if you're involved with the ACC or Big East is if the selection committee does really hold it against a team from either league because of conference affiliation. Nationally, fair or unfair, teams from both leagues just aren't looked at as favorably as teams from the SEC, Big 12, Pac-12 or Big Ten. Of course, it will be a different story if we're dealing with a 12-0 Virginia Tech team versus a 10-2 LSU squad. Although, of course, we could still hear the schedule argument made -- the fact that the Tigers play in a stronger league. The real concern is if a team from the ACC or Big East wins its league and goes undefeated but a one-loss Alabama team gets the nod over both in the rankings or by the committee. And that's the real problem: the BCS dies, but a whole new set of questions could arise with a committee.
Still, a four-team playoff may be better than the current system. Although I would still be okay with a tweaked BCS -- removing the Coaches' Poll, enhancing the Harris Poll and adding in strength of schedule. But that isn't going to happen.
What the insertion of a committee may do is make teams from every conference think harder about better scheduling nonconference opponents. And that's a good thing. We all know that all conferences aren't created equally, but the nonconference scheduling component could be huge when it comes to selection time.
No matter how the four teams are selected, there needs to be transparency in the process. Whether it's a weekly post on a Website, an article in a major newspaper publication, an online video or a 30-minute weekly television show, everyone needs to see how and why the four teams are ranked and chosen.
Of course, the seeded four team playoff that BCS commissioners will propose to the Presidential Oversight Committee next Tuesday in Washington D.C. could also not get approved by the presidents. After all, school presidents have messed this sport up once or twice in the past, right?
Email dave.miller@nationalfootballpost.com or follow me on Twitter at Miller_Dave