March 09, 2011 -
Dave Miller
Will Tressel be able to escape the wrath of the NCAA?
If you came away from Ohio State's news conference on Tuesday evening feeling as if you didn't learn anything, I'd ask you to reconsider.
We learned a lot.
Of course, we found out that Buckeyes head coach Jim Tressel would be suspended for the first two games of the 2011 season — glorified exhibitions against Akron and Toledo — as well as fined $250,000 for failing to notify the school that he knew some players were selling memorabilia or exchanging it for tattoos.
Oh, and don't forget about the public reprimand, apology and mandatory attendance at a compliance seminar. How stern of the administration!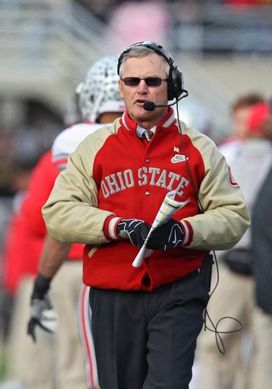 ICONOhio State served Jim Tressel with a two-game suspension and $250,000 fine. How will the NCAA respond?
Those are the self-imposed sanctions the university has placed on Tressel, who failed to report to the school's compliance department that two players were involved in a federal drug investigation — something he was made aware of by an attorney in April. Instead, Tressel sat on the information while the players continued to see action on the field because he didn't know who to tell.
For some reason, it never occurred to him that athletic director Gene Smith might have interest in such sensitive information.
Sidelining the players while the federal investigation played itself out wasn't an option either, according to the 58-year-old Tressel.
"If you all of a sudden sit down some players who have earned the opportunity to play, there are a whole set of new questions which are going to be asked," he said.
Instead, covering up a scandal and misleading investigators seemed like a better option at the end of the day.
According to the university, its office of legal affairs didn't find out about Tressel's withholding of information until it discovered an email on Jan. 13 — one of many emails exchanged between Tressel and an unidentified person who was privy to the Ohio State players' relationship with tattoo parlor owner Edward Rife. Copies of the emails were surprisingly given to those in attendance of the presser in Columbus on Tuesday evening.
One could argue that the school didn't "discover" the cover-up until the Yahoo! Sports report was released on Monday night. But let's not let those little details get in the way.
The school maintained on Tuesday that the emails were uncovered in January when it was preparing an appeal of the five-game suspensions of Terrelle Pryor and four other players for selling championship gear to Rife, who owns Fine Line Ink Tattoos in Columbus.
You think that appeal is going to go the Buckeye Five's way now?
Since he was hired at Ohio State in 2001 following penalties at Youngstown State, Tressel has overseen off the field drama involving high-profile players such as Maurice Clarett, Troy Smith and the Buckeye Five. Tressel should feel lucky that he's currently sitting on a two-game suspension and a fine.
But what will the NCAA have to say about this matter? These university self-imposed penalties are separate from any NCAA sanctions, but we may not know for many months how the governing body will weigh in following a lengthy investigation. At the end of the day, missing two games would be cause for celebration in Columbus.
What did I learn on Tuesday night? Frankly, that's it not such a bad thing to lie or mislead. Just don't tell that to former Oklahoma State wide receiver Dez Bryant, who surely will want his 2009 season in Stillwater promptly returned to him if that's the case.
No matter what's in store for Tressel, the man who guided the Buckeyes to seven Big Ten titles and the 2002 BCS national championship doesn't like to be wrong because he didn't quite take ownership of his mistakes Tuesday night.
"I don't think less of myself at this moment," Tressel said.
If the NCAA believes in justice, it won't feel the same way about the face of Ohio State football.
Email dave.miller@nationalfootballpost.com or follow me on Twitter at Miller_Dave