May 26, 2011 -
Dave Miller
Wilson's two-sport quandary
Earlier this week, Russell Wilson visited coaches at Auburn as the former North Carolina State quarterback ponders his playing future on the gridiron. Wilson already graduated from Raleigh, so he's eligible to play right away in 2011 without sitting out under normal transfer rules. The 5-11, 201-pounder and the Wolfpack went their separate ways after head coach Tom O'Brien wanted the three-year starter to be more committed to the program and participate in spring drills rather than play minor-league baseball. Thus, Mike Glennon will line up under center for the Wolfpack in the fall.
With Auburn looking to replace last year's Heisman Trophy winner, Cam Newton, no one emerged during spring practice in the battle under center between Barrett Trotter and Clint Moseley. So the competition continues into the summer months and fall camp, when heralded true freshman Kiehl Frazier of Springdale, Ark., will try to make a strong impression on offensive coordinator Gus Malzahn.
There's no question that Wilson, who threw for 3,663 yards and 28 touchdowns last season, would be the most talented quarterback on the Auburn roster if the two sides believe that the Plains is the best fit for the former Wolfpack signal caller. But could Wilson, who also plans to visit Wisconsin in early June, possibly learn the playbook in such a short amount of time? And, if he does, would he truly make the offense a more dangerous unit?
The answer to both questions is yes — if Wilson could get the okay from the front office of the Colorado Rockies. And as of right now, the team seemingly wouldn't be thrilled with the idea of Wilson leaving the Asheville Tourists, his minor-league team, early — something he would have to do if he expects to learn Malzahn's scheme and compete for a starting job in fall camp.
Below is a clip of Wilson from last season at N.C. State. If you're an Auburn fan, can't you picture him running this play at Jordan-Hare Stadium?
Rockies senior director of player development Marc Gustafson discussed the situation with the Ashville Citizen-Times this week, stating that if Wilson leaves the club before the season ends, he would have to give back "a significant portion" of his $250,000 signing bonus. The Rockies made Wilson a fourth-round pick in the 2010 draft.
"It would be hard for him to come back to baseball because he would miss a lot of games and have had so much time away," Gustafson said.
"He called (Monday night) and said a lot of (college football) teams were courting him. He said he doesn't know what he wants to do, so right now, it's all speculation.
"Would we be disappointed if he chose to play football? Yes, we would."
Indeed, it's all speculation, especially when Wilson's intentions for a professional athletic career moving forward are unclear at this point.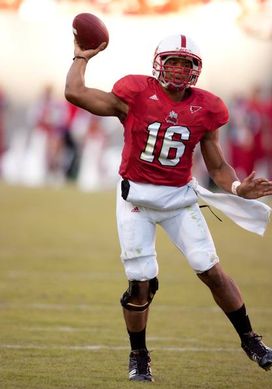 ICONWill Russell Wilson's struggles on the diamond affect his decision on whether to play one more year of college football?
As of Tuesday night, the second baseman was batting just .216 in 38 games with Asheville with 53 strikeouts in 116 at-bats. In 230 total at-bats during his brief pro career, he has struck out 89 times.
While he's still young in his pro baseball pursuit, he is not the high-caliber player that former Clemson quarterback Kyle Parker has turned out to be as a power hitter, so it could be a difficult path to the major leagues for Wilson.
On the flip side, the quarterback isn't a highly rated NFL prospect, either, as he stands only around 5-11 and is not the most polished passer. Would he risk having the Rockies make a roster move if he decides to pursue football this summer and not finish out the season with Ashville? Keep in mind that Wilson left the Rockies' rookie team in 2010 a month early after 32 games and a .230 average to participate in fall practice at N.C. State.
Does he believe he can make it at the next level in the NFL? Or does he just want to complete his football eligibility and continue to weigh his options after the 2011 season — a direction that the quarterback seems to be leaning since leaving Raleigh.
If he parts ways with the Rockies, Wilson could still try to play both sports — a desire that is becoming more and more evident through this process — if he pursues the rookie free agent route. But that's a dicey situation — one not lavished with guaranteed money.
Giving back a signing bonus would be difficult for anyone, especially someone who may not have a bright professional future on the gridiron. Wilson has been a dynamic player for O'Brien at N.C. State, but the toughest decision he has to make isn't necessarily where he wants to play his final year of college football.
It's whether or not it'd be worth it to walk away from guaranteed money in a sport where his future may — or may not — ultimately be the brightest.
Email dave.miller@nationalfootballpost.com or follow me on Twitter at Miller_Dave