November 21, 2010 -
Dave Miller
Win can't mask off-the-field problems at Notre Dame
Notre Dame became bowl-eligible with its win over Army Saturday night at Yankee Stadium. But that should be of little concern to head coach Brian Kelly, athletic director Jack Swarbrick and anyone else associated with the program.
The school already suffered a tragic loss last month with the death of team videographer Declan Sullivan, a 20-year-old junior who was killed during practice when a scissor lift he was working on toppled in high winds. The athletic department, both locally and nationally, has been criticized for not taking enough responsibility for the incident. Many also feel that the team's interests were put before Sullivan's safety.
The Chicago Tribune now reports that a 19-year-old woman at neighboring St. Mary's College died of an apparent suicide nine days after telling Notre Dame police that she had been sexually attacked by a football player in a dorm room.
Elizabeth "Lizzy" Seeberg, a freshman at the school who had battled depression, apparently overdosed on prescription medication during the third week of classes in September.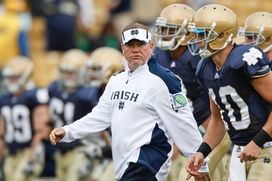 ICONBrian Kelly and Notre Dame are in the news once again, this time for an alleged off-the-field incident.
Meanwhile, the player has continued to play football for the Fighting Irish. The school also still has not publicly acknowledged the case, and actions they have or have not taken to investigate her allegation remain mostly unknown.
According to prosecutors, St. Joseph County officials said campus authorities neither told the police department about Seeberg's report of a sexual attack nor did they refer the case to the county's special victims unit.
Seeberg's parents have hired former federal prosecutor Zachary Fardon to look into circumstances surrounding her allegations and Notre Dame's investigation.
Since Seeberg's death, Notre Dame and its university police have denied formal requests for information from the Tribune.
The alleged attack on Seeberg occurred Aug. 31, the second week of classes at Notre Dame. She then reported it to university police at 5 p.m. the following day. Seeberg was interviewed by school police about the alleged attack, and according to the report she provided two written statements and pointed out a player from his picture on a Notre Dame roster.
According to the report, Seeberg became despondent after reporting the alleged attack and began to feel self-conscious on the tiny St. Mary's campus. She reportedly feared people would dislike her for accusing a Notre Dame athlete of a sex crime and that she would wear the incident "like a scarlet letter" throughout her college career. She expressed suicidal thoughts to a counselor, according to the death investigation report written by the county police department.
The Tribune did not identify the accused football player because he has not been charged with a crime. He has not responded to e-mail messages seeking comment.
The university declined to make coach Kelly available for comment about the allegation against his player, saying any such incident "would be addressed institutionally, not by the football coach."
Notre Dame also declined to make university officials available, but issued a written statement Thursday: "Any time we are made aware of a student potentially violating university policies, we implement a process that is careful and thorough so that facts can be gathered, rumors and misinformation can be sorted out, and an informed decision can be made about what action to take — if action is warranted. We take our obligation seriously, we involve law enforcement officials as appropriate, and we act in accordance with the facts."
Brian Kelly may be a great guy. And, despite a tumultuous first season on the field in South Bend, he may be the perfect fit for the Irish. But as the face of the Notre Dame football program, questions about leadership — in a college environment — must be asked when one tragedy already has occurred on campus and another investigation surrounds his team.
While the argument is often made that head coaches can't babysit their players 24/7, at the end of the day their high salaries demand that they hold their players and everyone associated with their team accountable. Including themselves.
And as the leader of the athletic department, it's Swarbrick's job to make sure the Irish are in the news for their play on the field and not off of it.
If these allegations are true, Kelly shouldn't get a second season in South Bend. But Swarbrick must give himself the pink slip, as well.
Email dave.miller@nationalfootballpost.com or follow me on Twitter at Miller_Dave