May 02, 2013 -
Dave Miller
Win-win situation for Trickett and WVU
Former Florida State quarterback Clint Trickett, who backed up Buffalo Bills first-round draft pick EJ Manuel in Tallahassee the past two seasons, announced Wednesday that he will attend West Virginia after choosing to transfer from FSU.
Trickett, who has two seasons of eligibility remaining, will begin classes in Morgantown on May 20 and will be able to compete for the starting job with the Mountaineers because of his status as a graduate student.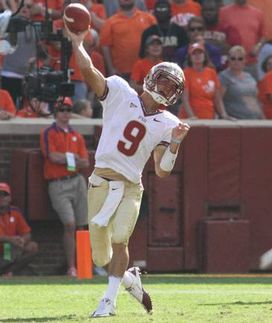 US PRESSWIREClint Trickett will have two years of eligibility remaining at West Virginia.
The 6-3, 185-pounder, who also looked into transferring to Auburn and South Florida before deciding on WVU, left FSU after redshirt freshman Jameis Winston's dynamic performance in the team's spring game and the likelihood that he would be edged out for the starting job despite seeing backup action the past two seasons.
During his time in Tallahassee, Trickett completed 62.3 percent of his passes for 947 yards and seven touchdowns against four interceptions. He started two games in 2011 and showed promise in those contests, including a 24-of-38 passing performance for 336 yards and three touchdowns against one interception at Clemson in his first collegiate start. But the fourth-year junior could not establish himself as the frontrunner for the starting job at FSU this spring, so Winston and sophomore Jacob Coker will battle for the job in the fall.
Now, Trickett has a fresh start at his new school. And that's great news for him and Mountaineers head coach Dana Holgorsen.
The FSU transfer will immediately compete for the starting job at the Big 12 school with junior Paul Millard and freshman Ford Childress. The good news for Trickett is that while Millard has some experience and Childress has an intriguing big arm, neither quarterback had the offense mastered in spring ball.
Trickett, meanwhile, had a nice camp at FSU. His decision-making is sound, he's accurate and has shown that he can successfully run the option and zone read. So the physical tools are not worrisome. The only question is whether he will be able to learn the playbook and the terminology of Holgorsen's intricate offense.
West Virginia seemed an ideal fit for Trickett all along, as he lived in the area while his father was an offensive line coach with the Mountaineers. As long as he is able to quickly grasp the system and show that he can release the football quickly, this transaction can really help WVU as it moves on from the Geno Smith era. His athleticism and ability to keep plays alive with his feet will also serve this offense well, so there's no question that Trickett's arrival has to have Mountaineer fans excited as the program looks to rebound from a rough end to its debut season in the Big 12.
Defense will remain an issue in Morgantown until further notice. But offense will continue to be the focal point as long as Holgorsen remains as head coach. And the arrival of Trickett gives Holgorsen a veteran arm that could potentially stabilize an offense that needs to replace Smith and receivers Tavon Austin and Stedman Bailey.
The Mountaineers are in a transition period, but Trickett's decision Wednesday alleviates some of the fear that may have been surrounding the program as spring football came to a close. And it makes the voluntary workouts and 7-on-7s this summer much more intriguing.