May 27, 2013 -
Dave Miller
With Golson out, what's next for Notre Dame?
With starting quarterback Everett Golson suspended for at least the fall semester due to poor academic judgment, Notre Dame is forced to shift gears at the quarterback position.
Because head coach Brian Kelly and his staff have been excited about the growth of the young playmakers around Golson and the development of the dual-threat signal-caller who was entering his second season as the starter, this certainly isn't the news anyone connected to the Fighting Irish expected to hear.
"I take full responsibility for my poor choices and will do all that is asked of me to regain the trust of my family, friends, teammates, coaches and the entire Notre Dame community," Golson said in a statement.
"I want to thank the University of Notre Dame for the opportunity already granted and also the opportunity going forth to regain my eligibility in the winter of 2014."
With Golson out of the picture following the team's 12-1 campaign in 2012, who is primed to assume the starting gig under center this fall?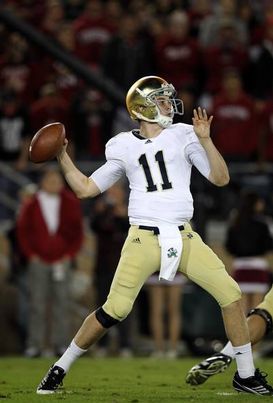 Tommy Rees will likely start for the Irish this fall.
Senior Tommy Rees has the most experience with 18 career starts, and he relieved Golson a few times last year and sparked an Irish offense that finished 54th in the nation in total offense, including 71st in passing offense, in 2012. Rees, who was suspended for the 2012 season opener after pleading guilty to misdemeanor resisting law enforcement and illegal consumption of alcohol by a minor, is likely to get the starting nod so long as he remains focused throughout the summer and preseason camp.
Rees played in the final four games of his freshman season when Dayne Crist went down with a torn patellar tendon in his left knee, and he was also called upon when Crist was benched in the season-opening loss to South Florida in 2011. Of course, he also helped rally the Irish to victories last year when Golson struggled or was injured. For his career, Rees is 403-of-634 passing for 4,413 yards with 34 touchdowns against 24 interceptions.
The downside to starting Rees is that he won't give you anything as a runner. He is a pure dropback passer, so the dual-threat dimension that Golson gave this offense will be sorely missed — especially with the running back situation slightly unsettled.
That's where fourth-year junior Andrew Hendrix and spring enrollee Malik Zaire come into play. If Rees gets hurt or has a terrible preseason, Hendrix would be next in line. But even if he loses out to Rees, I would expect Hendrix to be involved in some packages because he is more athletic.
Zaire is intriguing, but there's no question that Kelly did not expect him to enter the mix quite so soon despite enjoying a nice spring. He was likely en route to running the scout team, but he'll at least have a chance to compete for the job because he has good size and is mobile. If he can handle it mentally, Kelly could turn to him at some point. And if Golson does not come back next year, some playing experience could go a long way towards Zaire's development.
While the Golson news is certainly disappointing for the Irish, they were going to once again rely on their defense to carry them toward another BCS berth. However, Golson's upside created a lot of excitement within the staff, so his loss is tough. But this program has seen instability at the position before. And, as Kelly likes to always say, it's 'next man up.'