October 29, 2010 -
Dave Miller
Zero-tolerance policy at Michigan State? Not quite.
Michigan State has been on the right end of nearly every gamble it has taken this season. Fake field goals, fake punts, risky fourth-down attempts. You name it, and the Spartans kept on rolling toward an 8-0 mark.
However, MSU's latest gamble may be the most questionable of them all.
Head coach Mark Dantonio reinstated cornerback Chris L. Rucker on Thursday, just hours after the senior was released from jail after serving eight days for violating his probation. Rucker was back at practice and could play Saturday at Iowa — if he wants to suit up. Yes, Dantonio has put the decision in Rucker's hands. Amazing.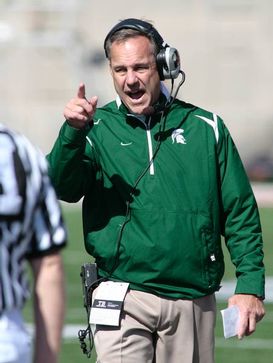 ICONMichigan State head coach Mark Dantonio has reinstated CB Chris L. Rucker.
Michigan State released a statement from Dantonio on Thursday night explaining the decision.
"The poor decision [Rucker] made had need for serious consequences which he has now met and resolved from a team and legal perspective. It does not, however, rise to a lifetime banishment. Our decision to immediately reinstate Chris has been endorsed by the team's unity council and the program at-large. This was a difficult decision. After much soul searching and dialogue with those who are vested in the program, I am comfortable and confident in the decision I have made."
Everyone should be entitled to second chances, but Rucker received his after previously getting in trouble for a misdemeanor assault and battery charge.
A third chance? Maybe, because these players are young and make mistakes. But this soon? What happened to Dantonio's "zero tolerance" policy after the dorm fiasco last November involving 15 players?
It's great that teammates pushed for his return. I believe they care about Rucker as a teammate and as a person. But it's also easier to care when the team is undefeated, pushing for a Big Ten title and a spot in the national championship game.
If he plays against Iowa, which he undoubtedly will decide to do, perhaps Rucker will find redemption for being beaten on the 7-yard touchdown catch by Marvin McNutt last year that sent the Hawkeyes to the victory.
And if he plays well, that will be great for Rucker, his teammates and Spartan Nation.
Meanwhile, I'll still be wondering how Dantonio can condone yet another off-the-field incident in East Lansing — an all-too-familiar occurrence in the Dantonio regime.
Email dave.miller@nationalfootballpost.com or follow me on Twitter at Miller_Dave