January 11, 2015 -
Tony Villiotti
Which college produced the most NFL talent in 2014?
As we head toward the national championship showdown between Ohio State and Oregon, it seems a good time to review the colleges that provide the most talent to the National Football League.
The measurement criteria used for purposes of this analysis is the number of 2014 scrimmage plays. The top 25 colleges as ranked by this criterion accounted for 44% of all 2014 scrimmage play participation. It is interesting to note, though, that only 11 of the top 2 in the final BCS poll are included in the top 25 NFL talent producers.
The following table lists the 25 colleges (the "Top 25") in order of the number of 2014 scrimmage plays (e.g., Miami is the leader). The table summarizes the number of scrimmage plays by the year players entered the league. For example, the number of scrimmage plays by a 2014 rookie is shown under the 2014 column; a second year player in the 2012-2013 column, etc. The final two columns break the players further down by those that are drafted versus undrafted free agents.
The source of the scrimmage play data is the NFL's weekly Game Book.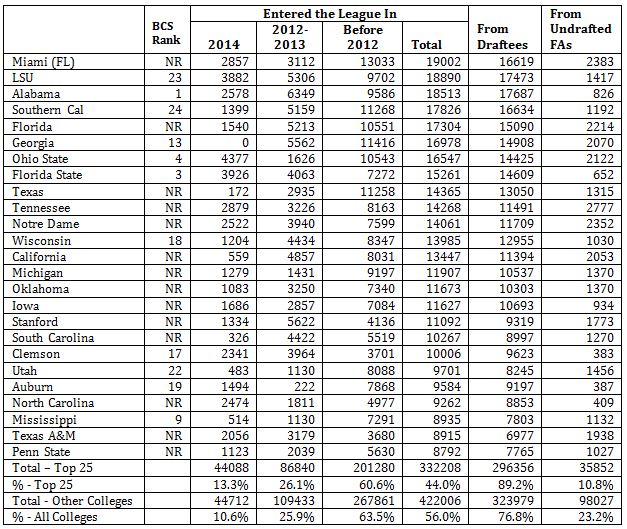 A number of observations can be made based on the analysis:
• Four of the top six colleges are from the SEC
- A total of nine colleges of the 25 are from the SEC
• All but Notre Dame are from the Power 5 conferences
- Big Ten had five schools included
- Pac 12 and ACC are next with four each
- Big 12 trails with two colleges
• Players from the Top 25 are less likely to be overlooked in the draft
- 89% of the Top 25 player participation is from draftees
- 77% of all other colleges' participation is from draftees
• Ohio State was the leader in participation by 2014 rookies
• Miami has historically been the leader but their lead has begun to dissipate as the dominance of the program has declined
- LSU and Alabama are creeping up in the rankings and are likely to pass Miami next season
• Georgia has historically been a strong producer of talent but not one Georgia rookie participated in a 2014 scrimmage play
• Oregon has been dominant in terms of college on the field performance but ranks only #33 in providing talent to the NFL
• A higher percentage of rookies play from the Top 25 as compared to all other colleges
- 13.3% versus 10.6%
- Trend is relatively minor but it is reasonable to expect even more players to come from fewer colleges
Follow Tony on Twitter @draftmetrics