May 02, 2011 -
Joe Fortenbaugh
10 burning questions
One of the great things about the NFL draft is that it sometimes creates more questions than it answers. A popular, pre-draft inquiry such as, "who will the Panthers take first overall?" was quickly replaced by, "What will happen to Jimmy Clausen?"
So is the nature of business in the NFL.
Today we're going to take a look at ten questions that are now floating around the league thanks to the events that transpired this past weekend at Radio City Music Hall.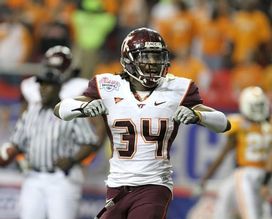 ICONWas this man drafted to replace Beanie Wells?
1. Is the Beanie Wells era in Arizona already over? Two years after using a first round selection on the Ohio State running back, Ken Whisenhunt and the Cardinals drafted Virginia Tech ball carrier Ryan Williams in the second round. Is Arizona looking for depth or are they disappointed in the 41.0 rushing yards per game Wells is averaging since joining the team back in 2009?
2. Is Tom Brady pissed off? The six-time Pro Bowler has won three Super Bowls and two MVP awards, but even that isn't enough to stave off Father Time. On Friday, Bill Belichick and the Pats used a third round pick on troubled signal-caller Ryan Mallett, prompting Brady to tell former NFL quarterback Kurt Warner that he plans on playing ten more years. If you were Tom Brady, how would you feel about the Mallett pick?
3. How will Cam Newton fare with no weapons? You've got to hand it to the Heisman Trophy winner. Newton has successfully charmed the pants off of everyone who has had the pleasure of talking with him. It should be interesting to see if he can charm the Carolina fan base, as the rookie quarterback takes over for a team that ranked 32nd in the NFL in total offense last year. Remember, the Panthers didn't draft another offensive player until the fifth round.
4. Anybody interested in a five-time Pro Bowler who led the NFL in scoring last season? If so, it looks like longtime Eagles kicker David Akers is about to hit the free agent market. Philadelphia used a fourth round selection on Nebraska kicker Alex Henery this past Saturday, sending a message that the longest tenured Eagle is on his way out the door. Thanks for the memoires, David. We'll miss you in Philly.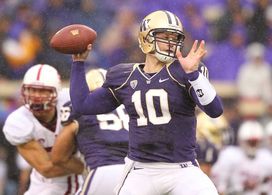 Despite all the hate, Locker was still a top ten pick.
5. Where are all the Jake Locker haters at today? And by "haters," I mean the people who called the quarterback a fool for returning to Washington for his senior season. Many said that Locker cost himself millions by declining to come out as a junior in 2009. After going eighth overall to the Titans, all Locker did was give himself another year of experience before turning pro. Well done, Jake.
6. Anybody think the Chargers may have overpaid a bit on Michigan linebacker Jonas Mouton when they drafted him in the second round? One of my closest friends from law school is tight with the Mouton family and told me over the weekend that they were preparing to hear Jonas' name called sometime in either the fifth or sixth round. Needless to say, that made their weekend.
7. Familiar with the name DeAndre Levy? If not, I have a feeling you'll be hearing it called quite a bit next season. Levy is the Detroit Lions starting middle linebacker who will be entering his third season in 2011. But more importantly, he's the guy who will be playing behind 598 pounds of defensive tackle beef known as Ndamukong Suh and Nick Fairley. If Levy can stay healthy, he should rack up 120+ tackles no problem.
8. If anyone but the Patriots drafts Virginia cornerback Ras-I Dowling with the 33rd pick, does it get as much praise? If you remember, Dowling missed all but three games in 2010 due to a variety of injuries, which led many to project him as a late second to early fourth round draft pick. I have a feeling that if a team like the Raiders or Seahawks had taken Dowling at No. 33, people would be calling it a "reach." But since it was Belichick and the Pats, Dowling is referred to as a "sleeper." Interesting.
9. Will there be a more coveted player during free agency than cornerback Nnamdi Asomugha? The Eagles, Cowboys, Redskins and Texans are four teams expected to make a serious push for the Pro Bowl corner. How much fun will it be to watch three teams with deep pockets from the NFC East go after one of the game's best lockdown specialists? Asomugha could be in line for a monstrous payday with guys like Daniel Snyder and Jerry Jones bidding up his services.
10. Now that Mark Ingram is in the mix, are the Saints ready to move on from Reggie Bush? New Orleans traded back into the first round last Thursday night to nab Ingram with the 28th overall pick, prompting Bush to tweet, "It's been fun New Orleans." Did you know that in the five years (2006-2010) since the Saints used the No. 2 overall pick on Bush, 23 different running backs have acquired more yards from scrimmage? The guy isn't a bust, but he certainly hasn't lived up to the hype.
Hit me up on Twitter: @JoeFortenbaugh