April 17, 2012 -
Joe Fortenbaugh
10 games we can't wait to watch
You've really got to hand it to the NFL. No other business in the world is capable of turning an administrative task such as creating a schedule into an all-hands-on-deck spectacle complete with it's own show on ESPN.
Call it creative marketing if you want to, but Tuesday's release of the 2012 regular season schedule has caught our attention. Players are checking for their bye weeks, fans are hard at work figuring out which road games they want to attend and guys like me are looking for the best matchups to write about.
The Pittsburgh-Baltimore and Chicago-Green Bay rivalries will always hold a special place in our hearts, but the purpose of the following list is to highlight ten matchups that we don't necessarily get to see all that often.
And I'll apologize in advance for not including the much-anticipated Cleveland-Indianapolis showdown that will likely hold serious implications for the 2013 NFL draft.
1. A rivalry renewed: Denver Broncos at New England Patriots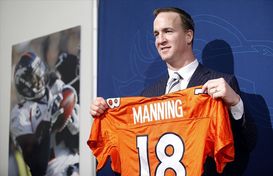 New jersey, same burning desire to beat Tom Brady.
Week 5: Sunday, 4:15pm eastern
Why we're jacked up: Simple, it's Manning vs. Brady. The two future Hall of Fame quarterbacks have faced each other 13 times over their illustrious careers, with Brady holding a 9-4 edge in the series (7-3 regular season, 2-1 postseason). Manning is just 2-6 lifetime at Foxborough against his AFC counterpart, so you can bet that this is the first game the former Indianapolis Colt circled on the calendar once the schedule went public.
2. Why can't we be friends?: Detroit Lions at San Francisco 49ers
Week 2: Sunday night, 8:20pm eastern
Why we're jacked up: Forget the fact that these two teams combined to post a 23-9 record during the 2011 regular season, this showdown is all about what happened after the 49ers went to Ford Field and beat the Lions 25-19 last October. That's right, you didn't already forget about the handshake, back slap and subsequent chase between the two head coaches, did you? Expect the replay of that infamous moment to be aired no fewer than 36 times before kickoff.
3. The history lesson: Pittsburgh Steelers at Dallas Cowboys
Week 15: Sunday, 1:00pm eastern
Why we're jacked up: The Steelers and Cowboys have combined to win 11 of the 46 Super Bowls that are in the books, but they've only met twice during the regular season since 2004. The Steelers came away victorious in both instances, but neither win came by a margin of greater than seven points. Expect this game to garner an abundance of hype in the countdown to kickoff.
4. Payback: Green Bay Packers at New York Giants
Week 12: Sunday night, 8:20pm eastern
Why we're jacked up: A Super Bowl win in February of 2011 followed by a 15-1 regular season campaign had the Green Bay Packers as the heavy Vegas favorite to take home the Vince Lombardi Trophy for the second consecutive year. But Eli Manning and a nasty Giants defense had other ideas, as Big Blue went into Lambeau Field during the Divisional Round and booted the Packers from the playoffs en route to a second ring in five years. And don't forget that these two played a 38-35 thriller in New York last December that saw Green Bay emerge as the winner.
5. Watch your knees: San Francisco 49ers at New Orleans Saints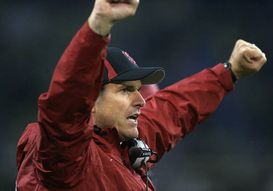 Earning a win in New Orleans will be no easy task for Harbaugh and the Niners.
Week 12: Sunday, 4:15pm eastern
Why we're jacked up: Defensive coordinator Gregg Williams is gone and head coach Sean Payton has been suspended for the season, but that won't stop the media from creating a frenzy around this game based on the nauseating audio files that surfaced of Williams' little "speech" prior to last January's playoff showdown between these two teams. It's ironic that after operating a bounty program for three years designed to knock opposing players out of games, the Saints enter the season with a target on their backs.
6. Intrastate hate: Philadelphia Eagles at Pittsburgh Steelers
Week 5: Sunday, 1:00pm eastern
Why we're jacked up: The Eagles and Steelers don't get together all that often, but make no mistake about it, these two fan bases hate each other. This particular morsel of knowledge has never been more evident than over the last week as Pennsylvania's two professional hockey teams have been engaged in an all-out brawl during the first round of the Stanley Cup Playoffs. Should the Flyers put the finishing touches on an improbable sweep of the Stanley Cup favorites Wednesday night, Eagles fans can expect a hostile welcome at Heinz Field in October.
7. The opportunity: Green Bay Packers at Seattle Seahawks
Week 3: Monday night, 8:30pm eastern
Why we're jacked up: With the amount of money he was going to command on the open market, there was no way the Green Bay Packers could afford to keep backup quarterback Matt Flynn. So the Seattle Seahawks stepped up and shelled out $26 million over three years for a relatively unproven signal-caller that absolutely shredded the Detroit Lions in Week 17. The Packers should enter this matchup as the Vegas favorite, but Seattle is no easy place to steal a win. The Seahawks have gone 51-29 at home over the last ten years (.638) and would grab the national headlines if their new quarterback could engineer an upset of his old team.
8. Sanchez's last stand?: San Francisco 49ers at New York Jets
Week 4: Sunday, 1:00pm eastern
Why we're jacked up: With Tim Tebow breathing down his neck, Mark Sanchez will need to get out to a fast start if he wants to remain under center for the Jets in 2012. By my count, Sanchez will have four games before Rex Ryan thinks about pulling the plug in the face of intense heat from the New York fans and media. Should the former USC product fail to elevate his play in his fourth professional season, this could be the game that officially breaks twitter. Remember, Sanchez and the Jets open up at home against the Bills and then hit the road to play the Steelers and Dolphins before this showdown with San Francisco.
9. Redemption: New Orleans Saints at Denver Broncos
Week 8: Sunday night, 8:20pm eastern
Why we're jacked up: Drew Brees has never won a game in Denver (0-4) and is 1-2 lifetime in road contests agai nst Peyton Manning. However, Brees was able to defeat Manning in the 2010 Super Bowl, which gives the Broncos' new quarterback just as much motivation to come out on top in this one. You can try to spin another storyline for this matchup, but the bottom line is that it all comes down to the quarterbacks.
10. The next generation: Carolina Panthers at Washington Redskins
Week 9: Sunday, 1:00pm eastern
Why we're jacked up: Yeah, yeah, yeah, I understand that most of you may have no interest in watching this game. But it's our first chance to check out a showdown between the last two Heisman Trophy winners in Cam Newton and Robert Griffin III. If Carolina can build on last year's 6-10 campaign and Mike Shanahan can finally begin to turn the Redskins around, this has the chance to develop into one of the league's best young quarterback rivalries.
Other games to keep an eye on…
Baltimore Ravens at Houston Texans (Week 7): The Texans have posted an 0-6 franchise record against the Ravens that happens to include a Divisional Round loss in last season's playoffs. With a healthy Matt Schaub back under center, this could be the game where Houston finally breaks through.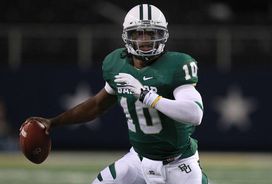 The Rams paved the way for the 'Skins to draft RG3. Now Griffin will have a chance to steamroll St. Louis.
St. Louis Rams at Washington Redskins (Week 2): After trading the No. 2 pick in next week's draft to the 'Skins, the Rams better hope that RG3 doesn't tear them apart when these two teams get together. I can't imagine the St. Louis faithful would find that amusing.
San Francisco 49ers at New England Patriots (Week 15): We were an overtime away from seeing these two teams play in last February's Super Bowl.
Buffalo Bills at Houston Texans (Week 9): Newly-minted defensive end Mario Williams returns home to face the team that drafted him back in 2006. Matt Schaub should be on high alert.
San Diego Chargers at New York Jets (Week 16): Since 2000, the Chargers are just 2-5 over their last seven meetings with the Jets, which includes a 27-21 loss at New York last year that saw the Bolts blow a 21-10 halftime lead. A December date could spell disaster once again for Norv Turner's crew.
New England Patriots at Baltimore Ravens (Week 3): Believe it or not, the Ravens have only defeated the Patriots one time (1-7) since 1996. It's been a great rivalry to watch, but be advised that this could be the last opportunity we get to see Tom Brady and Ray Lewis on the field at the same time.
Hit me up on Twitter: @JoeFortenbaugh