April 19, 2011 -
Joe Fortenbaugh
10 must-see matchups on the 2011 NFL schedule
To hell with the lockout and to hell with anyone who can't get excited about the release of the 2011 NFL schedule.
After next week's draft, we really won't have anything but boring labor nonsense to discuss anyway, so we might as well take advantage and talk some football when an opportunity like this presents itself.
So here we go. Welcome to Joe Fortenbaugh's 10 must-see matchups on the 2011 NFL schedule. Feel free to use the comments section below to share your thoughts on the best and worst of this year's showdowns.
Editor's note: After the overwhelming response I got to this article, I have decided to put Qwest Field (vs. Philadelphia) and Arrowhead Stadium on my to do list this fall.
People of Kansas City, I need your help! Which game should I come to this season and who's going to be throwing the best tailgate? (Joe.Fortenbaugh@NationalFootballPost.com or @JoeFortenbaugh).
10. SAN FRANCISCO 49ERS at BALTIMORE RAVENS
Date: Thursday, November 24, 2011 (Week 12)
Time: 8:20pm eastern
Location: M&T Bank Stadium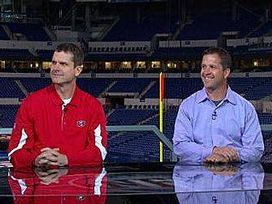 This one should be good.
The 49ers haven't produced a winning season since 2002, so I can understand your initial confusion as to why this game made the list. If you still haven't figured it out by this point, let me clue you in:
Harbaugh vs. Harbaugh
That's right. Captain Comeback will go head-to-head with his big brother, John, in this Week 12 Turkey Day showdown. As the head coach at Stanford, we all saw how nuts Jim got every time he took on rival Pete Carroll and the USC Trojans.
How do you think he'll approach his first game against his older brother?
9. CHICAGO BEARS at DENVER BRONCOS
Date: Sunday, December 11, 2011 (Week 14)
Time: 1:00pm eastern
Location: INVESCO Field at Mile High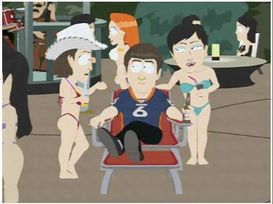 Even the creators of South Park were making fun of Cutler.
Broncos fans and well-traveled football aficionados will tell you that this is one of the most hostile and deafening environments in the entire NFL.
Let's watch them prove it.
I can't think of a better reason for the good people of Denver to put their fandom on the line than the return of crybaby quarterback Jay Cutler to the city and franchise he disowned just three years after being drafted.
8. GREEN BAY PACKERS at SAN DIEGO CHARGERS
Date: Sunday, November 6, 2011 (Week 9)
Time: 4:15pm eastern
Location: Qualcomm Stadium
Packer Nation, book your airline tickets now because there's no better NFL city to visit for an away game than San Diego (be sure to check out the Wave House in Mission Beach and Lahaina's in Pacific Beach). And if you're on the fence, keep in mind that your beloved Packers won't be heading back to Southern California until 2019, at the earliest.
As for the game, Green Bay-San Diego features two of the NFL's elite quarterbacks in Aaron Rodgers and Philip Rivers, not to mention two of the league's most talented defenses.
At its very core, this is a matchup between the defending champs and a team that has so desperately tried to reach the NFL's pinnacle, only to underachieve time and time again.
7. INDIANAPOLIS COLTS at NEW ORLEANS SAINTS
Date: Sunday, October 23, 2011 (Week 7)
Time: 8:20pm eastern
Location: Louisiana Superdome
Peyton Manning and Drew Brees get together for a rematch of the 2010 Super Bowl in which Brees and the Who Dat nation came out on top, 31-17.
Who knows if Manning will ever make it back to another Super Bowl, but you can bet your ass he'll be thinking about this play all week as he prepares for another shot at the Saints.
Editor's Note: Listen to Phil Simms tell the Saints not to blitz, watch the Saints blitz and then listen to Simms' comments after the play.
6. BALTIMORE RAVENS at PITTSBURGH STEELERS
Date: Sunday, November 6, 2011 (Week 9)
Time: 8:20pm eastern
Location: Heinz Field
Does this matchup really need any analysis?
You'd be better served leaving this one to your imagination. That is, if you have a really violent and defensively minded imagination.
5. NEW YORK JETS at PHILADELPHIA EAGLES
Date: Sunday, December 18, 2011 (Week 15)
Time: 4:15pm eastern
Location: Lincoln Financial Field
The heading for this one should really say, "Rex Ryan vs. Michael Vick," but that's assuming Vick is healthy and in the starting lineup when these two east coast contenders get together.
The mobile and agile Philly signal-caller posted a passer rating of 90.0 or higher in ten of 12 games last season and finished the year with a 100.2, good for fourth in the NFL.
It should be fun to see if Ryan and defensive coordinator Mike Pettine can slow him down.
4. CHICAGO BEARS at GREEN BAY PACKERS
Date: Sunday, December 25, 2011 (Week 16)
Time: 8:20pm eastern
Location: Lambeau Field
What better way to celebrate Jesus Christ's birthday than to watch two teams that absolutely hate each other smash heads in freezing temperatures?
The Bears haven't won at Lambeau since 2007 and there's a good chance that at this point in the season the NFC North title will be up for grabs.
Merry Christmas to all.
3. NEW YORK GIANTS "at" NEW YORK JETS
Date: Saturday, December 24, 2011 (Week 16)
Time: 1:00pm eastern
Location: New Meadowlands Stadium
The NFL really dropped the ball on this one. How special would it have been to watch the two teams who represent the greatest city in the world play each other on the 10th anniversary of 9/11? Each team could have worn custom uniforms to honor the firefighters (Jets in red) and police officers (Giants in blue) who gave their lives on that infamous day.
Sports often serve as an escape for many of us in this time of war and economic trouble. As serious as we may take them, these teams provide us with a source of entertainment that spans countless hours as the summer turns to fall and the fall turns to winter.
So why not put the two teams from the world's most recognizable city on the big stage to let the rest of the planet know that no matter what you try to do to us, we will ALWAYS bounce back?
Oh well, maybe the Jets can still dress Rex up like Santa.
2. INDIANAPOLIS COLTS at NEW ENGLAND PATRIOTS
Date: Sunday, December 4, 2011 (Week 13)
Time: 8:20pm eastern
Location: Gillette Stadium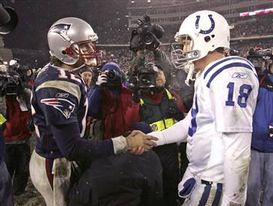 How many Brady vs. Manning matchups do you think we have left?
You know the old saying, "you'll never appreciate what you have until it's gone?" Keep that in mind when future Hall of Fame quarterbacks Tom Brady and Peyton Manning get together for the annual "which quarterback would you rather have, Brady or Manning?" discussion.
Believe it or not, the Colts have won five of their last seven showdowns with the Patriots (including the playoffs). But the real reason we'll all be parked in front of our televisions when these two contenders get together is because the last five matchups between New England and Indianapolis have been decided by four points or less.
Now that's good football.
1. NEW ORLEANS SAINTS at GREEN BAY PACKERS
Date: Thursday, September 8, 2011 (Week 1)
Time: 8:30pm eastern
Location: Lambeau Field
Led by Drew Brees and Aaron Rodgers, the last two Super Bowl champions get together at Lambeau Field to kick off the 2011 season in what should be spectacular fashion.
If this game goes off as scheduled, it means the lockout is over and football is officially back.
Hooray.
Honorable Mention: New York Giants at Philadelphia, Pittsburgh at Indianapolis, New England at Pittsburgh, Kansas City at San Diego, New York Jets at New England, Atlanta at New Orleans
Hit me up on Twitter: @JoeFortenbaugh
For the complete 2011 NFL schedule, CLICK HERE.