September 03, 2010 -
Joe Fortenbaugh
10 situations you should all be following
The NFL preseason has officially come to a close and Labor Day weekend is now upon us. Time to fire up the grills one last time before summer disappears like the New York Mets in the month of August.
Before you officially shut it down for the three-day weekend (unless you already have, like several of my friends from law school), let's take a quick look at some of the storylines from around the NFL that you should be following this weekend.
The NFP is giving away autographed jerseys! Ray Rice, Philip Rivers and more! Click HERE to purchase the 2010 NFP Fantasy Draft Guide and Total Access Pass for your chance to win!
Michael Bush takes a turn for the worse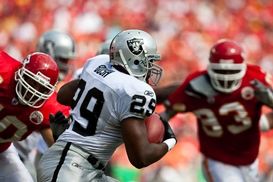 ICONOwners are advised to drop Bush's value now that he could miss the first month of the season.
Bad news surfaced out of Oakland late Thursday night as Raiders running back Michael Bush reportedly could miss the first quarter of the season due to a fractured thumb he suffered against the San Francisco 49ers on August 28. The 26-year old underwent surgery (although the Raiders have yet to confirm) this past week and now must begin the road to recovery.
With Bush potentially on the shelf for the first four weeks of the season (or more), owners are now advised to consider him a late-round draft pick. This situation opens the door for third-year back Darren McFadden to show the Raiders he's got what it takes to be a featured ball carrier in the NFL. Should McFadden fail to impress with Bush out of the lineup, Oakland may be looking at yet another top-ten bust.
Oakland's first four games:
Week 1: @ Tennessee Titans (10th in run defense in 2009)
Week 2: vs. St. Louis Rams (27th in run defense in 2009)
Week 3: @ Arizona Cardinals (17th in run defense in 2009)
Week 4: vs. Houston Texans (10th in run defense in 2009)
As you can see, McFadden is in a somewhat favorable spot to start the year. Owners should be targeting the former Arkansas standout sometime between the 4th and 6th rounds.
Montario Hardesty suffers a setback
One step forward, two steps back. So is the life of Cleveland Browns rookie running back Montario Hardesty. The 23-year old battled a variety of injuries during his four years at Tennessee and entered last April's draft as a medical concern among the majority of NFL front offices.
Hardesty missed the first three preseason games and 27 days of training camp this summer with a bone bruise to his right knee. Thursday night against the Bears the rookie finally made his way onto the field, only to injure his right knee on his seventh preseason carry.
And the update on his knee isn't good.
According to a tweet from Adam Schefter of ESPN.com, Hardesty tore the ACL in his left knee and is out for the season.
Take him off your draft boards or if you've already acquired Hardesty, send him to the waiver wire. Peyton Hillis and James Davis are now considered deep sleeper prospects.
Wes Welker speaks up
Wes Welker is a beast. The guy has caught 346 passes over his last 46 games and more impressively, is back on the field just nine months after suffering a horrific knee injury in Week 17 against the Houston Texans.
But we've been telling you all summer not to get too excited about Welker's quick recovery because the guy isn't a superhero with magical healing powers. Talk to any player that has gone through the same procedure and he'll tell you that it takes close to two years to get back to 100%.
Welker confirmed what we've been saying all along on Thursday night when he told Albert Breer of the Boston Globe, "I still feel like I'm a long ways off from that personally. People say it looks the same. I don't feel the same."
We're not saying Welker is going to have a bad season. But he certainly shouldn't have an ADP of 30.3. That's way to high for a wide receiver coming off ACL surgery.
The Vincent Jackson deadline
According to Kevin Acee of the San Diego Union-Tribune, the Chargers remain interested in trading big-play wideout Vincent Jackson and would like to unload the 27-year old before Sunday. The reason: if V-Jax isn't moved prior to 3:00pm Saturday, he'll be suspended for the first six games of the season (three for DUI, three for being placed on Roster Exempt List).
For those of you who spent a middle to late round pick to land Jackson, you want to see him traded so that he can get back on the field by Week 4 and start providing a return on your investment.
The interesting aspect of this story to monitor throughout Labor Day weekend is the fact that the Seattle Seahawks are reportedly looking to trade wide receiver T.J. Houshmandzadeh in an effort to clear some cap space so they can acquire Jackson.
At this point, you have to worry about what Houshmandzadeh is capable of producing this season. The Seahawks signed the veteran wide receiver to a five-year, $40 million contract with $15 million guaranteed in 2009. If a team that ranked 25th in the NFL last season in scoring offense (17.5 pts/gm) is looking to move their franchise wideout, they must be unhappy with what they are seeing.
Fantasy owners should feel the same way. Housh has a low ceiling this year, will be 33-years old at the end of the month and is coming off his worst statistical season since 2003.
You've been warned.
Is a sleeper headed for free agency?
He's not one of our sleepers (and never has been), but I've seen plenty of people around the fantasy world touting Washington Redskins wide receiver Devin Thomas as a sleeper prospect entering 2010.
For those of you who agree and think Thomas is on the verge of breaking out, I ask you this: how many sleeper prospects do you know of that are close to being cut?
John Keim of the Washington Examiner reports that according to "one league source and multiple Redskins sources, Redskins receiver Devin Thomas is definitely on the bubble."
Keim's report wa s published prior to Thomas catching four passes for 34 yards (8.5 YPR) on seven targets in the Redskins' 20-10 preseason loss to the Arizona Cardinals on Thursday night.
No word as of yet on whether or not that stat line will be enough to save his job, but it's definitely worth monitoring this weekend.
Five more quick-hit style
Arizona Cardinals running back Beanie Wells told Darren Urban of AZCardinals.com that he's fine after suffering a knee injury against the Washington Redskins on Thursday night. Wells' stock has taken a hit since most of the fantasy world began to panic after the recent quarterback controversy that erupted in the desert—and for good reason. The second-year back is splitting time with veteran Tim Hightower on an offense that looks far less explosive since the retirement of quarterback Kurt Warner.
New England Patriots rookie tight end Rob Gronkowski scored another touchdown on Thursday night, upping his preseason total to four in just three games. Gronkowski's preseason stat line (8 receptions, 109 yards, 4 touchdowns) has him quickly climbing the NFP draft board. Fantasy owners should be targeting this guy as a TE2 with big-time upside. He may not rack up high reception and yardage totals, but don't be surprised if Gronk posts double-digit touchdowns this season.
Denver Broncos running back Knowshon Moreno was seen running onto the field prior to Thursday night's preseason game at Minnesota "in a dead sprint," according to Lindsay Jones of the Denver Post. Moreno has been battling a hamstring injury that has kept him out of all preseason action and could limit his production in 2010. We are still very cautious about Moreno this year because hamstring injuries are a killer to running backs and wide receivers, but it's certainly good news hear that the second-year back is making progress. Owners should continue targeting him in the middle rounds and should also remain cautious.
Jacksonville Jaguars running back Maurice Jones-Drew expects to return to the practice field next week after missing five consecutive practices due to a knee injury, according to the Associated Press. I've been receiving a lot of emails and questions in the "Ask Joe" section of the draft guide about what to do at No. 3. The answer: MJD is a fine choice because the Jacksonville offense is going to run through him once again this season. However, if you're going to have trouble sleeping at night after making MJD your first-round pick, feel free to target Ray Rice instead. The two ball carriers should produce very similar stat lines in 2010.
Carolina Panthers running back Jonathan Stewart said his foot is feeling fine and that he's ready for the season opener against the New York Giants next week, according to the Gaston Gazette. J-Stew didn't play at all during the preseason, but this shouldn't come as much of a surprise since the Panthers tend to be cautious with the former Oregon standout. Stewart is still being targeted way too low in fantasy drafts (ADP: 47.2) and can be had for an excellent value on draft day.
Have an excellent Labor Day weekend, be careful on the roads and enjoy the Boise State-Virginia Tech showdown on Monday night!
Hit me up on Twitter: @JoeFortenbaugh