February 11, 2013 -
Joe Fortenbaugh
10 things we want to see in 2013
Today we're going to have some fun. With the 2012 campaign in the books and the internet insanity that is the NFL's free agency period still a few weeks away, we're in a bit of a holding pattern when it comes to NFL news. Sure, we can sit here and spend our Monday talking about cap casualties and Michael Vick. Or, you can take a journey inside my twisted mind for a few minutes to get an idea of what I want to see happen in the NFL next season.
Some of these topics are serious, while others are merely bad jokes mixed with semi-coherent ramblings. You can be the judge as to which is which.
1. Percy Harvin lands in New England
If the Patriots decide to part ways with both Wes Welker and Brandon Lloyd this offseason, New England will be in the market for some new blood at the wide receiver position. Enter the dynamic Percy Harvin, whose four-year run in Minnesota appears to be coming to an end. Since Harvin is still under contract with the Purple, the Pats would need to pony up the draft picks in order to acquire the former Florida Gators' services. But with all of this talk about guys like RG3, Russell Wilson and Colin Kaepernick taking over the National Football League, how much fun would it be to watch Tom Brady operate with Harvin alongside the 1-2 punch of Rob Gronkowski and Aaron Hernandez? Well, fun for those of us who don't live in Buffalo, Miami or New York.
2. The end of Thursday night football
There's no chance it happens because the NFL is a business and the key to any successful operation is to maximize profits in any way possible. That's what Thursday night football does: It makes money. But the bottom line is that these games are brutal to watch. Excluding Week 1 and Thanksgiving, only four of the 13 Thursday night football games in 2012 featured a final score differential of seven or fewer points, while six matchups were decided by 14 or more points. Four days is simply too short of a turnaround for NFL franchises to get ready for their next game. Let's have professional football on Sundays and Mondays and leave Thursdays for anything else.
3. A blizzard hits New York for the 2014 Super Bowl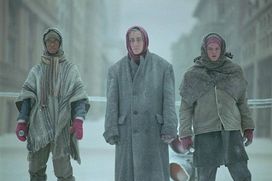 Scalpers for the 2014 Super Bowl, enjoying New Jersey's tropical winter months.
What many people fail to realize is that the Super Bowl is more than just a game. It's a weeklong vacation for the people lucky enough to be able to afford the ridiculous price tag. Who the hell wants to shell out $1,500 to freeze their ass off in New Jersey in early February? I hope a blizzard drills the tri-state area during Super Bowl week, creating a logistical nightmare for anybody attempting to navigate the North Jersey/New York City landscape. Maybe then we can go back to playing the biggest sporting event in America in warm weather cities. I'd rather drink a margarita in South Beach the Saturday before the game than slip on the ice and break my back outside a New Jersey hotel room.
4. If Tebow doesn't play, we don't talk about him
This is all ESPN's fault. Live coverage of every snap Tim Tebow and Mark Sanchez take during training camp? That was riveting stuff. If Tebow doesn't start in 2013, there's no reason to talk about him. I like the guy, but if the Worldwide Leader is going to track every single bowel movement of an NFL player, I'd prefer it if the guy they chose to cover was somebody who actually played on Sunday.
5. Matt Barkley shows us how bad of a coach Lane Kiffin really is
I feel bad for this guy. I really do. Barkley does the noble thing by returning to school for one last shot at a national championship, only to take part in a 7-6 disaster of a season that saw the Associated Press' preseason No. 1 fall to Georgia Tech in a bowl game nobody bothered to watch. Barkley's Heisman Trophy hopes were dashed rather quickly during his final collegiate run and now he has to spend the next three months attempting to rebuild his draft stock, which crumbled under the tutelage of a guy who flopped in Oakland, bailed on Tennessee and turned USC into the second-best team in Los Angeles. I want Barkley to thrive in the NFL so that the decision-makers at Southern California realize how bad they swung and missed when they hired Kiffin to replace Pete Carroll.
6. America wakes up and finally legalizes sports betting
We are a nation mired in debt, yet when a reasonable opportunity comes along to increase revenue, we say no. Smart. Las Vegas doesn't exist because guys like me walk into casinos and pull a Rain Man. Vegas exists because guys like me walk into casinos and get pummeled under the guise of free drinks and cocktail waitresses in skimpy outfits. (Side note: Free drinks? By my count, every beer I consumed in a Las Vegas casino during 2012 cost me approximately $183 a piece). America has two options: Don't legalize sports betting, in which case people will continue to bet illegally and we'll once again fail to capitalize on the benefits of something taking place right under our noses, or legalize sports betting and start making money on what people are going to do anyway. You want to televise that highly anticipated matchup between Cleveland and Tennessee on Thursday night? At least permit us the opportunity to wager on it. Put me on any college campus in the country and I'll find you a guy willing to book action in less than 90 minutes.
7. Alex Smith beats the 49ers
I don't care who signs him or how he plays. I just want Smith to end up on a roster that plays the 49ers in 2013. Then I want him to start and win. I've never been a big fan of Smith because I think that a No. 1 overall draft pick with 80 regular season games and seven years of service under his belt should be more than just a game manager. He should be a game changer. Still, I love stories like this. Redemption, if only for a few minutes.
8. Chip Kelly's offense ignites Philadelphia
Philly.
If the Flyers continue to play like crap and the Phillies fail to hit the ball for the second year in a row, the tension in Philadelphia is going to reach epic levels entering Chip Kelly's first stint in the National Football League. Philly is a tough town that routinely plays the role of bridesmaid while neighboring cities like New York and Boston raise championship banners every 15 minutes. The people are angry. But if Kelly's new offense comes out guns blazing next September, you'll have every yahoo in the area calling up Cataldi to talk dynasty. God, I love that place.
9. Jacksonville wins 12 games, city rejoices, team moves to Los Angeles
The Jaguars aren't winning 12 games next season and the city of Jacksonville won't be celebrating their football team anytime in the near future. But this topic begs the question that all of us have asked at some point or another: Why does our country's second-largest city not have a football team? Is it really true that the well-adjusted people of L.A. wouldn't show up to support a professional football franchise? People seem to enjoy watching USC play football and they aren't even any good. With the Kobe era coming to a close, hockey being, well, hockey, and Dodger fans spending more time brawling in the parking lots than cheering in the stands, now seems like the perfect time for the NFL to make its return to the City of Angels.
10 . Adrian Peterson runs for 5,000 yards, Vikings go 19-0
So much for this being a quarterback-driven league.
Hit me up on Twitter: @JoeFortenbaugh