May 17, 2012 -
Joe Fortenbaugh
11 value picks to remember for August
There are two types of fantasy football players: the casuals and the junkies.
The casuals are in it for a good time. A way to make some of the lesser enticing games each Sunday mean a little bit more. A loss brings a moment of despair, which evaporates almost as quickly as it materialized.
The junkies live and die by the scoreboard. Their weekends are ruined in the wake of an upset defeat as the thought of visiting the message board on Monday leads to a restless night of sleep. Too many hours are spent analyzing the waiver wire instead of keeping up with whatever the boss has dropped on the desk that particular day.
If you're reading this column today (May 17, three months before draft season), take comfort in knowing that you belong to the junkie tribe.
And as a member of the junkies, you should feel a sense of pride in knowing that you're trying to gain a leg up on the competition by keeping an eye on the market this far in advance of draft season. A lot will change between now and August, but that doesn't mean we can't begin to lay the groundwork for a profitable 2012 campaign.
Today we're taking a look at eleven players who, I believe, are currently being undervalued in the marketplace. Should these following stock prices hold steady until August, I'm betting that you'll find some excellent draft day value in a few of the names listed below.
Philip Rivers, QB, San Diego Chargers: Since 2008, only Drew Brees has amassed more passing yards (19,553) than Philip Rivers (17,597). But a 20-interception campaign in 2011 that contributed to the San Diego signal-caller's worst QB rating in five seasons will have many owners wondering if Rivers is capable of rolling up the stat lines necessary for a championship run. I'm willing to gamble that last season was more of a fluke than an emerging trend.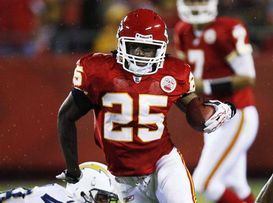 As it stands today, there isn't a whole lot of faith in Jamaal Charles.
Jamaal Charles, RB, Kansas City Chiefs: Remember this guy? Charles wrecked his knee in Week 2 last season and was lost for the year, which will have his 2012 draft stock lower than a Jamaican in a limbo contest. Peyton Hillis was added to the depth chart and dual-threat back Dexter McCluster is entering his third NFL campaign, but you can't afford to sleep on the guy who came 65 total yards short of hitting the magical 2,000-yard mark in 2011.
Brandon Lloyd, WR, New England Patriots: The key here will be to monitor the market to see how the rest of the public views Lloyd entering September. Is he facing too much competition for targets in New England, or is Lloyd the big-play outside receiver that Tom Brady will turn into a Pro Bowler? Many fantasy experts currently have Lloyd ranked outside of the top-20 at the WR position, which I feel makes him undervalued.
Chris Johnson, RB, Tennessee Titans: For those of you who have been following the NFP since we launched in August of 2008, you know that we'll always hold a special place in our hearts for CJ2K. But that doesn't mean we're above saying that the Tennessee running back's 2011 season was a complete bust. Johnson got his fat contract, blew off the offseason and turned in a dud last year that featured the lowest rushing total (1,047 yards) of his four-year career. It's unlikely he'll make another run at 2,000 rushing yards, but when Johnson inevitably falls outside of the top-five on draft day, I'll be ready to strike.
Matt Schaub, QB, Houston Texans: Health is a major concern here (Schaub has only completed a full 16-game season twice since joining the Texans in 2007), but his draft day price will be too tasty to overlook. In the two-year stretch in which Schaub never missed a game (2009-2010), the Houston quarterback completed 65.8% of his passes for 9,140 yards and 53 touchdowns. The value in this situation far outweighs the risk.
Martellus Bennett, TE, New York Giants: Bennett is one of the most athletic and physically imposing tight ends in the league (6-6, 270 pounds), but immaturity has kept the 25-year-old from reaching his full potential. Now entering his fifth NFL season and playing alongside the defending Super Bowl champions, Bennett could be ready to bust loose and assert himself as one of the game's better weapons at the TE position. Most analysts have him ranked well outside of the top-15 at his position, which means we have to assume very little risk in an effort to acquire Bennett's services.
Eric Decker, WR, Denver Broncos: From the looks of things, the market appears to have assigned a higher price tag to fellow Denver wideout Demaryius Thomas. That's fine by us, because despite the daunting schedule the Broncos face in 2012, Peyton Manning is going to make everybody around him better. Don't be shocked if Decker finds a way to finish the year as a top-15 fantasy receiver.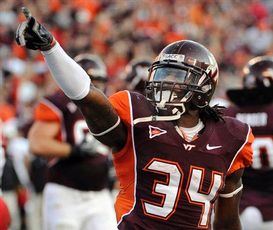 Williams will cost next to nothing on draft day.
Ryan Williams, RB, Arizona Cardinals: Williams rode a tidal wave of hype into the 2011 preseason, but a gnarly August knee injury brought a lightning-quick close to the Virginia Tech standout's rookie campaign. That, coupled with Beanie Well's first-ever 1,000-yard season will have Williams freefalling down the board on draft day. This guy could come so cheap that he may wind up being the fifth RB on your roster in late August.
Sidney Rice, WR, Seattle Seahawks: Rice has only put together one solid season worth mentioning since joining the league in 2007 (83-1,312-8 in 2009), which means nobody will be looking his way in August. In fact, most fantasy analysts currently have him ranked outside of the top 30 players at his position as we get set to enter June. If Matt Flynn wins the starting gig, I'm buying. If Tarvaris Jackson or Russell Wilson ends up under center in Seattle, I'm passing.
Jay Cutler, QB, Chicago Bears: With Mike Tice now running the offense in Chicago, the prevailing thought process is that the Bears will make more of a concerted effort to run the football in 2012. That sounds nice in theory, but good luck grinding out wins against Detroit and Green Bay by putting the rock on the ground 30 times a game. Remember, Cutler was a top-3 fantasy quarterback the last time he played with wide receiver Brandon Marshall. The Chicago signal-caller has "sleeper" written all over him.
Seattle Seahawks, D/ST: The usual suspects (Pittsburgh, Baltimore) and 2011 powerhouses (Houston, San Francisco) will no doubt find themselves at the top of the rankings come August. This is to be expected. But you can find a hell of a value on the Seattle Seahawks, who placed in the top-5 in scoring at the D/ST position last season and upgraded the roster with the signings of DT Jason Jones and LB Barrett Ruud, as well as acquired pass-rushing specialist Bruce Irvin in April's draft. And let's not forget that six divisional games against Alex Smith, Sam Bradford and the Kevin Kolb/John Skelton tandem won't exactly strike fear into the hearts of many defensive coordinators.
Hit me up on Twitter: @JoeFortenbaugh