July 28, 2010 -
Joe Fortenbaugh
15 mid-round value picks to target
Selecting Adrian Peterson with the second overall draft pick doesn't take a whole lot of skill. Sure, you may want to roll the dice on a guy like Maurice Jones-Drew having a bigger year, but the early part of every fantasy draft is filled with big-named talent that any novice owner can recognize.
One of the keys to building a well-rounded and competitive team is outsmarting the competition in the middle to later rounds and drafting players with solid value that can come in and contribute. And you never know when a well-researched, mid-round draft pick could turn into the next Miles Austin.
With that in mind, let's take a look at 15 mid-round players the NFP is high on entering 2010.
Falling behind the competition in your fantasy football research? Click HERE to purchase the National Football Post's 2010 Fantasy Draft Guide and give yourself a distinct strategic advantage over the competition.
Note: "Target Range" indicates the point during the draft when you should look to acquire the player in question.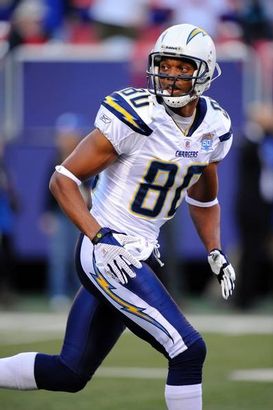 ICONWith Jackson out for the first three weeks, Floyd has a big opportunity to showcase his talent.
Malcom Floyd, WR, San Diego Chargers (Target Range: 85-110): With Vincent Jackson upset about his contract situation and set to miss the first three games of the season due to a suspension, look for Floyd (6-5, 225) to step up and assume the big-play role in the San Diego offense early in the year. The 28-year old posted career highs in receptions (45) and receiving yards (776) last season and has the ability (just like V-Jax) to get vertical on the outside and come down with the jump ball. After Jackson and tight end Antonio Gates, Floyd was quarterback Philip Rivers' most targeted receiver in 2009.
Ahmad Bradshaw, RB, New York Giants (Target Range: 72-86): Despite playing second fiddle to Brandon Jacobs and battling multiple foot injuries for a good portion of the year, Bradshaw still cracked the top-30 in scoring among fantasy running backs last season. 2009 was a career year for the 24-year old dual threat back that consisted of 985 total yards and seven touchdowns. Bradshaw is going to share the workload once again in 2010, but he'll get enough touches to warrant draft pick in the 7th to 9th round range.
Joe Flacco, QB, Baltimore Ravens (Target Range: 73-90): For fantasy owners who aren't going after a quarterback in the early rounds, Flacco's your guy. The former Delaware standout was significantly better in his second season as an NFL signal-caller and now has a brand new toy at his disposal in Pro Bowl wideout Anquan Boldin. In 2008 (Flacco's rookie season), the Baltimore offense ranked 32nd in pass to run ratio (44%). Last season that number jumped to 53.8% (25th in NFL), indicating that offensive coordinator Cam Cameron was more comfortable letting Flacco take to the skies. Flacco's got two years of playoff experience under his belt and a rock-solid supporting cast, meaning owners should expect another increase in production in 2010.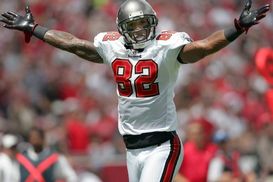 ICONWinslow is once again going to see a ton of targets this season.
Kellen Winslow, TE, Tampa Bay Buccaneers (Target Range: 78-105): If the 2010 tight end class wasn't so stacked you can bet you'd be hearing more about Winslow this summer. As it stands, the six-year veteran can be had for a great value for a variety of reasons. For starters, Winslow caught 77 passes for 884 yards and five touchdowns last season despite playing with three different quarterbacks. He enters 2010 coming off a full offseason of work with quarterback Josh Freeman and is still the most experienced pass-catcher on the Tampa offense. In addition, Winslow ranked fourth among tight ends in targets last season (127) and owners should expect that number to hold steady due to the fact that the Buccaneers could very well be starting two rookies (Arrelious Benn, Mike Williams) at wide receiver this year.
Donald Brown, RB, Indianapolis Colts (Target Range: 72-98): Brown's rookie season was limited to just 11 games due to a variety of injuries, meaning he'll be undervalued by most owners on draft day. However, the 23-year old is a solid dual-threat RB option that will share the workload with veteran Joseph Addai this season. The upside here is that the Indianapolis offense is so stacked with talent that no opponent will be able to key Brown when he's on the field this year. Don't expect the second-year back to make a run at the top-ten this season, but Brown is an excellent flex option that would become a quality RB1 should something happen to Addai.
Carson Palmer, QB, Cincinnati Bengals (Target Range: 99-111): Prior to the Terrell Owens signing, Palmer was one of the NFP's top-20 sleepers entering 2010. Now that T.O. is in the fold, we like his mid-round value even more. Yes, the Bengals will once again feature a heavy dose of Cedric Benson and the running game, but with Chad Ochocinco, Antonio Bryant and Owens lining up at the wideout position this fall, owners have to be excited about Palmer's potential to throw for 3,700+ yards and 26+ touchdowns. Remember, this is the same guy that topped 4,000 yards passing in 2006 and 2007 and threw 86 touchdown passes from 2005-2007. He's got a lot of upside for a middle to later round draft pick.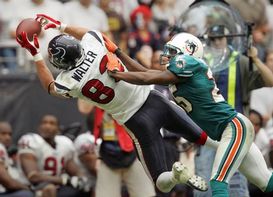 ICONA disappointing 2009 season has dropped Walter's stock to the point where he's a steal.
Kevin Walter, WR, Houston Texans (Target Range: 110+): Walter's disappointing 2009 campaign has soured owners to the point where his draft stock is falling outside of the 10th round, making him well worth the risk in 2010. We're aware that several of you have high expectations for three-year veteran Jacoby Jones, but think of it like this: The Texans wouldn't have signed Walter to a five-year, $21.5 million deal this past offseason unless they knew he was going to be a big part of their offense in 2010. Pro Bowl wide receiver Andre Johnson will be commanding most of the defenses' attention, leaving Walter free to exploit 1 v. 1 matchups for the majority of the season. A 64-850-6 stat line is not only plausible, but a downright steal for a 10th+ round draft pick.
San Francisco 49ers, D/ST (Target Range: 113+): Led by All Pro middle linebacker Patrick Willis, the San Francisco defense quietly put together an impressive 2009 season that ended with a top-five fantasy finish. The Niners ranked third in the NFL last season in sacks (44), third in forced fumbles (21), sixth in defensive touchdowns (4) and 4th in points allowed (17.6 pts/gm). With six games against the softest division in the league (NFC West), the 49ers are poised once again to be a serious threat on the defensive side of the football. However, what makes this unit so appealing is that they don't carry the big-name recognition that teams like Pittsburgh, Minnesota and Baltimore bring to the table, which makes them an excellent value pick in the middle to later rounds.
Chris Cooley, TE, Washington Redskins (Target Range: 85-115): Between last year's season-ending leg injury and a stacked tight end class, owners will once again be able to land Cooley at a very respectable price in the middle rounds. Prior to the 2009 season, the six-year veteran had posted three consecutive top-eight fantasy finishes and recorded a career-high 83 receptions for 849 yards in 2008. The upside here is that Cooley now has a Pro Bowl quarterback in Donovan McNabb throwing him the football. Remember, McNabb loves to target the tight end position and was instrumental in the progress of current fantasy TE stud Brent Celek. With Santana Moss as the only other experienced receiving threat on the field, expect Cooley to regain his 2008 form and post some serious numbers this season.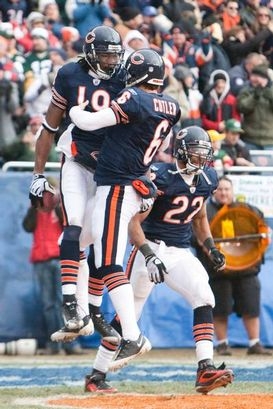 ICONWill the Cutler-Aromashodu connection be the next big thing in Chicago?
Devin Aromashodu, WR, Chicago Bears (Target Range: 84+): Chicago is one team in particular to pay attention to during training camp this summer due to the battle at the wide receiver position. Devin Hester, Johnny Knox and Aromashodu will all be battling for the No. 1 spot in new offensive coordinator Mike Martz's offense. Since no clear frontrunner has emerged as of the current moment, all three wideouts can be had at a nice value. Knox is currently on the NFP's Sleeper list this season, but Aromashodu has just as much potential to emerge as a big-play weapon for quarterback Jay Cutler. The 26-year old came on strong at the end of last season, hauling in 22 passes for 282 yards and four touchdowns over the Bears' final four games. Somebody has to catch the ball in Chicago this season and the wide receiver that emerges as the No. 1 option could be poised for a big year.
Five more to keep an eye on…
Eli Manning, QB, New York Giants (Target Range: 85-101): Manning is coming off his first 4,000+ yard passing season and has a solid receiving unit led by Steve Smith and Hakeem Nicks. He'll make an excellent QB2 option in 2010.
Julian Edelman, WR, New England Patriots (Target Range: 94+): Anyone who says wideout Wes Welker is looking good and ready for Week 1 has never blown out their knee before. ACL injuries take a minimum of one year to come back from and Welker went down in January against the Texans, at which point Edelman stepped in and promptly caught ten passes for 103 yards. He's got a great shot at holding down the No. 2 job in New England this season.
Montario Hardesty, RB, Cleveland Browns (Target Range: 97-111): Jerome Harrison may start the year as the No. 1 in Cleveland, but don't be surprised if the former Tennessee Volunteer beats him out for the job. The Browns love to run the football and tied for second in the NFL in run to pass ratio last season (51.3%).
Steve Breaston, WR, Arizona Cardinals (Target Range: 95-106): Now that Pro Bowl wideout Anquan Boldin has been traded to Baltimore, Breaston can finally step into the No. 2 spot in Arizona. Yes, the Cards will probably run the ball more this year now that Matt Leinart is the quarterback, but Stevie B has caught 132 passes over the past two years. That's some nice production from mid-round wide receiver.
Justin Forsett, RB, Seattle Seahawks (Target Range: 62-90): Somebody has to carry the ball in Seattle this season, so why not Forsett? He's a dynamic dual-threat back that racked up 969 total yards and five scores last season. Julius Jones is a perennial bust and Leon Washington is coming off a severe leg injury. That just leaves Forsett.
Hit me up on Twitter: @JoeFortenbaugh