April 23, 2014 -
Joe Fortenbaugh
15 worth the price of admission
The NFL's annual release of its regular season schedule is a beautiful thing. Wedged in between the commencement of the Major League Baseball season and start of both the Stanley Cup and NBA playoffs, our country's most popular sport is capable of generating a ratings bonanza simply by announcing a bunch of dates. That's it. Nothing has been won or lost this fine Wednesday evening, no players have switched teams, no franchises have moved cities. The only thing that has happened is that we now know Team A is playing Team B on this specific day at this predetermined time.
And, for good reason, we can't get enough of it.
In essence, the National Football League has turned an administrative scheduling task—like that 1:00pm power lunch you have with Cliff from accounting—into a feeding frenzy of fandom complete with a televised primetime special. Juice like that simply isn't available for purchase.
We all have our favorite teams, most intriguing rivalries and preferred primetime matchups. Here are 15 I can't wait to watch after the base tan fades away and the leaves fall from the trees.
Note: We're all going to be stoked for the Green Bay-Seattle Thursday night season-opener, so I left it off the list.
15. Kansas City Chiefs at San Diego Chargers (Week 7, Sunday, 4:05pm eastern): The Andy Reid-Mike McCoy rivalry didn't disappoint in its inaugural campaign, as McCoy's Bolts squeaked by Reid's Chiefs in both showdowns last season via a 26-yard touchdown pass with 24 seconds remaining on November 24 and a 36-yard overtime field goal on December 29. Four of the last six meetings between Kansas City and San Diego have been decided by a field goal or less.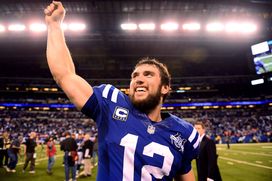 Will Andrew Luck and his fabulous beard defeat Peyton Manning in Denver?
14. Indianapolis Colts at Denver Broncos (Week 1, Sunday, 8:30pm eastern): The first installment of "The Forehead" vs. "The Amish Beard" resulted in a 39-33 upset win in favor of Andrew Luck and the boys from Naptown, marking Denver's only defeat during the first ten games of the 2013 campaign. Peyton Manning failed to stick it to his old club in his first attempt since departing from Indy. Will Round 2 be any different?
13. Dallas Cowboys at Washington Redskins (Week 17, Sunday, 1:00pm eastern): If for no other reason than to laugh at the Cowboys when this inevitably becomes the fourth time in as many years that Dallas loses a postseason play-in game. Romo takes the heat while Jerry Jones brings Jason Garrett back for another spin.
12. Baltimore Ravens at Pittsburgh Steelers (Week 9, Sunday, 8:30pm eastern): You want high scoring? Don't worry, this list has plenty of shootouts to quench your thirst. As for the sadists walking among us, note that nine of the last 11 title fights between Baltimore and Pittsburgh have been decided by a field goal or less.
11. New England Patriots at Green Bay Packers (Week 13, Sunday, 4:25pm eastern): It's the first time Super Bowl MVPs Tom Brady and Aaron Rodgers will face each other as starting quarterbacks.
10. San Francisco 49ers at Denver Broncos (Week 7, Sunday, 8:30pm eastern): The cheapest pair of khaki pants this side of the Atlantic Ocean gets its first crack at Peyton Manning since these two went head-to-head as starting quarterbacks back in 1998 and 1999. Jim Harbaugh and the Baltimore Ravens defeated a rookie Manning in '98, 38-31, only to see the up-and-comer from Tennessee exact his revenge the following season on Harbaugh's Chargers by way of a 27-19 victory.
9. Green Bay Packers at New Orleans Saints (Week 8, Sunday, 8:30pm eastern): Three career meetings between Drew Brees and Aaron Rodgers have resulted in a grand total of 2,067 passing yards, 19 touchdowns and 211 points scored. I wasn't bullshitting you when I said this list had some surefire shootouts contained within. For the record, Rodgers owns a 2-1 edge over Brees in the series.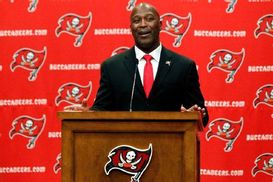 Lovie Smith returns to Chicago looking to stick it to his former team.
8. Tampa Bay Buccaneers at Chicago Bears (Week 12, Sunday, 1:00pm eastern): Can you imagine the Windy City headlines if Chicago castoffs Lovie Smith and Josh McCown saunter off Soldier Field with a win over Marc Trestman and Jay Cutler? Highly unlikely anybody questions J-Cut's $126.7 million contract in that scenario.
7. Carolina Panthers at Baltimore Ravens (Week 4, Sunday, 1:00pm eastern): "I want to make sure that whatever team I go to, they're going to get the best, in shape 35-year-old guy they can get. If that happens to run through Bank of America Stadium, put your goggles on cause there's going to be blood and guts everywhere."
--Ravens wide receiver Steve Smith, shortly after his release from the Carolina Panthers
In case you were wondering, yes, that's the same Steve Smith who got booted from Carolina's training camp back in 2008 after flooring cornerback Ken Lucas with a punch to the dome.
6. Denver Broncos at New England Patriots (Week 9, Sunday, 4:25pm eastern): Because it's the 15th installment of the Brady-Manning rivalry. Because their legacies will be linked together until the end of time. And because none of us has any idea how many of these epic showdowns we have left.
5. Seattle Seahawks at San Francisco 49ers (Week 13, Thursday, 8:30pm eastern): There's no more denying it: Pete Carroll owns Jim Harbaugh. Carroll got him in college (two championships to zero) and now he's done it at the professional ranks. What makes this matchup so damn mouth-watering is that both guys know it. Carroll knows he owns Harbaugh and Harbaugh knows he answers to Carroll. This, in turn, is why both men hate each other, even if neither will admit it. It's also why their respective teams want to dismantle each other and why their fan bases despise one another. Simply put, it's the best rivalry in football and we get to witness this installment of it Thanksgiving evening.
4. New York Jets at New England Patriots (Week 7, Thursday, 8:25pm eastern): Because of that moment we all know is coming, when newly acquired Patriots cornerback Darrelle Revis intercepts Jets quarterback Michael Vick and takes it 95 yards to the house. Because Belichick will play coy with the media after while laughing on the inside. Because it will drive Rex's fist through a wall.
3. San Francisco 49ers at New Orleans Saints (Week 10, Sunday, 1:00pm eastern): That 23-20 Saints victory over San Fran last November left a bad taste in the mouths of many due to a highly controversial fourth quarter call made in New Orleans' favor. This matchup gives both teams the opportunity to settle the score in one of the most hostile venues in the National Football League. These are the games for which safety Jairus Byrd was signed .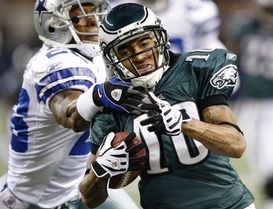 No longer an Eagle, DeSean Jackson will look to bury the Birds twice this season.
2. Washington Redskins at Philadelphia Eagles (Week 3, Sunday, 1:00pm eastern): This is going to be the NFC East's most ferocious rivalry for the next five years. New head coach Jay Gruden, a 100 percent healthy Robert Griffin III and wide receiver DeSean Jackson—complete with his copy of Philadelphia's playbook—travel north on I-95 to challenge Chip Kelly's fast-rising Eagles. Keeping with traditional South Philly fashion, Jackson will be booed every time he touches the football. The question is whether or not he can make the big play to break Philadelphia's back. Remember, it was Washington who was supposed to take control of the NFC East with the arrival of RG3, but the Birds stole the 'Skins thunder with the hiring of Kelly.
1. Denver Broncos at Seattle Seahawks (Week 3, Sunday, 4:25pm eastern): It's the rematch of one of the most lethal ass-kickings quarterback Peyton Manning has ever been forced to endure. Except that this time it's taking place in the supersonic jet engine known as CenturyLink Field. The Seahawks hosted two primetime games in the Pacific Northwest last season (San Francisco and New Orleans), winning both by the combined score of 63-10.
Hit me up on Twitter: @JoeFortenbaugh