August 18, 2011 -
Barry Dorey
15-man wolfpack: Romo keeps it tame at bachelor party
While Las Vegas bachelor parties can often become the stuff of legend, Cowboys quarterback Tony Romo opted for the backcountry of West Virginia rather than the roof of Caesars Palace.
Speaking recently to Jon Machota of The Dallas Morning News (via Deadspin.com), the now happily-married Romo told the tale of his well-behaved and—quite frankly—semi-disappointing bachelor party that took place prior to his wedding this past May.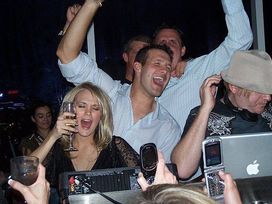 Romo opted to keep it dry at his recent bachelor party.
A bachelor party that—brace yourselves—went down at a cabin in West Virginia and featured multiple games of hide-and-seek.
"I didn't really feel like going out, drinking that night," Romo told Machota. "I mean, we were there for a couple of days, so I was just like, 'Let's just find something to do here.' We tried coming up with a game, but with 14 or 15 guys, there aren't a lot of non-drinking games at that age you can do."
While Cowboys fans are probably happy to hear that their star quarterback exercised some good judgment and opted against getting hammered on the Vegas strip, others probably can't help but feel a bit disappointed at the apparent lack of excitement that went down at a Pro Bowl quarterback's bachelor party.
We're not saying Romo needed to get blackout drunk, but we feel he could have at least found a spotter and attempted to bankrupt a casino.
Hit me up on Twitter: @JoeFortenbaugh