March 29, 2012 -
Joe Fortenbaugh
20 post-free agency fantasy sleepers
I'll be the first to admit that it's too early to start talking about fantasy football. With the exception of two games being played in Asia that none of us could watch, the 2012 baseball season hasn't even started yet.
But at some point this summer you're going to sit down and begin a six-month process that will hopefully culminate in a fantasy football championship. And the earlier you start to get an idea of which players you should be targeting and which guys you should be avoiding, the more likely you are to walk into your draft(s) this summer with an advantage over the competition.
To get that ever-important process started off on the right foot, here are 20 players I believe will offer some solid value on draft day. Things are going to change between now and August, so this list will definitely be tweaked before we release the 2012 NFP Fantasy Draft Guide. But that won't prevent us from getting the ball rolling.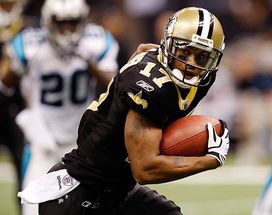 There's a good chance Meachem could emerge as quarterback Philip Rivers' top target.
1. Robert Meachem, WR, San Diego Chargers: Meachem's never caught more than 45 passes in a season, but he's also never had the opportunity to operate as the No. 1 wide receiver before, either. With Vincent Jackson sleeping on a pile on money in Tampa Bay, look for the four-year veteran to emerge as a dangerous deep threat in Norv Turner's vertical passing attack. We're not expecting ultra-high reception totals, but Meachem should certainly make a run at 10+ touchdowns.
2. BenJarvus Green-Ellis, RB, Cincinnati Bengals: Cedric Benson is gone and Bernard Scott has never lived up to the fantasy sleeper hype, so the Bengals went out and signed the Law Firm to a three-year contract. The 26-year-old scored 24 touchdowns in New England over the last two years and has just 510 career carries under his belt, so his legs shouldn't have any issues handling a full workload.
3. Eric Decker, WR, Denver Broncos: His injury history is a bit of a concern, but Decker found the end zone eight times last season with Tim Tebow under center. Now that the Broncos have upgraded the quarterback position to some southerner named Peyton, Decker's targets and receptions are going to shoot through the roof. We saw it in Indy and we'll see it in Denver: Peyton Manning makes everybody around him better.
4. Jay Cutler, QB, Chicago Bears: Injuries and a substandard receiving unit kept Cutler out of the top-25 in fantasy scoring at the quarterback position last season. But now that he's reunited with former teammate Brandon Marshall, J-Cut finally has a legitimate No. 1 wideout who can help the Bears cash in (assuming he doesn't drop the football) when they reach the red zone. Remember, the last time these two worked together (2008), Cutler threw for over 4,500 yards and finished the season as a top-3 fantasy quarterback.
5. Stevan Ridley, RB, New England Patriots: A 225-pound power back entering his second NFL season, Ridley has the chance to vulcher all of the touchdown runs that BenJarvus Green-Ellis is leaving behind. He averaged 5.1 yards per carry in 2011 and should find running room this season now that Brandon Lloyd is lining up on the outside, which will force opposing defenses to respect the New England aerial attack more than ever.
6. Jacob Tamme/Joel Dreessen, TEs, Denver Broncos: We'll have to wait until the conclusion of training camp and the preseason to see which guy emerges as the starter in Denver, but don't be surprised if head coach John Fox tries to implement Tamme and Dreessen as a poor man's Gronkowski and Hernandez. Tamme rolled up 67 receptions in 2010 playing with Manning in Indianapolis due to a Dallas Clark injury. These two are very familiar with one another.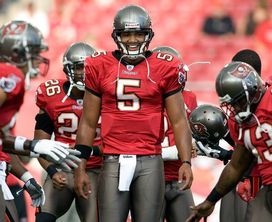 Freeman should bounce back in a big way this season now that Vincent Jackson is on the roster.
7. Josh Freeman, QB, Tampa Bay Buccaneers: Last season was an epic failure, but don't forget that Freeman finished his rookie campaign in 2010 as the fantasy world's tenth-highest scoring quarterback. Adding vertical and red zone threat Vincent Jackson to the mix should help with touchdown totals and should also free up fellow two-year veteran Mike Williams on the other side of the field.
8. Philadelphia Eagles, D/ST: Speaking of epic failures, a 4-8 start to their 2011 campaign wasn't what Andy Reid and defensive coordinator Juan Castillo had in mind after breaking the back last summer during the free agency period. But with nothing left to play for, the Eagles went 4-0 down the stretch, allowing just 11.5 points per game. The acquisition of middle linebacker DeMeco Ryans fills a monstrous need and the Birds are rumored to be targeting defensive tackles and safeties in April's draft. This unit will be vastly improved in 2012.
9. Doug Baldwin, WR, Seattle Seahawks: This dude came out of nowhere as a rookie last season to haul in 51 receptions for 788 yards and four touchdowns with Tarvaris Jackson and Charlie Whitehurst at quarterback. A full offseason to prepare with new signal-caller Matt Flynn should send Baldwin into the 2011 campaign with a realistic shot of emerging as a legitimate WR2. Depending upon how much hype fellow fantasy scribes bestow on him this summer, Baldwin could come at a very cheap price on draft day.
10. Mikel LeShoure, RB, Detroit Lions: The former Illinois product missed his entire rookie season with an Achilles injury, but is expected to be 100% for the start of training camp, if he isn't already. With Jahvid Best continuing to battle concussion issues that may never go away, the 227-pound LeShoure could be in line for a serious workload this season.
Head over to Page 2 for 10 more sleepers!