August 23, 2010 -
Joe Fortenbaugh
2010 fantasy sleepers
The time has finally arrived to talk about this season's crop of fantasy sleepers.
We'll dispense with the introduction for today and leave you with this piece of advice: Landing a sleeper could be the key to winning a fantasy championship, but you still need to assemble a well-rounded roster and make the most of your early draft picks.
Note: Philadelphia quarterback Kevin Kolb and Chicago wide receiver Johnny Knox are two of the NFP's highest rated sleeper prospects entering 2010. However, since we've already mentioned them ad nauseam this summer, we decided to add some new names to this list.
Don't worry. Kolb and Knox are still two of our favorites.
Note 2: ADP data provided by our good friends at MockDraftCentral.com.
The start of the NFL regular season is fast approaching! Click HERE to purchase the 2010 NFP Draft Guide and Total Access Pass!
2010 Sleepers
Michael Bush, Oakland Raiders
Position: Running Back
ADP: 75.87
Earliest: 58
Latest: 87
Analysis: 2008 first-round draft pick Darren McFadden has yet to take a preseason game snap as the former Arkansas Razorback has been sidelined with a hamstring injury that has opened the door for Bush to seize the starting job. While his preseason numbers haven't been outstanding (17 touches for 89 total yards and no touchdowns), Bush is averaging 4.6 yards per carry over his two-year career and can be had at an excellent value on draft day (8th round). With a legitimate NFL quarterback now running the offense in Oakland, expect the Raiders to find more success moving the football and scoring points in 2010.
Also keep an eye on: Chaz Schilens, WR, Oakland Raiders (Earliest drafted: No. 118)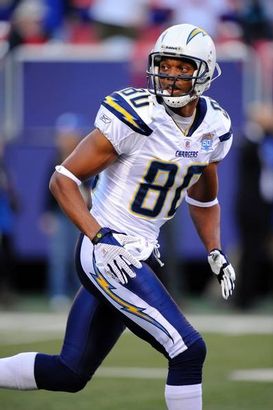 ICONFloyd could turn into the next Vincent Jackson.
Malcom Floyd, San Diego Chargers
Position: Wide Receiver
ADP: 105.78
Earliest: 73
Latest: 121
Analysis: The word is out on Floyd and now the 28-year old is beginning to climb the rankings faster than Boise State. The main reason for his rapid ascent can be attributed to the fact that Pro Bowl wideout Vincent Jackson was suspended for an additional three games this past weekend, upping his 2010 total to six (he may also be traded, but the six-game suspension will stand). At 6-5, 225 pounds and having averaged a deadly 17.2 yards per reception over the past two years, Floyd is a perfect fit for head coach Norv Turner's vertical passing attack. As the new No. 1 wide receiver in San Diego, don't be surprised if Floyd racks up double-digit touchdown totals this season.
Also keep an eye on: Legedu Naanee, WR, San Diego Chargers (Earliest drafted: No. 137)
Chad Henne, Miami Dolphins
Position: Quarterback
ADP: 144.13
Earliest: 105
Latest: Undrafted
Analysis: After a mediocre performance in Miami's rain-soaked opening preseason game against the Tampa Bay Buccaneers, Henne bounced back in a big way this past weekend, completing 11 of 14 passes (78.6%) for 151 yards and two scores with no interceptions against the lowly Jacksonville Jaguars. This is a positive sign for a quarterback who finished the 2009 season by throwing for over 300 yards in three of his final five games. With a full year of offseason work under his belt as the starting quarterback for the Dolphins, not to mention the addition of Pro Bowl man-beast Brandon Marshall at wide receiver, fantasy owners should target Henne as a QB2 with upside. Remember, the infamous wildcat rushing attack will force opposing defenses to respect the run, opening up the secondary for Henne to exploit.
Also keep an eye on: Alex Smith, QB, San Francisco 49ers (Earliest drafted: No. 116)
Jahvid Best, Detroit Lions
Position: Running Back
ADP: 40.87
Earliest: 29
Latest: 48
Analysis: In the Lions' first preseason game this summer Best was handed the ball on each of the first three plays of the team's opening drive. In Detroit's second preseason game the rookie running back touched the ball on four of the first six plays of the game. I think it's safe to say that Lions head coach Jim Schwartz plans to get this kid the rock in 2010. In limited action this summer, the 21-year old from California has amassed 78 rushing yards on just 14 carries (5.57 YPC) and 97 total yards on only 17 touches (5.7 yards per touch). Best has some durability concerns and will lose carries to third-year back Kevin Smith, but the upside here makes him well worth the price of a fourth-round draft pick.
Also keep an eye on: Donald Brown, RB, Indianapolis Colts (Earliest drafted: No. 76)
Dexter McCluster, Kansas City Chiefs
Position: Wide Receiver/Running Back
ADP: 277.98
Earliest: 134
Latest: Undrafted
Analysis: McCluster is recommended as a late-round draft pick for keeper and dynasty league owners, mainly because his role in the Kansas City offense will be somewhat limited in 2010 playing behind the likes of Dwayne Bowe and Jamaal Charles. However, there's a lot to be said about the Chiefs taking the former Ole Miss standout at the beginning of the second round when they had more pressing needs on the offensive line and defensive side of the football. The 21-year old is a speedy, elusive, dual-threat playmaker that will be used in a variety of ways in Kansas City this season under new offensive coordinator Charlie Weis. Pay attention this year because McCluster is a home run hitter that will make a few appearances on SportsCenter's Top 10.
Also keep an eye on: Jacoby Jones, WR, Houston Texans (Earliest drafted: No. 114)
Kellen Winslow, Tampa Bay Buccaneers
Position: Tight End
ADP: 111.15
Earliest: 80
Latest: 124
Analysis: Not a big fan of jumping in on the tight end-run during your fantasy draft? No worries, because there are plenty of viable options available in the later rounds, starting with Winslow. The athletic tight end has been held out of Tampa Bay's first two preseason games as a precautionary measure, but is expected to see his first game action on August 21. Owners need to remember that the Buccaneers have a very young and inexperienced wide receiving unit entering the 2010 season, which makes Winslow a prime candidate to become second-year quarterback Josh Freeman's go-to-guy. The six-year veteran ranked fourth among tight ends in targets last season (127) and posted 884 receiving yards (2nd best total in six-year career) despite playing with three different quarterbacks. As a bonus, keep in mind that prior to Freeman taking over the starting role in Tampa, Winslow was averaging 7.2 targets per game. After Freeman stepped into the lineup that number jumped to 8.4 targets per game.
Also keep an eye on: Zach Miller, TE, Oakland Raiders (Earliest drafted: No. 78) and Chris Cooley, TE, Washington Redskins (Earliest drafted: No. 74)
Miami Dolphins
Position: Defense/Special Teams
ADP: 272.28
Earliest: 148
Latest: Undrafted
Analysis: Miami finished the 2009 campaign ranked 22nd in the NFL in total defense (349.3 yds/gm) which led front office czar Bill Parcells to make some big changes. Gone are aging headaches Joey Porter and Jason Taylor, having been replaced by younger players with better legs. The Dolphins made a splash when the free agent period opened by signing linebacker and former Cardinals defensive captain Karlos Dansby. In addition, the Fish drafted defensive end Jared Odrick (Penn State) in the first round and speedy outside linebacker Koa Misi (Utah) in the second. Young cornerbacks Sean Smith and Vontae Davis now have a full season of experience under their belts, so expect the pass defense to be improved in 2010. Miami faces a tough schedule this season with crossover games against the NFC North and AFC North, so this unit won't be an every-week start. However, don't be scared to insert them into the lineup when they take on the Browns, Lions, Bills (twice), Raiders and Bears.
Also keep an eye on: Cincinnati Bengals, D/ST (Earliest drafted: 136) and San Diego Chargers (Earliest drafted: No. 143)
Leon Washington, Seattle Seahawks
Position: Running Back
ADP: 194.85
Earliest: 104
Latest: Undrafted
Analysis: We never like to get too excited about preseason action, but Washington is an exception to the rule because the speed he flashed Saturday night was a great sign for a guy coming back from a horrific leg injury. The former New York Jet carried the rock four times for 19 yards (4.8 YPC) and one score in Seattle's 27-24 loss to the Green Bay Packers this past weekend. We've been hearing rumors that the Seahawks coaching staff is concerned about the running back position this year, with Julius Jones and Justin Forsett flashing very little in two preseason games. Should Washington stay healthy, win the starting job and get some adequate blocking from the big boys up front (another big concern), he'll be a late-round steal.
Warning: Draft stock currently rising.
Also keep an eye on: Ahmad Bradshaw, RB, New York Giants (Earliest drafted: 57)
IDP Sleepers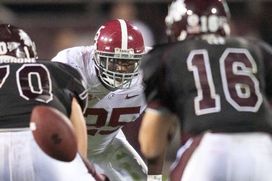 ICONMcClain brings his championship pedigree to Oakland.
Rolando McClain, MLB, Oakland Raiders: Don't be surprised if the linebacker from Alabama finishes in the top-five in tackles this season. Reports out of the Bay Area this summer regarding McClain have been very positive.
Eric Berry, FS, Kansas City Chiefs: The 2009 Jim Thorpe Award winner out of Tennessee is a playmaking ball-hawk that was brought in to revamp the Kansas City defense.
Ray Edwards, DE, Minnesota Vikings: The 25-year old out of Purdue racked up a career-high 8.5 sacks last season playing opposite Pro Bowler Jared Allen. Edwards signed a one-year deal this past offseason but is looking to cash-in on a long-term contract.
Hit me up on Twitter: @JoeFortenbaugh
And remember, to check out more fantasy sleepers, click HERE to purchase the 2010 NFP Fantasy Draft Guide!