August 20, 2012 -
Joe Fortenbaugh
2012 fantasy busts/overvalued
Let's start with the obvious: This list isn't solely about identifying which players may be in for an underwhelming year. It's also about determining which guys are currently being overvalued by the market and thus, should be avoided unless the right price is offered.
The savvy fantasy owner knows when to overpay for quality and when to let a good player pass because the price is just too expensive. That's part of assembling a championship team. Anybody can pull the trigger on Chargers running back Ryan Mathews in the first round. But that doesn't necessarily mean it's the right move.
As always, your thoughts are welcome in the comments section below.
CLICK HERE to check out our 2012 fantasy sleepers.
Frank Gore, RB, San Francisco 49ers (ADP: 40.1): He's 29-years-old and has appeared in all 16 games just once in the last five years. Not only that, but for a guy who racked up 40 or more receptions in five consecutive seasons, Gore saw his catch total drop to a paltry 17 in his first year under head coach Jim Harbaugh. There's a reason the Niners signed Brandon Jacobs and drafted LaMichael James just one year after drafting running back Kendall Hunter: The team is looking to diversify its backfield while adding depth to the position. The upside here is limited.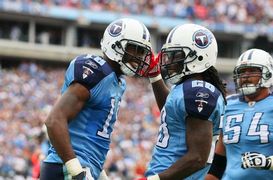 ICONKenny Britt (left) enters 2012 surrounded by several red flags.
Kenny Britt, WR, Tennessee Titans (ADP: 81.6): Three knee surgeries in less than a year coupled with a DUI arrest in July—his eighth run-in with law enforcement officials since joining the league in 2009—raise several red flags when it comes time to analyze Britt's potential for 2012. He's expected to miss the entire preseason and owners have to keep in mind that he's likely facing a suspension for July's arrest. Even if he makes it back to 100%, there is no guarantee that Britt will stay out of trouble this season.
Robert Griffin III, QB, Washington Redskins (ADP: 88.3): I'm guessing several of you will vehemently oppose RG3's place on this list, but I guarantee you that at least one guy in your league will overpay immensely because he thinks Griffin is the second-coming of Cam Newton. Listen, the guy has a world of potential and we're very excited to see what he can do in Washington. But he's a different style of runner than Newton. The Carolina quarterback moves like a running back, with power, finesse and a nasty stiff-arm, while RG3 is more of a straight-line sprinter. We're expecting a good rookie campaign from Griffin, but aren't willing to pay the hefty price tag.
Sidney Rice, WR, Seattle Seahawks (ADP: 131.9): If Pete Carroll and the Seahawks are so confident in their $41 million man, then why has the organization spent the last few weeks bringing in castaways like Antonio Bryant, Braylon Edwards and Terrell Owens? Rice has appeared in just 15 games over the past two seasons (49 total receptions) and still isn't 100% when it comes to his nagging shoulder injuries. And let's not forget about the fact that Seattle has yet to decide on a starting quarterback for the upcoming campaign. Sadly, there's very little here to like.
Steven Jackson, RB, St. Louis Rams (ADP: 20.8): The sad reality of the situation is that Jackson will go down in history as one of the most underappreciated running backs the game has ever seen. Entering the 2012 season at 29-years-old, the Rams have gone 37-91 in Jackson's eight professional campaigns with only one playoff berth. He ranks third in the NFL in rushes over the last three years (914) and first since 2005 (2,004), meaning there's plenty of tread on these tires. It's probably why first year head coach Jeff Fisher selected Cincinnati running back Isaiah Pead in the second round of this year's draft.
Jordy Nelson, WR, Green Bay Packers (ADP: 32.9): File this one under the "overvalued" column as opposed to "bust," because we think Nelson is going to produce a respectable stat line in 2012. But will his final numbers justify they hefty price tag? The Green Bay wideout scored five of his 15 touchdowns in the final two weeks of the 2011 season, which just so happened to coincide with an injury that forced Greg Jennings out of the starting lineup. There are just too many weapons in Green Bay and not enough passes to go around. Nelson should have a fine season, but we don't expect a repeat of what he did last year.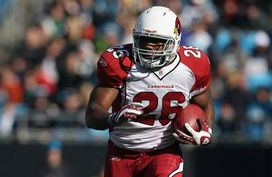 If Wells doesn't get on the field soon, he could lose the starting gig to Ryan Williams.
Beanie Wells, RB, Arizona Cardinals (ADP: 74.4): The knee injury that has forced him to miss the entire preseason to date is one thing, but now Wells has to contend with running back Ryan Williams, who is back in the lineup after blowing out his knee last preseason. Williams picked up 25 yards and a score on just five carries in his 2012 preseason debut, so the longer it takes Wells to get back on the field, the less likely he is to start in Week 1. The Arizona backfield could wind up as a timeshare situation this season, meaning Wells' numbers will be inconsistent at best.
Dustin Keller, TE, New York Jets (ADP: 152.7): Keller's coming off the most productive season of his four-year career (65-815-5), which was good enough to squeak out a top-10 fantasy finish. He's got the tools to get the job done, but we're more concerned about the quarterback situation in New York that you may have heard about in passing this summer. Between Mark Sanchez, Tim Tebow, the media and the fans, a perfect storm is headed for the Jets locker room this season. We'd take a pass on Keller in the later rounds and would target a player with more upside, like Minnesota's Kyle Rudolph.
Alex Smith, QB, San Francisco 49ers (ADP: 154.7): Smith is being targeted in the later rounds as a QB2/QB3, so a bad season wouldn't necessarily make him a bust. However, for those of you thinking Smith is headed for fantasy gold now that Randy Moss and Mario Manningham have teamed up with Michael Crabtree and Vernon Davis, we'd advise you to pump the brakes just a bit. Yes, Smith made it to the NFC Championship game last season. But he also threw for just 3,144 yards (19th) with only 17 touchdowns (17th) and still has a career completion percentage of 58%. But most importantly, owners are advised to look at the San Francisco schedule, which features non-divisional games that include road trips to play the Packers, Jets, Saints and Patriots as well as home dates with the Giants and Bears. Those are going to be some very tough matchups for a "game manager" to produce solid fantasy totals.
Reggie Bush, RB, Miami Dolphins (ADP: 47.8): Bush is coming off the most productive season of his six-year career, but we're very hesitant to spend one of our first five draft picks on the former New Orleans Saint. First off, he's appeared in all 16 games just once (2006) since joining the league in 2006 and prior to catching fire midway through 2011, Bush had never rushed for more than 580 yards in any campaign. He's a dual-threat back worthy of a bit more consideration in PPR formats, but the Miami offense is going to struggle this season with rookie quarterback Ryan Tannehill and a fleet of unheralded wideo uts. It shouldn't have taken a former Heisman Trophy winner six years to produce his first 1,000-yard season. We're passing.
Sam Bradford, QB, St. Louis Rams (ADP: 159.2): He's got a bad ankle that will likely require surgery after the season. In addition, the wide receiving unit is littered with inexperience and players you would never be able to pick out of a lineup. Jeff Fisher is going to turn this thing around, but it's going to take some time. Remember, Bradford completed just 53.5% of his passes in 2011 after hitting the 60% mark as a rookie in 2010. There are better backup quarterback options out there.
Roy Helu, RB, Washington Redskins (ADP: 88.3): Helu is currently third on the depth chart behind Tim Hightower and Evan Royster, even though he led the 'Skins in rushing last season with 640 yards. The running back position was a revolving door in Washington last year with the three aforementioned ball carriers taking turns as the starter. Since no player has emerged as the clear cut favorite to assume the role heading into Week 1, we'd rather target a running back with a better chance of earning considerable playing time than take a shot on Helu…only to watch Shanahan change his mind once again on a week to week basis.
Hit me up on Twitter: @JoeFortenbaugh