August 16, 2012 -
Joe Fortenbaugh
2012 fantasy sleepers
Well, here we are. August. The blazing heat of summer is finally starting to throttle back and the NFL is getting ready to launch itself into another regular season. Fantasy draft time is upon us and that means it's time to start looking for those little, hidden diamonds in the rough that could pay huge dividends come fantasy playoff time.
Below are the names of 28 players we at the NFP would consider sleepers. Remember, a lot of these picks have made this list because they are being severely undervalued on the open market. Just because we wrote them up doesn't mean they are going to lead the league in receptions. These are players we expect to outperform their respective draft positions.
Before we begin, if you haven't already signed up for the Week 1 FanDuel fantasy challenge, click here to do so now. There's a $1,000 prize pool and it's free to enter.
Away we go…
David Wilson, RB, New York Giants (ADP: 89.1): After finishing dead last in the NFL in rushing last season—coupled with the departure of Brandon Jacobs—Big Blue spent their first round selection on Wilson in an effort to upgrade the team's rushing attack. One of the fastest players in this year's draft class, the 21-year-old averaged 5.8 yards per carry over his three seasons at Virginia Tech and rolled up an impressive 1,709 rushing yards in 2011 (fifth in NCAA). Throw in starter Ahmad Bradshaw's injury history and you have a mid-to-late round selection with a high ceiling.
Robert Meachem, WR, San Diego Chargers (ADP: 83.1): With Vincent Jackson now in Tampa, Meachem steps into the No. 1 receiver spot for Norv Turner's vertical passing attack. Even though he's coming off a down year, quarterback Philip Rivers has thrown for more than 4,600 yards in each of the last two seasons. The opportunities will be there, but Meachem will need to stay healthy in order to capitalize.
Also consider: Eddie Royal, WR, San Diego Chargers (ADP: ??): If Meachem stumbles, look for Royal to see an abundance of targets. And considering the fact that the former Bronco isn't even being drafted over at Fantasy Football Calculator.com, there's really no risk here.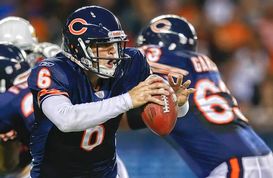 ICONAn upgraded receiving unit could put Cutler in line for a career year.
Jay Cutler, QB, Chicago Bears (ADP: 91.8): You knew this one was coming because I've been talking about Cutler since the opening day of free agency when the Bears made a move to acquire Pro Bowl wideout Brandon Marshall. These two rolled up some serious numbers during their time together in Denver, with Marshall ranking first in the league in targets (351) and second in receptions (206) with Cutler under center from 2007-2008. As the 13th signal-caller off the board, I believe this is the best value pick at the quarterback position this season.
Brandon LaFell, WR, Carolina Panthers (ADP: 134.0): He hasn't produced much during his first two NFL seasons, but LaFell was promoted to starter for the final six games of last year's regular season where he went on post the first 100-yard game of his career. He's been looking good in camp, has Pro Bowler Steve Smith on the field to help draw attention in the other direction and has a stud quarterback in Cam Newton entering his second NFL campaign. Don't look at LaFell as a WR1 or WR2 early in the season, but he has the potential to take a big step forward in 2012.
Isaiah Pead, RB, St. Louis Rams (ADP: 146.6): It's a new era in St. Louis now that former Tennessee head coach Jeff Fisher is calling that shots. Starting running back Steven Jackson enters his eighth professional campaign this year at the age of 29 and with so much tread on his tires that it's no surprise he's only played one full 16-game season since 2007. Pead averaged 6.0 yards per carry during his four years at Cincinnati and is coming off back-to-back 1,000-yard collegiate seasons. He's absolutely worth a late-round selection.
Jacob Tamme/Joel Dreessen, TEs, Denver Broncos (ADP: 83.0 and ??): Peyton Manning makes everybody around him better. It's that simple. And while both of these guys will see action in 2012, whoever head coach John Fox names as the starter is definitely worth a look as a TE1. Don't expect Jimmy Graham-type statistics, but I doubt you'll find a better value at the TE position this year.
Brandon Lloyd, WR, New England Patriots (ADP: 46.5): His ADP will continue to shrink, but Lloyd is still being undervalued by fantasy owners as we approach Week 1. If he could catch 77 passes for 1,448 yards and 11 scores in Denver with Kyle Orton at quarterback, imagine the possibilities now that Lloyd has been paired up with Tom Brady and Bill Belichick. I can't wait to see how opposing defenses plan to slow down the New England offense this season.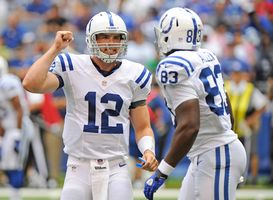 US PRESSWIREKeeper league owners should be paying very close attention to Andrew Luck's name on draft day.
Andrew Luck, QB, Indianapolis Colts (ADP: 111.6): Draft him late as a QB2 and then sit tight. Luck will either emerge as a viable QB1 candidate for your offense or will serve as excellent trade bait to some poor sap who failed to address the quarterback position adequately on draft day. He's got all the tools and will likely be rolling up some legitimate garbage time numbers this season.
Buffalo Bills, D/ST (ADP: 159.7): Two games against the New England Patriots will warrant a move to the bench, but the Bills are a team on the rise in 2012. Remember, this unit was a top-12 fantasy D/ST last season and that was before they signed Mario Williams and drafted cornerback Stephon Gilmore. Seven consecutive losing seasons won't exactly have the rest of your league lining up to draft these guys.
Pierre Garcon, WR, Washington Redskins (ADP: 69.8): Expect some inconsistent week-to-week performances with rookie quarterback Robert Griffin III getting his feet wet, but all signs currently point to Garcon emerging as the No. 1 receiving option for the 'Skins this season. If Washington struggles as expected in RG3's first professional campaign, the Redskins could find themselves playing from behind in several games this season. And that means garbage time numbers are in full effect here.
Doug Martin, RB, Tampa Bay Buccaneers (ADP: 37.9): The secret's out on Martin which means that his value isn't as great as we'd like it to be, but the former Boise State standout still deserves a spot on this year's sleeper list. He's a dynamic, dual-threat running back who rolled up over 1,550 total yards in each of his last two seasons with the Broncos. LeGarrette Blount will probably steal some goal line carries, but Martin still makes for a solid RB2/flex option.
Tony Gonzalez, TE, Atlanta Falcons (ADP: 104.5): Sure, he's 36-years-old, but did you realize that Gonzo once again cracked the top-5 in fantasy scoring at the tight end position last year? He's recorded 80 or more receptions in four of his last fiv e seasons and has the luxury of having wideouts Roddy White and Julio Jones to steer the attention away from his direction in the red zone. You can get by with Gonzalez as your TE1 and you can do it for a very cheap price.
Matt Flynn, QB, Seattle Seahawks (ADP: 158.7): I'm not buying the Russell Wilson hype and I can promise you this: If Pete Carroll goes with Wilson as his starter for Week 1, I'm unloading on the Seattle Seahawks under for regular season wins here in Las Vegas. Flynn doesn't have a large body of work that we can analyze, but he spent four years working under Aaron Rodgers in Green Bay, so the guy has to have picked up something. And at this price, why wouldn't you take a shot? If Flynn develops into a consistent QB1, imagine what you could flip him for later in the season.
Mike Tolbert, RB, Carolina Panthers (ADP: ??): Yes, the Panthers already have DeAngelo Williams and Jonathan Stewart on the roster. But if the team was convinced that they were perfectly fine at the running back position, why go sign Tolbert to a four-year contract? Head coach Ron Rivera spent three years watching Tolbert in San Diego and knows how versatile the 245-pound running back can be week in and week out. Remember, this guy found the end zone 21 times over the last two years and is coming off a 54-catch season. Be sure to target him in the later rounds.
Titus Young, WR, Detroit Lions (ADP: 85.3): His rookie stat line (48-607-6) demonstrated that the former Boise State standout has what it takes to make it in the NFL. Now, the key is to take the next step. Young is currently third on the depth chart behind Calvin Johnson and Nate Burleson, but he has the upside to work his way into the starting rotation. Good value here as a WR4.
Dallas Cowboys, D/ST (ADP: 163.7): This unit finished the 2011 campaign ranked 25th in fantasy scoring at the D/ST position, which should have the 'Boys undervalued entering Week 1. Remember, the Cowboys recognized their problem in the offseason and spent the winter months upgrading the defense by drafting LSU standout cornerback Morris Claiborne and shelling out some significant cheese for free agent CB Brandon Carr. And if Barry Church continues to develop into a consistent starting strong safety, Dallas should be in for a much-improved fantasy total.
Greg Little & Josh Gordon, WRs, Cleveland Browns (ADP: 115.4 & ??): Give the edge to Little since he's got a year of experience in Pat Shurmur's system. But somebody needs to step and catch the ball in Cleveland this season. Neither guy is worthy of more than a WR4 spot on the roster at this point, but Little has the ability to emerge as a regular WR2/WR3 while Gordon is a very deep sleeper to consider late in the draft.
Ryan Williams, RB, Arizona Cardinals (ADP: 98.4): The second-year back out of Virginia Tech missed all of last season due to a blown-out knee that he is just now working his way back from. Patience is a virtue here, but remember, Beanie Wells is coming off knee surgery and just recently returned to practice. If Williams can take advantage of the remaining preseason opportunities in front of him, he could grab the starting job. And landing a starting RB in the tenth round is a great value, in our opinion.
Kyle Rudolph, TE, Minnesota Vikings (ADP: 152.9): The reported "MVP of Vikings training camp," Rudolph is a big, physical target that should take a nice step forward following a rookie year performance that included 26 receptions for 249 yards and three scores in only eight starts. Again, don't look at this guy as the next Jimmy Graham, but as a late-round selection, Rudolph has the upside to work his way into your starting lineup.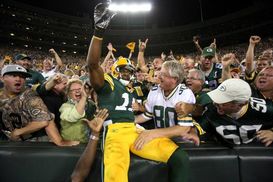 Cobb's an explosive player, but will he see enough targets this season?
Randall Cobb, WR, Green Bay Packers (ADP: 111.6): The big question here is whether or not Cobb will see enough targets from quarterback Aaron Rodgers to warrant a spot on your roster. Don't get us wrong, this guy is ultra-explosive and has a lot of upside as a fantasy wide receiver. But with Greg Jennings, Jordy Nelson, James Jones and Jermichael Finley all on the roster, there are only so many passes to go around. Cobb's upside makes him worth the investment, but don't get caught pulling the trigger too quickly here.
Carson Palmer, QB, Oakland Raiders (ADP: 125.4): Last season's run with the Raiders was a disaster, but you have to remember that Palmer was thrown into the mix with new teammates and a new system midway through the year. Now that he's got a year of experience with the Raider receiving unit under his belt, the former Cincinnati Bengal should revert back to consistent form on a week-to-week basis. Don't expect Palmer to lead your team to fantasy glory, but he's a very serviceable QB2 at a very attractive price.
Jon Baldwin, WR, Kansas City Chiefs (ADP: 127.0): His rookie season was a bust that featured just 21 receptions, but then again, just about everything went wrong in Kansas City last year. With No. 1 wideout Dwayne Bowe still holding out, Baldwin now becomes the big-play target for quarterback Matt Cassel. Cassel's consistency and ability to stay healthy are concerns, but this is a late round selection worthy of consideration.
Mark Ingram, RB, New Orleans Saints (ADP: 81.5): Ingram's rookie season was a bust, especially when you consider the fact that most of us (myself included) were chomping at the bit to draft him within the first four rounds. But what's changed? He's still a talented, physical runner playing on one of the most explosive offenses in the league. Yes, he'll lose some work to Darren Sproles and Pierre Thomas, but now that Ingram's projected as a eighth or ninth round draft pick, we think his upside more than justifies the price.
Earl Bennett, WR, Chicago Bears (ADP: ??): Bennett hasn't produced a whole lot since that 54-catch campaign back in 2009, but he's never worked with as deep a receiving unit in Chicago as he will this year. Running backs Matt Forte and Michael Bush will force opposing defenses to respect the run, while Pro Bowl wideout Brandon Marshall will be the primary focus when it comes to shutting down the Chicago passing game. That could free up Bennett to post a career season in 2012, especially if rookie wideout Alshon Jeffery struggles.
Martellus Bennett, TE, New York Giants (ADP: ??): He's got the size, speed and athleticism to be one of the best tight ends in the league. The problem is that he can't seem to get his head right. Now 25-years-old, with four seasons under his belt and playing with the defending champion New York Giants, Bennett will never have a better shot to show the league what he is capable of achieving. That being said, he's not worth a pick unless it's the last 3-4 rounds of your draft.
Hit me up on Twitter: @JoeFortenbaugh