August 16, 2013 -
Joe Fortenbaugh
2013 fantasy busts/overvalued
Last Friday was dedicated to the players we predict will outperform their current draft positions, so why not spend this Friday taking a look at the guys we expect to come up short in 2013?
One note: Just because a player's name appears on this list does not mean we expect him to produce a terrible stat line this season. Some of these players are here simply because we feel that owners are currently overvaluing their worth heading into draft day.
Enjoy, feel free to visit the comments section with your thoughts/questions and have a great weekend.
ADP: Average draft position, acquired from the website Fantasy Football Calculator.com.
QUARTERBACKS
Tom Brady, New England Patriots (ADP: 49.4): It pains me to write this because I've been a staunch supporter of Brady's for more than a decade, but at the cost of a fifth-round pick or higher, the three-time Super Bowl winner just isn't worth it. 100+ catch artist Wes Welker is in Denver and has been replaced by the oft-injured Danny Amendola, Aaron Hernandez is in jail, Rob Gronkowski is coming off five surgeries and the Patriots still have yet to replace the production lost on the outside when receiver Randy Moss was sent packing. Throw in the fact that this season offers an ultra-deep quarterback class and you've got plenty of good reasons to keep that finger off the trigger when it comes to targeting Brady.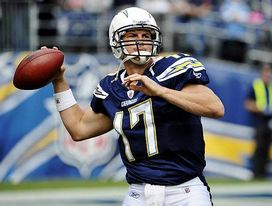 Rivers has been drastically off his game for each of the last two seasons.
Philip Rivers, San Diego Chargers (ADP: 158.4): Unlike Brady, this isn't a question regarding value because at the cost of a 16th-round pick, Rivers is currently at the cheapest price we've ever seen during his seven years starting in San Diego. Danario Alexander has already been lost for the year and the rest of the wide receiving unit brings even more uncertainty to the table, and that's before you factor in the age of tight end Antonio Gates, who turned 33-years-old in June. In addition, Rivers has thrown 35 picks over the last two years and his QB ratings from 2012 and 2011 were at their lowest points since his second season as a starter back in 2007.
RUNNING BACKS
Darren McFadden, Oakland Raiders (ADP: 31.4): The good news is that McFadden is entering a contract year, so the motivation factor is off the charts. The bad news—and there's plenty of it—is that the former Arkansas standout has missed at least three games in each of his five NFL campaigns and averaged a career-low 3.3 yards per carry in 2012. Not only that, but the Raiders are completely devoid of firepower on the offensive side of the football, meaning McFadden's touchdown total isn't likely to eclipse the six he's posted over the last two years combined.
Ray Rice, Baltimore Ravens (ADP: 7.1):
BenJarvus Green-Ellis, Cincinnati Bengals (ADP: 83.2): Scored only six touchdowns and averaged a paltry 3.9 yards per carry during his first season with the Bengals in 2012. But that's not what should worry you about Green-Ellis. The big red flag regarding BJGE is that rookie second-round pick Giovani Bernard (North Carolina) is going to steal his job.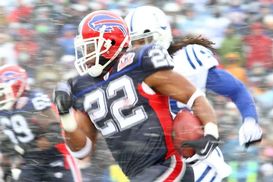 ICONJackson will spend the 2013 season watching C.J. Spiller shred opposing defenses.
Fred Jackson, Buffalo Bills (ADP: 98.9): Turned 32-years-old in February, has appeared in just 20 games over the last two seasons and averaged a career-low 3.8 yards per carry in 2012. Jackson has value if something happens to top-five pick C.J. Spiller, but outside of that, there's little to get excited about here.
Steven Jackson, Atlanta Falcons (ADP: 15.4): S-Jax has 2,396 rushing attempts worth of wear on his tires and turned 30-years-old in July. And while we envision him serving as an upgrade over the departed Michael Turner in the Atlanta rushing attack in 2013, the problem is that Jackson is being severely overvalued on the market at the moment. Give me a guy like Steven Ridley or Reggie Bush at a cheaper price any day of the week and twice on Sundays.
Ryan Mathews, San Diego Chargers (ADP: 54.8): Mathews has shown us very little since the Chargers made the ill-fated mistake of trading up 16 spots in the first round of the 2010 draft to acquire the Fresno State alum's services. He's never played a full 16-game season (missed four games in both '10 and '12), scored just one touchdown last year and is running behind an offensive line full of question marks and second-string talent from other NFL franchises. I'm no longer interested in what Ryan Mathews is capable of producing. I'm dealing only with reality when it comes to the San Diego running back from this point forward.
Ahmad Bradshaw, Indianapolis Colts (ADP: 56.9): The 27-year-old former Giant has completed a full 16-game season only once during his six-year career and is still battling the myriad of foot injuries that plagued him during his time with Big Blue. Bradshaw's the type of guy you draft after the 13th round for the sole purpose of adding some depth to your RB platoon. He's not the type of ball-carrier you bank on to produce consistent numbers on a weekly basis.
Mikel Leshoure, Detroit Lions (ADP: 125.1): It's Reggie Bush's job barring injury. Leshoure is nothing more than a complementary back at this point.
DeMarco Murray, Dallas Cowboys (ADP: 27.0): Has appeared in only 23 games over the last two seasons and averaged a mediocre 4.1 yards per carry in 2012. Murray has some upside, but the injury concerns and lack of production last season have us weary about spending a third-round pick on the Dallas running back.
Ryan Williams, Arizona Cardinals (ADP: N/A): No No No No No No No No No No.
No.
WIDE RECEIVERS
Tavon Austin, St. Louis Rams (ADP: 75.2): The rookie speedster out of West Virginia has a world of upside…down the road. But it's going to take Austin some time to transition to a pro-style offense, not to mention the fact that the defenses San Francisco, Seattle and others will trot out on Sundays will look nothing like the units Maryland, Baylor and Oklahoma threw at the first-year pass-catcher in 2012. We'd recommend going after Austin if he slides somewhere near the ninth or tenth rounds.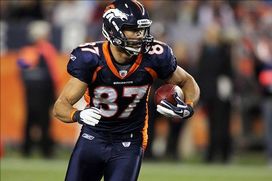 Decker is going to lose a significant amount of targets thanks to the arrival of Wes Welker.
Eric Decker, Denver Broncos (ADP: 62.2): His 85-1,064-13 stat line from last season was impressive, to say the least, but Decker is going to see less targets in 2013 thanks to the offseason acquisition of former Patriots wideout Wes Welker. A decrease in targets likely means a decrease in production and we'd be willing to bet that Decker falls at least three touchdowns shy of the 13 he scored last year.
Pierre Garcon, Washington Redskins (ADP: 49.7): Explosive at times when he's on the field, the problem with Garcon is that he's one of the most unreliable top-20 fantasy wide receivers entering the 2013 campaign. Appeared in just ten games last season and has never eclipsed seven touchdowns, 70 receptions or 950 receiving yards in any of his five professional seasons.
Greg Jennings, Minnesota Vikings (ADP: 83.0): Will no doubt see plenty of targets as quarterback Christian Ponder's top wide receiver this season, but that's the problem: Ponder. The third-year signal-caller out of Florida State is averaging just 6.2 yards per pass attempt for his career and is highly unstable under center in Minnesota. Take note that Jennings turns 30-years-old in September, has appeared in just 21 games over the last two seasons and could lose some of Ponder's affection if rookie wideout Cordarrelle Patterson develops quicker than expected.
TIGHT ENDS
Our research turned up exactly zero tight ends to label as either busts or overvalued. However, we do plan on exercising some caution when it comes to New England's Rob Gronkowski. Five offseason surgeries (including his back) with a current ADP of 46.6 has us a bit concerned, but not enough to list him in this column.
DEFENSE/SPECIAL TEAMS
Denver Broncos (ADP: 114.2): Currently listed as the fourth D/ST off the board at Fantasy Football Calculator, we'd rather target a unit like the one in Cincinnati or St. Louis before going after Denver. Should Peyton Manning and company roll up the points many are predicting this season, the opposition is going to be throwing the ball all over the field well into the fourth quarter. And let's not forget about the loss of pass rusher Elvis Dumervil and four-game suspension currently hanging over the head of Von Miller.
Hit me up on Twitter: @JoeFortenbaugh