August 09, 2013 -
Joe Fortenbaugh
2013 fantasy sleepers
We'll begin where most fantasy publications commence in regards to this topic and that's by addressing the definition of the word "sleeper." Like many other outlets in the industry, our definition of "sleeper" refers to players who are either relative unknowns poised to break out or guys who are being undervalued by the market at the current moment. Some of these names will be familiar to you, others not so much. But the bottom line is that we expect each of the following 23 names to outperform the current expectations established by the majority of the fantasy community.
ADP: Average draft position, acquired from the website Fantasy Football Calculator.com.
QUARTERBACKS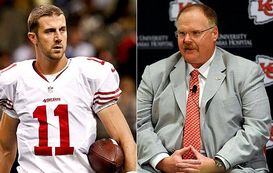 Reid won't be asking Smith to play the role of game manager.
Alex Smith, Kansas City Chiefs (ADP: 156.3): Recognized as the proverbial game manager during his time in San Francisco under Jim Harbaugh, we can assure you that Andy Reid doesn't plan on using the soon-to-be eight-year veteran the same way in Kansas City, otherwise he wouldn't have shipped two draft picks to the Bay Area to acquire Smith's services. Reid loves to throw the football and a new city and new conference isn't going to change that. From 2004-2012, Reid's Philadelphia Eagles ranked in the top-10 in the NFL in passing attempts seven times. In Kansas City, Smith will be given every opportunity to spread his wings.
Ryan Tannehill, Miami Dolphins (ADP: 161.2): Completed a respectable 58.3% of his passes as a rookie in 2012 and enters the 2013 campaign with a brand new arsenal that features wide receivers Mike Wallace, Brian Hartline and Brandon Gibson along with tight end Dustin Keller. Remember, head coach Joe Philbin was the offensive coordinator in Green Bay who helped to turn Aaron Rodgers from Brett Favre's backup into the league's most dangerous passer.
Sam Bradford, St. Louis Rams (ADP: 154.9): After three seasons it's time for Bradford to justify that ludicrous NFL rookie contract and first overall selection. And there's reason to believe it will happen after watching the Oklahoma standout post career highs in passing yards (3,702), touchdowns (21) and QB rating (82.6) during his first season under head coach Jeff Fisher. The running game in St. Louis looks a bit shaky at the moment, but Bradford will be able to lean on young wide receivers Chris Givens and Tavon Austin as well as offseason tight end acquisition Jared Cook.
RUNNING BACKS
David Wilson, New York Giants (ADP: 35.6): A case of fumble-itis derailed the first half of Wilson's 2012 rookie season, but the speedster from Virginia Tech rebounded late in the year to amass 256 rushing yards and three touchdowns on 47 carries (5.4 YPA) during the month of December. Ahmad Bradshaw is gone, but Wilson will still have to compete with 2009 draft pick Andre Brown for carries. Our money's on Wilson, as we believe the Giants spent a first round pick on this guy for a real good reason.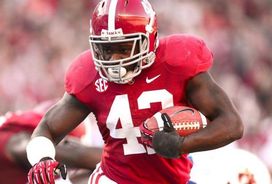 Lacy could be a touchdown machine in Green Bay's high scoring offense.
Eddie Lacy, Green Bay Packers (ADP: 46.1): Our bet is that Lacy will reach double-digit touchdowns with a couple of games left on the schedule. His power, pedigree and 230-pound frame give the Packers exactly what they need to jump-start a lackluster rushing attack.
Giovani Bernard, Cincinnati Bengals (ADP: 60.0): Patience is a virtue with Bernard, who will have to unseat former free agent acquisition BenJarvus Green-Ellis for the starting job in Cincinnati. But Bernard has the hands and quickness to contribute in a big way to the Cincinnati passing attack, which is why we believe the rookie from North Carolina's reps will increase as the season progresses. Quick-trigger owners are advised to stay away, as you might not like what you see during the first few games of the season.
Le'Veon Bell, Pittsburgh Steelers (ADP: 31.0): Few are talking about the 244-pound bruiser from Michigan State who could become a bell-cow back in the Pittsburgh offense this season. Good, because that's exactly how we like it. Bell ran roughshod over the Big Ten in 2012, amassing 1,844 rushing yards and 12 scores in 13 games for Sparty. Pittsburgh has been on the hunt for a reliable every-down ball-carrier over the last few seasons and could have found their man in the second round of April's draft.
Vick Ballard, Indianapolis Colts (ADP: 104.6): Worth a late-round flier due to Ahmad Bradshaw's bad feet and Donald Brown's overall ineffectiveness. The second-year back out of Mississippi State won't wow you with his speed and the big-time, gaudy performances will be few and far between, but Ballard comes at a cheap price and can provide nice depth as an RB4.
Lamar Miller, Miami Dolphins (ADP: 28.8): Hopefully that first down fumble in the Hall of Fame game sends some suitors running for the hills because the secret is out on Miller, who brings explosive speed and fresh legs to a Miami offense that upgraded in expensive fashion this offseason. Averaged 4.9 yards per carry as Reggie Bush's backup in 2012, but now inherits the starting gig and all the carries that come with it.
LaMichael James, San Francisco 49ers (ADP: 147.9): The show belongs to Frank Gore, so it's unreasonable to view James as a fantasy starter unless something happens to the 30-year-old 4-time Pro Bowler. But James is going to see an influx of touches this season and should something happen to the aforementioned Gore, the former Oregon product could become a regular in the infamous fantasy flex position.
WIDE RECEIVERS
Antonio Brown, Pittsburgh Steelers (ADP: 58.0): Has caught 135 passes for 1,895 yards and seven scores over his last 29 games with the Steelers and now becomes quarterback Ben Roethlisberger's top target due to the free agency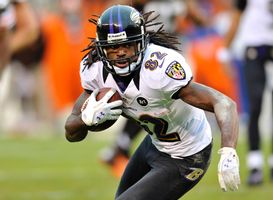 Despite being Joe Flacco's best and most reliable remaining weapon, Smith is receiving little love from owners this summer.
Torrey Smith, Baltimore Ravens (ADP: 56.0): Somebody has to catch the ball in Baltimore this season and with Anquan Boldin playing in San Francisco and Dennis Pitta down for the count, Smith will no doubt function as Joe Flacco's top target. So why is the soon-to-be third-year veteran out of Maryland falling all the way to the sixth round in mock drafts?
T.Y. Hilton, Indianapolis Colts (ADP: 81.4): Came out of nowhere to catch 50 passes for 861 yards and seven scores as a rookie playing with a first-year quarterback in 2012. Hilton already has five 100-yard games under his belt and should experience an uptick in production with quarterback Andrew Luck finding greater comfort playing at the NFL level in year 2.
DeAndre Hopkins, Houston Texans (ADP: 105.2): We've heard this story before: The Texans desperately need a No. 2 receiver to line up and produce opposite Andre Johnson and INSERT NAME HERE is going to benefit from more favorable coverage matchups as a result. To date, several players have tried and failed to fill the void, but Hopkins is probably the best of any that came before him. Caught 82 passes for 1,405 yards and a staggering 18 scores at Clemson last season, which is just one of the reasons Hopkins was viewed by many as the best receiver in this year's draft class.
Rueben Randle, New York Giants (ADP: 131.0): With starting receivers Hakeem Nicks and Victor Cruz nowhere near New York's offseason workout program, Randle capitalized on his increased reps in the Big Blue offense and drew rave reviews from offensive coordinator Kevin Gilbride. Currently the No. 3 wideout on the Giants depth chart, Randle could produce some quality numbers should something happen to either starter, especially when you consider the fact that Nicks has never played a full 16-game season in his four-year career.
Vincent Brown, San Diego Chargers (ADP: 110.7): Caught 19 passes for 329 yards (17.3 YPC) and two scores as a rookie in 2011 before missing the entire 2012 campaign with a broken ankle. But the upside here is that San Diego is somewhat depleted at the wide receiver position after Danario Alexander was lost for the year with a torn ACL. Throw in the fact that Robert Meachem has been a total bust since coming over from New Orleans and Malcom Floyd has only one full 16-game season under his belt in eight years and the door is open for Brown to emerge as one of Philip Rivers' top targets in 2013.
Chris Givens, St. Louis Rams (ADP: 144.4): First-round pick Tavon Austin will get all of the preseason attention, but it's the second-year Givens who brings the most value to the table this August. Caught 42 passes for 698 yards and three scores in 15 games as a rookie last season and has an edge over Austin when it comes to both timing and rapport with quarterback Sam Bradford.
TIGHT ENDS
Martellus Bennett, Chicago Bears (ADP: 128.8): There's going to come a time when Bennett finally realizes his potential and dammit, I'm not going to miss it. Posted a career-high stat line with the Giants last year (55-626-5) and was signed by the Bears this offseason as an additional weapon for quarterback Jay Cutler. Bennett is one of the most athletically gifted tight ends in the league, but he needs to work on his consistency and focus if he's ever going to become one of the league's best at the position.
Fred Davis, Washington Redskins (ADP: 141.1): Scored 12 touchdowns from 2009-2011 and posted a career-high 59 receptions for 796 yards in 2011 before playing in just seven games last season due to a torn Achilles tendon. But the 27-year-old is back, healthy and ready to make some noise with quarterback Robert Griffin III. Should be considered a TE2 until we witness some consistency.
Jordan Cameron, Cleveland Browns (ADP: 146.6): Limited to just 20 catches for 226 yards and one score in 14 games last season, but things are different in Cleveland this year with quarterback Brandon Weeden entering his second campaign and former San Diego head coach Norv Turner running the offense. Bonus: It's hard not to like Cameron's basketball background, as TE studs Tony Gonzalez, Antonio Gates and Jimmy Graham all played some hoops as well during their time in college.
DEFENSE/SPECIAL TEAMS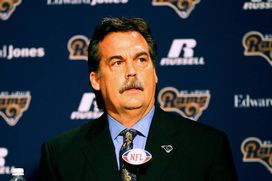 The St. Louis defense made a big turnaround in Fisher's first year on the job.
St. Louis Rams (ADP: 149.7): Take a look at what Jeff Fisher achieved in his first year at the controls in St. Louis:
2011: 358.4 yds/gm, 25.4 pts/gm, 18 forced turnovers, 39 sacks
2012: 342.6 yds/gm, 21.8 pts/gm, 21 forced turnovers, 52 sacks
Look for Fisher and the Rams to improve on those numbers once again in 2013.
Cleveland Browns (ADP: 164.5): Took a step back in 2012 after surrendering 363.8 yards per game compared to 332.4 yards per game the season prior, but spent the offseason addressing the issue by signing DE Desmond Bryant and OLB Paul Kruger as well as the expenditure of a top-ten pick on OLB Barkevious Mingo. Owners should view Cleveland as a D/ST2 with upside.
Hit me up on Twitter: @JoeFortenbaugh