August 13, 2013 -
Joe Fortenbaugh
2013 NFL season win total predictions
Since hitting the board in late May, the full slate of 2013 NFL season win total offerings—both offshore and in Las Vegas—has undergone a noticeable facelift, as early bettors have made their opinions known with financial investments that will hopefully pay off come January.
Today we're going to examine our six wagers for the upcoming season with the updated lines currently available at the LVH sports book here in Las Vegas. And while we fired on each of these options at some point over the last month at different numbers, it doesn't make much sense for us to list these plays at lines that are no longer available.
Kansas City Chiefs OVER 7.0
Line: 7.0 (Over: -180, Under: +160)
Analysis: Kansas City's season win total opened as low as 6.5 and now sits as high as 7.5, with the LVH remaining one of the few shops in the business to offer a 7.0. But the over juice has been on the rise in recent weeks, as late July's +110 has since been adjusted north to a lofty -180. Translation: The secret's out. The switch from Matt Cassel to Alex Smith will help the Chiefs in both the turnover differential and sack differential departments while new boss Andy Reid gives the organization a tactical upgrade over Romeo Crennel. And you can't help but love a schedule that features showdowns with the Raiders (twice), Chargers (twice), Jaguars, Titans, Browns, Bills and Colts. In addition, Reid's familiarity with former divisional foes Dallas, New York and Washington should give Kansas City an edge heading into their out-of-conference matchups.
New York Jets UNDER 6.5
Line: 6.5 (Over: +145, Under: -165)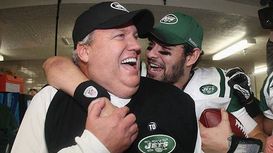 It's been a long time since Rex Ryan and Mark Sanchez had something to smile about in New York.
Analysis: The under opened 6.5 -130 at the Wynn and 6.5 -110 at the LVH, meaning we now have a second bet that is headed in the right direction. Teams that have two quarterbacks have no quarterbacks and that's just one of several problems facing Gang Green in 2013. Darrelle Revis, Bart Scott and Dustin Keller are gone, wide receiver Santonio Holmes is still battling a foot injury and told friends he'll miss at least the first four games of the season and head coach Rex Ryan has to remain standing for fear of the third-degree burns that will scorch his rear end if he takes a seat. There's not a whole lot to like about this club entering the 2013 campaign and at the current moment, seven wins seems like a big stretch.
Cincinnati Bengals OVER 8.5
Line: 8.5 (Over: -140, Under: +120)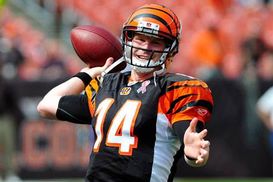 We're betting that Andy Dalton takes another step forward this season.
Analysis: This is a bet on the continued progression of quarterback Andy Dalton, who has won nine or more games and qualified for the playoffs in each of his two professional campaigns. Dalton's passer rating jumped seven points from his freshman to sophomore seasons as the former TCU standout completed 62.3% of his passes (up from 58.1% in '11) and tossed 27 touchdowns (up from 20) prior to the offensive additions of rookies Giovani Bernard and Tyler Eifert. Throw in the league's sixth-ranked defense from a year ago and I not only like the Bengals to eclipse 8.5 wins, but I'll bet them to win the AFC North as well.
Detroit Lions OVER 7.5
Line: 7.5 (Over: -175, Under: +155)
Analysis: Opened 7.5 -110 at the LVH and has taken enough over money since that time to push the juice to a lofty -175. I'm of the belief that this Detroit roster more closely resembles the 10-6 playoff team from 2011 than the 4-12 disaster from last year. The offseason acquisition of RB Reggie Bush provides a big boost to the offense while the one-two DL punch of Ndamukong Suh and Nick Fairley is going to wreak havoc on opposing offensive lines. A home showdown with Minnesota to open the year followed by a trip to Arizona in Week 2 gives the Lions an excellent chance to put last season behind them with a 2-0 start.
Indianapolis Colts UNDER 8.5
Line: 8.5 (Over: -110, Under: -110)
Analysis: In 2012, the Colts became the first team in NFL history to win 11 or more games during the regular season while being outscored by the opposition (-30 point differential). What's even more surprising is that Indy hit the 11-win mark while posting both a negative sack differential (-9) and negative turnover differential (-12). In addition, take note that since 2002, there have been 32 instances in which an NFL team posted a record of 7-9 or worse one season and then came back the following year to win ten or more games. And in 27 of those instances (84.37%), the team in question went backwards in year 3. Indy had a busy offseason, but we don't see this team getting back to the nine-win mark in 2013.
LEAN
Minnesota Vikings UNDER 7.0
Line: 7.0 (Over: +130, Under: -150)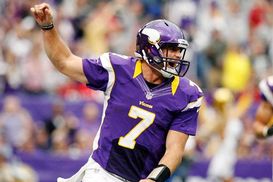 Christian Ponder ranked 31st in the NFL in yards per attempt average last season.
Analysis: We're listing this play as a lean because we bet the Vikings under at 7.5 (-145), so the half game shift to 7.0 with similar juice makes this much less appealing to write up as an official wager. Just like the Colts, the Vikings fall under the trend of teams that went 7-9 or worse one season and then came back the following year to win 10 or more games. In addition, Bill Barnwell of Grantland had a solid piece on Monday outlining several reasons why he believes the Vikings could be headed for a regression in 2013. We'll add one more piece to that pie: Take a look at the opposing quarterbacks the Vikings have to face this season:
Week 1: at Matthew Stafford
Week 2: at Jay Cutler
Week 3: vs. Brandon Weeden
Week 4: vs. Ben Roethlisberger
Week 5: BYE
Week 6: vs. Cam Newton
Week 7: at Eli Manning
Week 8: vs. Aaron Rodgers
Week 9: at Tony Romo
Week 10: vs. Robert Griffin III
Week 11: at Russell Wilson
Week 12: at Aaron Rodgers
Week 13: vs. Jay Cutler
Week 14: at Joe Flacco
Week 15: vs. Michael Vick
Week 16: at Andy Dalton
Week 17: vs. Matthew Stafford
Minnesota's secondary is going to have their work cut out for them in 2013.
Hit me up on Twitter: @JoeFort enbaugh