August 01, 2014 -
Joe Fortenbaugh
2014 fantasy busts
The amount of time dedicated to fantasy football draft preparation varies from owner to owner, with one end of the spectrum hosting junkies who spend weeks gearing up for the big day and the other housing the aloof characters I like to refer to as "dead money."
Whatever side of the spectrum you find yourself calling home, remember that how you spend your prep time is just as important as the amount of time spent overall. Everybody is on the lookout for the next big sleeper, but a common pitfall for many owners is spending an inadequate amount of time identifying which players are headed for either a regression of full-blown meltdown of a season. Remember, the key is drafting the right players at the right prices.
After dedicating last week to an in-depth preview of our top sleepers for the 2014 season, today we analyze those players who are being overvalued by the current fantasy market. Some will have respectable seasons, but at too high a cost. Others will flat out fall on their respective faces.
ADP: Average Draft Position (courtesy of FantasyFootballCalculator.com)
QUARTERBACKS
Cam Newton, Carolina Panthers (ADP: 81.9): This isn't so much an indictment of Newton as it is the Carolina front office, who has done a piss poor job of providing their franchise quarterback with a capable supporting cast. This past off-season saw the departure of 53.4 percent of Newton's 2013 completed passes (Steve Smith, Brandon LaFell, Ted Ginn and Domenik Hixon), which has since been replaced by 32-year-old Jerricho Cotchery, 31-year-old Jason Avant (who has never amassed more than 53 receptions in a season) and raw rookie Kelvin Benjamin. Newton will once again roll up some impressive numbers with his feet, but his week-to-week fantasy production should be highly inconsistent.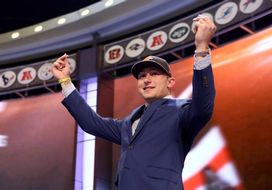 Manziel will likely be the most over-drafted player this fantasy season.
Johnny Manziel, Cleveland Browns (ADP: 132.7): Johnny Party Boy currently boasts a lower ADP than veterans Eli Manning, Carson Palmer, Ryan Tannehill and Josh McCown, all of whom will score more fantasy points this season than the former Heisman Trophy winner. I love Manziel's antics as much as the next guy, but he is being severely overvalued by fantasy owners who are expecting a breakthrough performance in 2014. For Manziel to justify his draft position, he'll need to beat out hard-working veteran Brian Hoyer for the starting gig, have wideout Josh Gordon dodge a bullet when it comes time to hand down a suspension and then—and this is the best part—he'll have to go out on the field and start making plays. Keeper league owners are justified in taking a shot on Manziel sometime over the final few rounds, but everybody else should stay away.
RUNNING BACKS
Doug Martin, Tampa Bay Buccaneers (ADP: 24.1): More important than the statistical plummet Martin experienced last season due to a shoulder injury that limited the second-year back to just six games is the fact that he won't be the workhorse runner in Tampa Bay in 2014. New offensive coordinator Jeff Tedford is on record detailing his desire to use a running-back-by-committee approach and the Bucs spent the 69th pick in May's draft on West Virginia RB Charles Sims, not to mention the fact that Mike James and Bobby Rainey are still on the roster. Martin should be the Week 1 starter, but his snaps and touches will be less than what we've grown accustomed to witnessing over the last two years.
Marshawn Lynch, Seattle Seahawks (ADP: 11.2): No doubt Lynch is a stud who will continue to handle the bulk of the Seattle workload in 2014. But he's coming off back-to-back 300-carry seasons, saw his yards per carry average dip from 5.0 in 2012 to 4.2 last season and turned 28-years-old in April. It's time for the Seahawks to get backups Robert Turbin and Christine Michael more involved in the offense and, as a result, we no longer feel Lynch is worthy of a first or high second-round draft pick.
Trent Richardson, Indianapolis Colts (ADP: 53.3): Fool me once, shame on you. In 31 career NFL regular season appearances, Richardson is averaging just 3.3 yards per carry and is now on the verge of washing out of the league if he doesn't figure out how to justify that first-round pick Indy sent to Cleveland last year in exchange for his services. Donald Brown's off-season signing with San Diego freed up more of the workload for Richardson to handle, but Ahmad Bradshaw is back and healthy (for the moment) and the Colts just loss starting offensive guard Donald Thomas for the season with a torn quad. Stay away, no matter how good the price looks.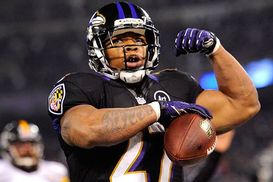 Rice's best years are behind him.
Ray Rice, Baltimore Ravens (ADP: 57.7): He'll miss the first two games of the season due to a suspension, turned 27-years-old in January, has 1,430 career rushing attempts on his legs and is coming off his worst season since turning pro in 2008. The upside is that the Baltimore offense was upgraded during the off-season and should find a way to improve on last year's 20.0 points per game average (25th in NFL). The downside, other than what we've already mentioned, is the fact that backup Bernard Pierce could impress during Rice's suspension, leading to a larger piece of the pie even after the starter becomes eligible to play in Week 3.
Darren McFadden, Oakland Raiders (ADP: 95.0): After six years in the league, here's what we know about McFadden: The guy has never appeared in more than 13 games during any regular season, has averaged a pathetic 3.3 yards per carry since 2012, has one 1,000-yard campaign to his name and maxed out at ten total touchdowns back in 2010. Throw in the fact that he'll be 27-years-old come Week 1 not to mention the arrival of veteran running back Maurice Jones-Drew and fantasy owners are looking at yet another sub-par season from the former Arkansas standout.
Zac Stacy, St. Louis Rams (ADP: 27.7): I like Stacy, especially after watching him bulldoze opposing defenses last season to the tune of 1,114 total yards and eight scores in 14 games. And I think the 23-year-old from Vanderbilt is going to have another productive year running behind the St. Louis offensive line in 2014. But the thought process here is that the third-round is a bit high for a back who averaged just 3.9 yards per carry last season and watched his franchise use a third-round selection on 2013 Heisman finalist Tre Mason. Stacy will be the starter come Week 1 and should hold the job for the majority of the season, but I think he's being overvalued by fantasy owners heading into August.
Knowshon Moreno, Miami Dolphins (ADP: 99.4): Don't let last year's career-high numbers fool you. That was more a byproduct of playing with Peyton Manning than anything else. Moreno has a lengthy history with injuries and won't have the luxury of consistently running against opposing defenses hell-bent on stopping the pass like he did in Denver. In addition, owners shouldn't forget about third-year back Lamar Miller, who we believe will win the starting job and produce an overall better stat line this season than Moreno.
WIDE RECEIVERS
Sammy Watkins, Buffalo Bills (ADP: 73.7): The fourth selection in May's draft is going to be a stud in the National Football League. But it's going to take Watkins some time to adjust to the speed and consistent press coverage he will face at the professional level, not to mention the fact that quarterback E.J. Manuel is only entering his second year and is still developing as a pro passer. Keeper league owners are welcome to roll the dice with an eighth round pick, but the rest of you should look for more consistency and experience at the position unless Watkins plummets past the tenth round.
Cordarrelle Patterson, Minnesota Vikings (ADP: 43.9): Based on the latest ADP data, Patterson is currently being selected higher than the likes of Michael Crabtree, DeSean Jackson and Percy Harvin. Why? No doubt the 23-year-old from Tennessee is a dynamic deep threat with speed for days, but Patterson hauled in just 45 passes as a rookie last season and will be catching balls in 2014 from one of Matt Cassel, Christian Ponder or rookie Teddy Bridgewater. With little to no consistency at the quarterback position, this is far too high a price to pay for a young wideout who still needs to improve his route running.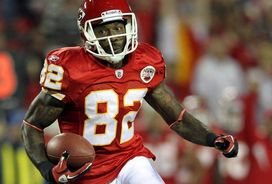 Forget about Dwayne Bowe...no matter what the price is.
Dwayne Bowe, Kansas City Chiefs (ADP: 99.6): Since Bowe's two-season stretch from 2010-2011 that yielded outstanding results (153-2,321-20), the seven-year veteran hasn't done much of anything. The last two years have resulted in just 116 receptions and eight scores with zero 1,000-yard efforts. In fact, Bowe's numbers were actually worse last season than they were in 2012 despite him playing in two more games. It looks to me like this guy's best football is behind him.
T.Y. Hilton, Indianapolis Colts (ADP: 59.0): A rising star whose target total just got derailed thanks to the off-season acquisition of free agent wide receiver Hakeem Nicks. Hilton should see a decent amount of snaps and will be good for a handful of big-time plays in 2014, but owners are currently drafting him based on his 2013 stat line rather than his role as the third receiver in the Indy offense. Remember, Reggie Wayne is healthy and back in the lineup and the coaching staff is keeping a close eye on second-year man Da'Rick Rogers. Barring injuries, Hilton won't see nearly as many targets this year as he did last.
Danny Amendola, New England Patriots (ADP: 113.5): He gets injured every season, has scored a grand total of just nine touchdowns during his five years in the league and has never topped 700 receiving yards in a season. In addition, tight end Rob Gronkowski is back in action and 2013 rookie wideouts Aaron Dobson and Kenbrell Thompkins will be expected to step up and take on bigger roles this year. Drafting Amendola, at any price, is just asking for trouble.
Cecil Shorts, Jacksonville Jaguars (ADP: 118.6): His stat lines over the last two years have been respectable, but Shorts has a plethora of competition to contend with for targets this season as the Jaguars added wide receivers Marqise Lee and Allen Robinson to the roster in May's draft. In addition, this is a football team that prefers to grind it out via the ground game and, despite lackluster results over the last few seasons, is getting better under second-year head coach Gus Bradley, which means less garbage time opportunities for Shorts in 2014.
TIGHT ENDS
Kyle Rudolph, Minnesota Vikings (ADP: 94.8): If he played on a team with a viable starting quarterback, Rudolph would be one of the most prolific tight ends in the league. But that's not the case, as the newly-minted three-year veteran will be catching passes from some combination of Matt Cassel, Christian Ponder and Teddy Bridgewater in 2014. Despite his impressive skill set, Rudolph was only able to muster 30 receptions for 313 yards and three scores last season due to a combination of injuries and poor quarterback play. There are better options out there for a cheaper price.
DEFENSE/SPECIAL TEAMS
Carolina Panthers (ADP: 114.6): In terms of talent and pedigree, Carolina's got both in spades. The problem, however, is twofold. First, defensive end Greg Hardy and his career-high 15.0 sacks in 2013 are headed for a suspension. Second, the Panthers' offense is going to struggle this year, resulting in more three-and-outs meaning more time on the field with less rest for the defensive unit. This is still a terrific NFL defense, but we don't feel they're worthy of being the third D/ST off the board, as current ADP data indicates.
Arizona Cardinals (ADP: 137.8): Arizona's two leading tacklers from 2013 are gone, as Karlos Dansby bolted for the big payday in Cleveland while Daryl Washington was hit with a one-year suspension due to a violation of the league's substance abuse policy. Additionally, outside linebacker John Abraham is looking at a suspension for a recent DUI offense while cornerback Antonio Cromartie and defensive tackle Darnell Dockett are both on the wrong side of 30. This is a good unit, but it needs to be complemented with another D/ST so owners can play the more favorable weekly matchup.
Hit me up on Twitter: @JoeFortenbaugh