May 28, 2014 -
Joe Fortenbaugh
2014 fantasy preview: Top-25 players
Tuesday brought a surge of excitement to the internets as the realization hit that we're just 100 days from the start of the 2014 regular season. While I'm certainly not one to rush the glorious months of summer, I do believe wholeheartedly in the advantages that come with preparation.
So whether you're polishing off a margarita or grinding through another work day counting down the minutes until the weekend, here's a look at our early top-25 fantasy rankings for the 2014 campaign. The following list will no doubt be adjusted at least a dozen times between now and August, but this should serve as an excellent jumping-off point for our research.
PRESEASON TOP-25
1. Jamaal Charles, RB, Kansas City Chiefs (Age: 27): With an offensive system that turned both Brian Westbrook and LeSean McCoy into fantasy gold in Philadelphia, head coach Andy Reid signed on with the Chiefs in 2013 and helped Charles produce the most explosive stat line of his six-year career. In addition to the 19 total touchdowns, PPR owners should note the career-best 70 receptions (fifth among RBs) for 693 yards and seven scores Charles amassed in 2014.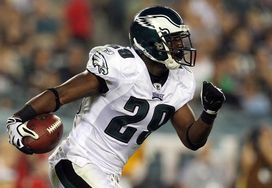 McCoy led the NFL in scrimmage yards last season with 2,146.
2. LeSean McCoy, RB, Philadelphia Eagles (Age: 26): Led the NFL in yards from scrimmage last season (2,146) while averaging an ultra-impressive 5.1 yards per carry. Still plenty of gas left in the tank to exceed expectations in Chip Kelly's up-tempo, high-flying offense, but note the career-high 314 rushing attempts that were added to McCoy's legs last season.
3. Matt Forte, RB, Chicago Bears (Age: 28): Produced the best stat line of his six-year career thanks to the switch from defensive-minded HC Lovie Smith to offensive mastermind Marc Trestman. A monster in the passing game (74-594-3) who stayed under 300 carries for the fifth consecutive season.
4. Adrian Peterson, RB, Minnesota Vikings (Age: 29): A total freak show in every positive sense of the word, Peterson's fall from the top of the fantasy world has to do less with his talent and more with his supporting cast. The Vikings will likely feature two unreliable quarterbacks in Matt Cassel and rookie Teddy Bridgewater this season, not to mention the fact that the team will be playing all eight home games outdoors until their new stadium is completed in 2016.
5. Calvin Johnson, WR, Detroit Lions (Age: 29): Since 2011, Megatron ranks first in the NFL in receiving yards with 5,137, which is 1,120 yards more than second-place finisher Brandon Marshall. During that same time span, Johnson also ranks first in targets (519), second in receptions (302) and third in touchdowns (33). While his target totals may drop a bit in 2014, the Pro Bowl mainstay should benefit from the addition of former Seahawk Golden Tate to the starting unit.
6. Eddie Lacy, RB, Green Bay Packers (Age: 24): Ranked eighth in the NFL in rushing yards as a rookie last season (1,178) despite appearing in only 15 contests. Can contribute in the passing game (35-257-0) and will once again benefit from an abundance of goal line work thanks to an offense led by Pro Bowl quarterback Aaron Rodgers. Terrific keeper league option.
7. Marshawn Lynch, RB, Seattle Seahawks (Age: 28): One of the NFL's premier workhorse backs, Lynch would be higher up the pecking order if not for his age, the 616 rushing attempts he's put on his legs over the last two years and the fact that with Seattle coming off a Super Bowl win, you have to ponder the motivational angle.
8. Demaryius Thomas, WR, Denver Broncos (Age: 26): Has racked up 186 receptions for 2,864 yards and 24 scores in the 32 regular season games since the arrival of future Hall of Famer Peyton Manning. As an added bonus, Thomas is entering the final year of his five-year rookie contract and is looking to cash-in his chips as so many Manning receivers have done before him.
9. Jimmy Graham, TE, New Orleans Saints (Age: 27): The most lethal red zone target in the game, Graham has notched 85 or more receptions in each of the last three seasons and is coming off a career year that featured 16 scores and a YPR (yards per reception) average of 14.1. His current financial feud with the New Orleans front office is of little concern, as there is no way the Saints enter the 2014 campaign without Graham in the starting lineup.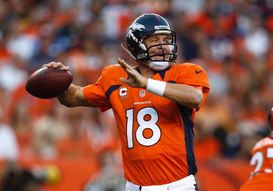 Manning will put your team on his back and carry them to the playoffs.
10. Peyton Manning, QB, Denver Broncos (Age: 38): I'm usually hesitant about ranking quarterbacks inside of the top-10, but Manning is the type of player who can put your fantasy team on his back and carry them to the playoffs. Looks to follow up a historic season (career highs with 5,477 passing yards and 55 touchdowns) with one last shot at a second Vince Lombardi Trophy. The loss of wideout Eric Decker was mitigated by the signing on former Steeler Emmanuel Sanders.
11. Doug Martin, RB, Tampa Bay Buccaneers (Age: 25): A bit of a gamble here after last season's injury-plagued, six-game campaign. But the arrival of HC Lovie Smith brings stability to the Tampa franchise as well as an emphasis on both defense and the ground game. New rookie weapons Mike Evans (WR) and Austin Seferian-Jenkins (TE) should help to open up the running lanes for a back who amassed 1,926 total yards as a rookie in 2012.
12. Montee Ball, RB, Denver Broncos (Age: 23): With former starter Knowshon Moreno now in Miami, the floor is open for Ball to emerge as one of the league's top young running backs. Carried the ball ten or more times in just six regular season games last year and you always have to worry about Manning going nuclear to the point where the receivers and tight ends do all of the scoring. Great keeper league option, but there is plenty of mystery here.
13. A.J. Green, WR, Cincinnati Bengals (Age: 26): This guy is as smooth as poured water. Has notched 195 receptions for 2,776 yards and 22 scores over his last 32 regular season games and is only getting better. Would be ranked higher if not for the departure of offensive coordinator Jay Gruden (Washington) and fact that inconsistent quarterback Andy Dalton is facing a ton of pressure in 2014.
14. DeMarco Murray, RB, Dallas Cowboys (Age: 26): Coming off a career year that featured 1,471 total yards, ten scores and—PPR owners take note—53 receptions. But injuries are a major concern here, as Murray has never played a full 16-game season, missing a total of 11 games during his first three seasons in the league. Serious upside with serious risk.
15. Arian Foster, RB, Houston Texans (Age: 28): The 956 rushing attempts Foster amassed from 2010-2012 began to take their toll last season as the Pro Bowler was limited to just eight games for a 2-14 Texans team that completely fell off the map. Age, wear and tear and the Houston quarterb ack situation are all big red flags. Could fall further down the rankings by August.
16. Brandon Marshall, WR, Chicago Bears (Age: 30): The emergence of No. 2 receiver Alshon Jeffery cut into Marshall's stat line a bit last season, but the newly-minted wideout still recorded a blazing hot 100 receptions for 1,295 yards and 12 scores. For those scoring at home, Marshall has now hit the 100-catch mark in five of eight professional campaigns. Reliable, consistent, deadly.
17. Dez Bryant, WR, Dallas Cowboys (Age: 25): Has hauled in 185 receptions for 2,615 yards and 25 touchdowns over his last two seasons, making Bryant one of the game's elite pass-catchers. No defense in the league was gashed worse than the Cowboys last season (415.3 yds/gm) and with star linebacker Sean Lee expected to miss the 2014 campaign with a recently suffered knee injury, the floodgates should be open once again for the opposition. That means plenty of passing for the Dallas offense…and plenty of fantasy scoring for Bryant.
18. Le'Veon Bell, RB, Pittsburgh Steelers (Age: 22): Appeared in just 13 games last season, but found a way to amass 1,259 total yards and eight scores for an 8-8 Pittsburgh squad. A power back (6-1, 244 pounds) with reliable hands out of the backfield, Bell should make a serious run at 300 carries in 2014.
19. Alfred Morris, RB, Washington Redskins (Age: 25): Morris received far less attention last season than he did as a rookie in 2012 after the 'Skins completely melted down, went 3-13 and cleaned out the coaching staff. But here's the thing: Morris still recorded 1,275 rushing yards (fourth in NFL) and seven scores despite all the problems Washington encountered last year. A healthy RG3 couple with the addition of former Philadelphia Eagle DeSean Jackson should have this offense flying high in 2014 under first-year head coach Jay Gruden. Downside: Only 20 receptions in 32 career regular season outings.
20. Giovani Bernard, RB, Cincinnati Bengals (Age: 22): Touched the ball 226 times as a rookie last season (56 receptions) and should be in line for a bigger portion of the workload entering his sophomore campaign. But the presence of veteran BenJarvus Green-Ellis and the selection of rookie ball-carrier Jeremy Hill (LSU, second round) have me pondering whether this may be too high a ranking for Bernard. The touches and yardage totals should justify the position, but the touchdowns could be an issue.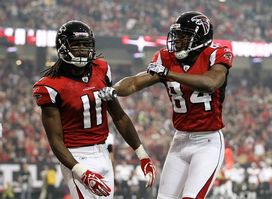 Jones (left) is now the top dog in the Atlanta passing attack.
21. Julio Jones, WR, Atlanta Falcons (Age: 25): Can the Atlanta offensive line keep quarterback Matt Ryan upright for 16 games in 2014? That's the big question. And if the answer turns out to be "yes," Jones should rebound from injury quite nicely to challenge that 79-1,198-10 stat line he produced in 2012. With TE Tony Gonzalez enjoying retirement and wideout Roddy White set to turn 33-years-old in November, Jones is now the top receiving threat in Atlanta.
22. Zac Stacy, RB, St. Louis Rams (Age: 23): A fifth-round selection out of Vanderbilt in 2013 who stole the starting job and never looked back, rolling up 1,114 total yards and eight touchdowns for an anemic St. Louis offense that battled inconsistency at the quarterback position all year long. The offensive line has been beefed up thanks to the May selection of OT Greg Robinson (Auburn, No. 2 overall) and the return of quarterback Sam Bradford coupled with the newfound experience of the young Rams receiving unit should give this offense a kick in the ass in 2014.
23. Drew Brees, QB, New Orleans Saints (Age: 35): Acquiring Brees means the only time a fantasy owner even has to glance at the quarterback position is during the New Orleans bye week. That's how rock-solid consistent this guy has been. Over the last three seasons, Brees is averaging 5,271 yards and 42.6 touchdown passes per year. One could make a good case that the former Super Bowl MVP is the most reliable player in the fantasy football world.
24. Alshon Jeffery, WR, Chicago Bears (Age: 24): Exploded in head coach Marc Trestman's new system last year to the tune of 89 receptions for 1,421 yards and seven touchdowns. A big and extremely physical target (6-3, 216) who can win the jump-ball battle anywhere on the field, Jeffery quickly became one of the game's top red zone targets. A healthy Jay Cutler should lead to another surge in production this season.
25. Jordy Nelson, WR, Green Bay Packers (Age: 29): It may not have included the 15 touchdown receptions he recorded during his 2011 breakout campaign, but Nelson was an animal in 2013 with a 85-1,314-8 stat line for the playoff-bound Packers. With James Jones now in Oakland and the tight end position loaded with question marks, Nelson and Randall Cobb become the go-to 1-2 punch for a quarterback in Aaron Rodgers who has posted a QB rating of 101.2 or higher in each of his last five seasons.
Hit me up on Twitter: @JoeFortenbaugh