July 24, 2014 -
Joe Fortenbaugh
2014 fantasy sleepers
As it relates to the fantasy football world, the word "sleeper" serves as excellent click bait with which to draw attention to a website, article or both. Raise your hand if you were drawn to this story for some reason other than the fact that the word "sleeper" appeared in the title. For those of you with your hands down, you get my point. For those of you with your hands in the air, put them down immediately. You're either reading this paragraph in privacy or you're screwing off at work and if it's the latter, then you likely look like a bozo who is sitting at his or her desk waiting for permission to use the can.
While the word "sleeper" is no doubt laced with sex appeal, the fact of the matter is that with the abundance of year-round coverage dedicated to both college football and the NFL, the die-hard fantasy owner is already well aware of just about every potential fantasy breakout star in the league. You know their names, their backgrounds and their competition for the starting job. This article contains some of those names, but it also includes a variety of well-established veterans who we feel are currently being undervalued by the market. And that's what this all boils down to: Value. You want to build a team with the best possible talent for the cheapest possible price. The first two rounds of any fantasy draft are loaded with playmakers deserving of their spots within those initial few selections. But after that it can get a bit murky, especially when you begin to ponder the right time to make a move on a valued target.
Below are the players we've identified to be the top sleeper/undervalued fantasy players entering the 2014 season. And yes, now that this article has been published, the fantasy questions can commence. Feel free to hit me up on Twitter or email me at Joe.Fortenbaugh@NationalFootballPost.com with any questions you may have from now until the end of the season.
Let's go to work.
ADP: Average Draft Position (courtesy of FantasyFootballCalculator.com)
QUARTERBACKS
Colin Kaepernick, San Francisco 49ers (ADP: 89.3): Last season it was a Richard Sherman end zone interception with 30 seconds remaining in the NFC Championship game that brought an end to the 49ers' title hopes. The year before featured three consecutive incomplete passes on the Baltimore 5-yard line that resulted in a 34-31 Super Bowl win for the Ravens. Between two straight crunch time meltdowns and the pain of watching hated rival Seattle hoist the Vince Lombardi Trophy last February, it's safe to say Colin Kaepernick has all the motivation he needs to bust loose in 2014. This season sees the 26-year-old signal-caller with his best supporting cast to date (Michael Crabtree, Anquan Boldin, Stevie Johnson, Vernon Davis and a loaded backfield), a brand new contract and a chip the size of Nevada residing firmly on his throwing shoulder. Currently the eleventh quarterback selected in mock drafts, we strongly feel that Kaepernick can make a run at the top-five in 2014.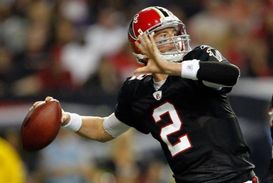 The return of a healthy Julio Jones should have caused Ryan's stock to rise higher than it has.
Matt Ryan, Atlanta Falcons (ADP: 78.2): Between his statuesque pocket presence and thoroughly underwhelming 2013 campaign (career-high 17 interceptions), Ryan's stock is at an all-time low entering the fall. That's excellent news for value shoppers because it means the Atlanta quarterback—armed with an upgraded offensive line and explosive wide receiving unit—will come at a terrific price this draft season. Note that the 29-year-old has thrown for over 4,100 yards in each of the last three years and has completed a staggering 68.0 percent of his passes since 2012.
Philip Rivers, San Diego Chargers (ADP: 109.7): Has started 128 of a possible 128 regular season games since taking over for Drew Brees in 2006, completed a career-high 69.5 percent of his passes in 2013 and posted a top-six fantasy finish last year with a quarterback rating of 105.5 (fourth in NFL). Wide receivers Vincent Brown and Malcom Floyd are healthy and set to team up with 2013 rookie sensation Keenan Allen and third-year tight end Ladarius Green (more on him later) is ready to emerge as the next big thing at the position. The downside here is that offensive coordinator Ken Whisenhunt—one of the architects behind the Rivers renaissance—bolted during the off-season to take over as head coach in Tennessee.
RUNNING BACKS
Stevan Ridley, New England Patriots (ADP: 64.7): Ball security issues derailed Ridley's 2013 season as New England head coach Bill Belichick was quick to yank the 25-year-old from the starting lineup in order to send a message. If said message was received, this guy can be had for an excellent price this summer. Remember, the LSU product ran roughshod over the NFL in 2012 to the tune of 1,263 rushing yards and 12 scores. Ridley is currently tops on the New England depth chart at the running back positon and at 220 pounds, should continue to handle the majority of the work down around the goal line.
Bishop Sankey, Tennessee Titans (ADP: 40.7): The dual-threat rookie from Washington averaged 5.4 yards per carry during his three seasons with the Huskies and is just one year removed from a 13-game campaign that featured 2,174 total yards and 21 touchdowns. More importantly, Sankey looks to be the only rookie running back at the moment in line to handle the majority of his team's workload, as Shonn Greene's five-year career has produced nothing more than mediocre results. Note that new head coach Ken Whisenhunt played a big role in turning around the career of running back Ryan Mathews in San Diego last season, who produced a career-high 1,255 rushing yards.
Bernard Pierce, Baltimore Ravens (ADP: 90.5): In addition to Pierce, the Baltimore depth chart includes two other running backs in Ray Rice and rookie Lorenzo Taliaferro who are facing suspensions from the league office. That puts the Temple product in line for the Week 1 starting gig in new offensive coordinator Gary Kubiak's system…a system, mind you, that turned undrafted free agent Arian Foster into a Pro Bowl running back. Should Pierce find a way to excel early in the season, he could just wind up locking down the job for the entire year.
Toby Gerhart, Jacksonville Jaguars (ADP: 35.9): There's nothing sexy about this recommendation, save for the fact that Gerhart put just 276 career carries on his legs in four years as Adrian Peterson's backup in Minnesota and should handle a monster workload with his new squad in Jacksonville.
Khiry Robinson, New Orleans Saints (ADP: 99.6): You have to go back to 2006 to find the last time a Saints running back carried the football more than 172 times in a season, so this recommendation could be a bit of wishful thinking on our behalf. However, with Darren Sproles now in Philadelphia, Pierre Thomas set to turn 30-years-old in December and Mark Ingram coming nowhere near the expectations that accompany a first-round draft choice, Robinson has an opportunity to take over the New Orleans backfield for the foreseeable future. As a tenth-round fantasy selection, that's worth a gamble in our opinio n.
Devonta Freeman, Atlanta Falcons (ADP: N/A) [KEEPER LEAGUE RECOMMENDATION]: The Florida State product averaged nearly six yards a carry last season with the National Champion Seminoles and now finds himself competing for snaps in an Atlanta backfield that includes 31-year-old Steven Jackson and situational back Jacquizz Rodgers. It's unlikely that Freeman sees ample playing time early in the 2014 season, but he's the future of the Falcons running game. If it doesn't happen this season, it should go down in 2015 which is why a late-round flyer here is worth the price of admission.
Jeremy Hill, Cincinnati Bengals (ADP: 102.8): A 6-2, 235-pound power back who ran for 1,401 yards and 16 scores while averaging a meaty 6.9 yards per carry for LSU last season, Hill has the potential to form a dynamic 1-2 punch with dual-threat second-year back Giovani Bernard in Cincinnati this season. 29-year-old BenJarvus Green-Ellis is still on the roster, but averaged just 3.4 yards per carry last season and is clearly replaceable due to the fact that the Bengals spent a secon- round selection to acquire Hill. The heavy workload may not be there this season, but look for Hill to earn his way into the goal line touches that could lead to some big fantasy points in 2014. Owners in keeper leagues should place a higher value on Hill's services.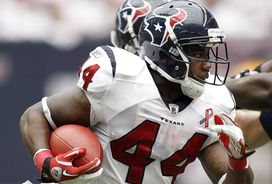 For the first time in his career, Ben Tate has the opportunity to be the featured back.
Ben Tate, Cleveland Browns (ADP: 56.7): After ranking 27th in the NFL in rushing a year ago, the new regime in Cleveland decided to address their issues at running back with the free agent signing of Tate (2 years, $6.2 million) and third-round selection of Towson bowling ball Terrance West. The 25-year-old Tate averaged 4.7 yards per carry during his three years in Houston and has a grand total of just 421 rushing attempts on his legs at this point in his career. But here's the thing: If Tate looks good in camp and develops into the workhorse back the Browns are looking for, his current ADP of 56.7 is an absolute steal. However, there's also the possibility of West landing the job and rendering Tate somewhat useless for fantasy purposes. So the key here is to pay very close attention to this training camp battle through the month of August.
Joique Bell, Detroit Lions (ADP: 59.9): Reggie Bush is still the featured back in Detroit, but Bell should come on strong in 2014 thanks to the arrival of new head coach Jim Caldwell. A dual-threat back with three years of service under his belt, Bell quietly amassed 1,197 total yards last year and has caught 105 passes over his last 32 outings. PPR owners are advised to take a good, long look at this guy during August.
<p>
Carlos Hyde, San Francisco 49ers (ADP: 123.1) [KEEPER LEAGUE RECOMMENDATION]:
The San Francisco backfield is loaded with the likes of Frank Gore, Kendall Hunter, LaMichael James, Marcus Lattimore and now Hyde, so chances are slim that the rookie from Ohio State sees an abundance of touches in 2014. However, Gore turned 31-years-old in May, Hunter is headed for free agency next winter and James has failed to distinguish himself after two years in the league, meaning Hyde could wind up as the No. 1 ball-carrier in San Francisco come next season.
Tre Mason, St. Louis Rams (ADP: 132.1): Zac Stacy performed admirably for the Rams in 2013, but Jeff Fisher loves a good running game and wouldn't have spent a third-round pick on Mason if he felt 100 percent comfortable riding Stacy for 16 games. Mason was an absolute beast at Auburn last year, amassing 1,979 total yards and 24 scores en route to a spot in the BCS Championship game. This will be one of the better training camp battles to watch during August and if Mason finds a way to win the gig, expect his ADP to skyrocket over the next few weeks.
WIDE RECEIVERS
Markus Wheaton, Pittsburgh Steelers (ADP: 148.6): A six-catch, 64-yard rookie season isn't the type of campaign that will sound off the alarms when it comes to fantasy football. But the Oregon State product is a burner who will benefit in 2014 from A) The departure of wideout Emmanuel Sanders and B) A solid year of professional experience under his belt. The Steelers are expecting big things from Wheaton this season and for the price of nothing more than a late-round pick, this is the type of player who can go from a WR4 on your roster to a WR2 in a hurry.
Golden Tate, Detroit Lions (ADP: 80.2): Posted a 64-898-5 stat line with the defensive -minded, run-first Seattle Seahawks last season, but jumped ship during free agency to sign with an offense that has the potential to blow the door off the barn this year. With All-Pro Calvin Johnson drawing the attention of opposing No. 1 cornerbacks and constant double teams, Tate should find himself with very favorable 1 v. 1 matchups.
Robert Woods, Buffalo Bills (ADP: 161.6): With all the excitement surrounding first-round draft choice Sammy Watkins, don't forget about second-year man Woods, who caught 40 passes for 587 yards and three scores last season. Woods possesses the advantage of having played in head coach Doug Marrone's system for a year as well as having built a rapport with fellow 2013 rookie E.J. Manuel. WR3 production with WR2 upside for the cost of a WR6.
Kenny Stills, New Orleans Saints (ADP: 118.7): Oregon State rookie Brandin Cooks is garnering most of the sleeper attention in The Big Easy, but Stills is a big-play speedster who posted a 32-641-5 stat line last season despite limited playing time. But now that Lance Moore and Darren Sproles are gone, there are more snaps and targets to go around in New Orleans, which is why we're anticipating a solid season from Stills in 2014.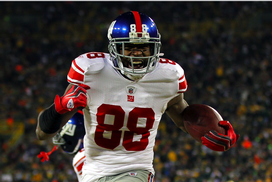 Playing on a one-year deal with the Colts, Nicks should have all the motivation in the world.
Hakeem Nicks, Indianapolis Colts (ADP: 103.9): Owners have soured on Nicks, and rightfully so following last year's bust of a season that included just 56 receptions and a whopping zero touchdowns. But the 26-year-old has the chance for a fresh start with Andrew Luck in Indianapolis and he's doing it on a one-year, $3.975 million contract, which means the motivation should be there to put up a big stat line in the hopes of a monster payday. Remember, despite the fact that he's telling the media he's ready to go, 35-year-old Reggie Wayne is coming off a torn ACL suffered in Week 7 last season.
DeAndre Hopkins, Houston Texans (ADP: 111.4): The future of Houston pass-catching, Hopkins is coming off a solid rookie year that included 52 receptions for 802 yards and two scores despite playing on a 2-14 squad that quit midway through the season. The Clemson product is a physical, precise route-runner who is ready to come into his own, assuming the quarterback situation in Houston can hold up for 16 games.
Marvin Jones, Cincinnati Bengals (ADP: 124.5): If Andy Dalton's ready to take the next step, Marvin Jones will be there waiting for him. After a 2012 rookie season that consisted of just 18 receptions, the California product burst onto the scene last year to post a 51-712-10 stat line. Week-to-week consistency is a bit of an issue, but Jones has the talent and upside to deliver some big time performances when given the opportunity.
Jordan Matthews, Philadelphia Eagles (ADP: 132.9) [KEEPER LEAGUE RECOMMENDATION]: It feels as if the Eagles got very big at the wide receiver position overnight thanks to the release of 5-10, 178-pound DeSean Jackson and drafting of 6-3, 212-pound Jordan Matthews. The Vanderbilt product hauled in 206 receptions for 2,800 yards and 15 scores over his final two years of college ball and should make a quick impact for the Birds when Philly gets inside the red zone. Consider this recommendation more along the lines of an investment. It may take some time for Matthews to grasp Chip Kelly's system, but once he does, look out.
Rueben Randle, New York Giants (ADP: 103.1): Last season featured the worst New York Giants team to take the field since 2004. Between Big Blue's uncharacteristically down year and the fact that wide receivers Victor Cruz and Hakeem Nicks were commanding most of quarterback Eli Manning's attention, Randle still found a way to catch 41 passes for 611 yards and six scores despite making only three starts. With Nicks out of the picture, a revamped offensive line and a motivated Eli Manning, we expect Randle to take the next step in his development this season while rewarding fantasy owners in the process.
TIGHT ENDS
Eric Ebron, Detroit Lions (ADP: 120.1): Extremely athletic with long arms and impressive speed, Ebron is a versatile tight end who dominated in the red zone at North Carolina last season and finished the year with 62 receptions for 973 yards and three touchdowns. The first tight end off the board in 2014 (tenth overall), the 21-year-old should benefit from the attention opposing defenses have to pay to All-Pro wide receiver Calvin Johnson and free agent acquisition Golden Tate. Ebron's red zone targets could be limited due to quarterback Matthew Stafford's love for Megatron, but this kid is going to make an impact during his rookie campaign.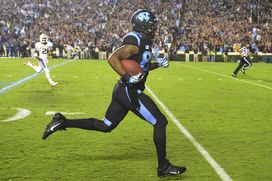 The Lions hope Ebron's outstanding college production continues into the professional ranks.
Ladarius Green, San Diego Chargers (ADP: 126.9): Antonio Gates is still on the roster which means that Green won't be an every down tight end like most of his counterparts around the league. But at 6-6, 240 pounds with reliable hands and the ability to get open down the seam, the 24-year-old is definitely going to improve on last season's stat line (17-376-3) while making a valid case for more snaps. Owners who decide to pull the trigger on this guy should invest in a decent TE2 just in case Gates makes a strong push early in the season.
Charles Clay, Miami Dolphins (ADP: 143.6): The upside here is relatively limited, but Clay did catch a career-high 69 passes for 759 yards and six touchdowns last season. Good TE1 option for owners in leagues with 12 or more teams and an overall solid value pick for everybody else.
Zach Ertz, Philadelphia Eagles (ADP: 113.8): Brent Celek turned 29-years-old in January and has watched his production drop off in each of the last two seasons. Meanwhile, Ertz posted a solid rookie campaign in 2013 catching 36 passes for 469 yards and four scores. The Stanford product fits ideally into what head coach Chip Kelly is trying to do in Philadelphia, so owners should anticipate more playing time for Ertz in what we believe will become a breakout season.
Greg Olsen, Carolina Panthers (ADP: 84.5): Quarterback Cam Newton lost 53.4 percent of last year's completed passes during the off-season due to the departures of wideouts Steve Smith, Brandon LaFell, Ted Ginn and Domemik Hixon. But the good news is that Carolina's leading receiver in 2013 (73-816-6) in Greg Olsen is back to lead the charge on offense. We all know that Newton loved looking this guy's way before, but expect the love affair to heat up in a hurry early in the season when the Panthers' star signal-caller gets little to no return on off-season acquisitions Jerricho Cotchery and Jason Avant.
DEFENSE/SPECIAL TEAMS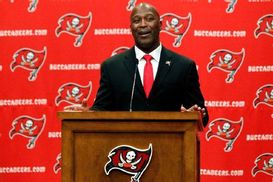 Lovie Smith will turn the Tampa defense around in a hurry.
Tampa Bay Buccaneers (ADP: 162.5): Based on ADP data to date, Tampa Bay is the 12th D/ST unit to fly off the board in mock drafts. We believe this squad has top-five potential and is being severely undervalued at the moment. Defensive-minded head coach Lovie Smith took over for Greg Schiano during the off-season and immediately put his stamp on the franchise with the acquisitions of pass rusher Michael Johnson (11.5 sacks in 2012) and cornerback Alterraun Verner (Pro Bowl in 2013), giving the Buccaneers one of the most talented defensive units in the league. Defensive tackle Gerald McCoy is entering a contract year and coming off back-to-back Pro Bowl nods, linebackers Lavonte David and Mason Foster are two rising stars at the position and defensive backs Mark Barron and Dashon Goldson have the potential to make up one of the best 1-2 safety punches in the league. Don't sleep on these guys in 2014.
New Orleans Saints (ADP: 165.1): DC Rob Ryan took the worst defensive unit in NFL history and turned it into the league's fourth-ranked squad that surrendered an average of just 19.0 points per game last season (fourth in NFL). With a year in the system and the healthy return of outside linebacker Victor Butler, not to mention the off-season acquisitions of CB Champ Bailey and Pro Bowl free safety Jairus Byrd, there's no place to go but up for the Saints this year. Ryan's implementing an attacking style of defensive play that should result in plenty of sacks and turnovers, much to the delight of fantasy owners.
Hit me up on Twitter: @JoeFortenbaugh