June 04, 2014 -
Joe Fortenbaugh
2014 SEC season win totals hit the board in Vegas
Eliminate the 7-6 record Alabama head coach Nick Saban posted during his first year in Tuscaloosa (2007) and you'll notice that the Crimson Tide went on to notch 11 or more victories in five of their next six seasons with college football's best coach at the helm. Alabama's current six-year run has been nothing short of spectacular, with three national championships and an overall record of 72-9 headlining the school's dominance.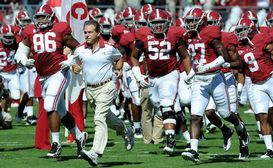 Will Saban and the Tide hit 11 regular season wins for the fourth consecutive year?
So if you're thinking that the Crimson Tide are headed for a fourth consecutive campaign with at least 11 regular season wins, or operate on the opposite end of the spectrum and believe Alabama is ripe for a regression, Las Vegas is ready to book your action.
CG Technology—the company formerly known as Cantor Gaming which operates Las Vegas sports books at The Palms, Venetian, Palazzo, The M Resort, Hard Rock, Tropicana, Cosmopolitan and Silverton—released their 2014 college football season win totals for the Southeastern Conference on Tuesday. Alabama opened at the top of the board at 10.5 wins, while Kentucky brought up the rear at 3.5 wins.
CG Technology's SEC season win total offerings are the first of any kind to hit the board in Sin City, with the exception of the win totals that were recently released by CGT for in-state schools UNLV (4) and Nevada (6).
Bettors can wager up to a maximum of $1,000 on CG Technology's SEC win totals. Additionally, bettors should take note that conference championship and bowl games are not included in the final total. These offerings apply strictly to the regular season.
Defending SEC Champion Auburn, who came less than 15 seconds away from winning the SEC's eighth consecutive BCS Championship last January, opened with a win total of 9.5. The Tigers take five road trips in 2014 (Kansas State, Mississippi State, Ole Miss, Georgia, Alabama) in addition to hosting conference contenders South Carolina and LSU.
I took a drive down to The Palms Wednesday morning to see if any of the lines on CGT's win totals had been altered since hitting the board on Tuesday. As of 9:00am pacific Wednesday, three adjustments had been made:
1. The Tennessee Volunteers have moved from 5 wins (over: -110, under: -120) to a total of 5.5 wins (over: -115, under: -115).
2. The over on Alabama's 10.5 wins has moved from -120 to -145.
3. The over on Mississippi's 7.5 wins has moved from -110 to -135.
2014 CG TECHNOLOGY SEC SEASON WIN TOTALS (Opening Numbers)
*Indicates regular season record only, which excludes conference championship and bowl games.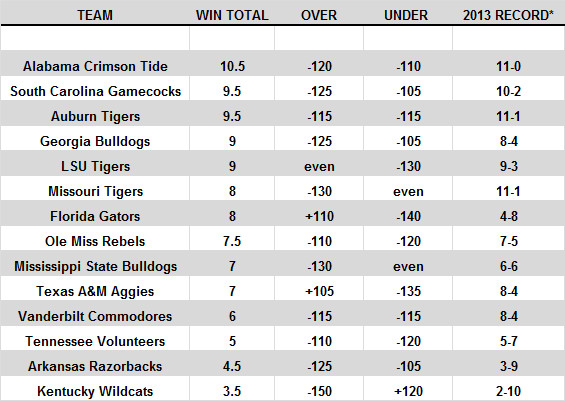 Hit me up on Twitter: @JoeFortenbaugh