October 25, 2012 -
Joe Fortenbaugh
25 busted in illegal gambling ring with ties to Las Vegas
25 individuals in five states were arrested and indicted on Wednesday in connection with an illegal sports betting operation that profited by more than $50 million over the course of an 18-month span.
Queens, New York District Attorney Richard A. Brown said that the investigation into the alleged gambling enterprise began in February of 2011 and uncovered evidence of a conspiracy by the defendants to illegally acquire money through the use of offshore sports books that accepted wagers online.
Search warrants and seizures executed in conjunction with the investigation that took place in New York, New Jersey, Pennsylvania, Nevada and California resulted in the seizure of over $7.6 million in cash and gambling chips.
Each of the 25 individuals arrested faces up to 25 years in prison if convicted on charges that include money laundering, conspiracy, promoting gambling and enterprise corruption.
One of the defendants—32-year-old Mike Colbert of Las Vegas, Nevada—is the Vice President of Cantor Gaming, which operates seven sportsbooks in Las Vegas including the Palms, Hard Rock, Cosmopolitan, Venetian, Palazzo, Tropicana and M Resort, where Colbert worked as the director of the property's race and sports book. As a result, the Nevada Gaming Control Board is now investigating Cantor Gaming to determine if the company committed any regulatory violations due to Colbert's actions.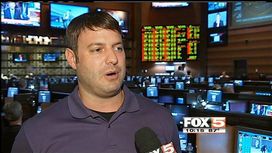 Cantor Gaming's Mike Colbert was arrested and charged with money laundering, conspiracy and enterprise corruption.
As first reported by the Las Vegas Review-Journal, Colbert was charged with conspiracy, money laundering and enterprise corruption and is alleged to have worked as an agent—someone who places bets at offshore sportsbooks on behalf of others—and a money collector within the conspiracy.
"The defendants are accused of operating an incredibly lucrative illegal gambling operation – taking in more than $50 million in a year and a half," said District Attorney Brown in the indictment that was handed down Thursday. "Such unlawfully earned profits are often—and easily—diverted to more insidious criminal enterprises. Illegal gambling is not a victimless crime. Those who participate in these criminal enterprises often use threats, intimidation and even physical force to collect debts and oftentimes charge usurious interest rates on outstanding debts."
In addition to Colbert, Brant England, Stanley Tomchin and George Molsbarger—owners of the offshore sports book PinnacleSports.com, which is based in Curacao—were arrested as part of the conspiracy.
Placing wagers at offshore sports books from within the United States is illegal. What happened here was that individuals were allegedly placing bets at PinnacleSports.com through agents like Colbert in an attempt to bypass U.S. laws.
Convening in Queens County, New York earlier this month, a grand jury returned a 259-page indictment that included 225 counts of money laundering, conspiracy, promoting gambling and enterprise corruption against the 25 defendants.
The events of the past 48 hours will no doubt provide plenty of ammo for those insisting that sports betting should remain illegal within the United States—with the exceptions of Nevada and Delaware, where sports betting is already permitted. But one could just as easily make a case using these arrests as a reason for why the government should relax its stance on sports wagering.
How much time and money do you think were spent over the course of the last year pursuing this investigation? And how much more will be spent in the prosecution of the 25 named defendants?
Rather than continuing to spend in an effort to prevent sports wagering within the United States, the government could legalize it, tax it and start making money, rather than spending it.
Hit me up on Twitter: @JoeFortenbaugh