July 26, 2012 -
Joe Fortenbaugh
3 big stories as told by 3 key stats
After posting Tuesday's marathon research project, I decided to scale back today's analysis to some key NFL metrics that have all told interesting stories over the past few years. I plan to get more in-depth with some of these statistics in the coming weeks, but for now, take a look at the numbers and let the information sink deep into your cerebrum, right past that fresh layer of Bud Light.
1. Yards per play: A popular metric among the stat geeks (guilty as charged) and professional bettors, yards per play average is an excellent indicator of an offense's explosiveness and big-play ability. The top-ten teams in yards per play average from last season combined to go 98-62 straight-up (.613) and 84-71-5 (.542) against the spread. Conversely, the bottom-ten teams in YPPA from 2011 went 65-95 (.406) straight-up and 74-78-8 ATS (.487). Also note that the last three Super Bowl winners (Giants, Packers & Saints) all ranked in the top-7 in YPPA in their respective championship seasons.
2. Fumbles lost: We explained on Tuesday the devastating consequences that come from being a team with a poor turnover differential. But within the turnover analysis there's still more work to be done. Most notably is the fact that fumbles are more costly than interceptions (more on this coming soon). For now, we went back over the last three seasons (2009-2011) and examined the straight-up and ATS records for the top-five (least amount of fumbles lost) and bottom-five (most amount of fumbles lost) NFL teams (per season) in fumbles lost.
Top 5 teams by season since '09: 156-84 SU (.650) and 135-99-6 ATS (.577)
Bottom 5 teams by season since '09: 104-136 SU (.433) and 100-137-3 ATS (.422)
The five best teams of 2011? That would be the 49ers, Saints, Patriots, Bills and Packers.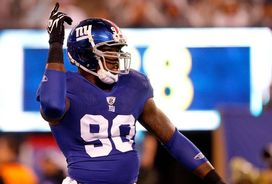 The Giants won the Super Bowl on the strength of a +20 sack differential, which tied for best in the NFL.
3. Sack differential: Take a team's total number of sacks and subtract their total number of sacks allowed. Due to its simplicity as well as the myriad of things this number tells us, sack differential is without question my favorite of all the nerd stats. I plan on going more in-depth with this metric in the coming weeks, but for now, let's compare the top-five and bottom-five NFL teams in sack differential from the 2011 season:
Top 5 teams: 46-34 SU (.575) and 41-34-5 ATS (.547)
Bottom 5 teams: 30-50 SU (.375) and 36-41-3 ATS (.468)
Top 5 teams: Giants, Bengals, Eagles, Ravens & Raiders
Bottom 5 teams: Seahawks, Bears, Rams, Jaguars & Cardinals
4. Betting the dog: No, you wouldn't have turned a profit taking the points with every single underdog. Despite being a popular topic of discussion that has held true on occasion in the past, a flat $100 bet at 11/10 odds on every dog of the 2011 campaign would have landed you $860 in the red, as the underdogs went 130-126-11 last year (includes postseason). The Kansas City Chiefs led the way for underdog backers, going a league-best 9-3 ATS as dogs in 2011.
HEISMAN TROPHY ODDS
We're closing in on the start of the 2012 college football season and that means it's time to start looking at Heisman Trophy futures. Bovada.LV has a solid list of players to choose from (see below) ranging from preseason favorite Matt Barkley (3/1) to Oklahoma wideout Kenny Stills (75/1).
Ten of the last 12 winners have been quarterbacks, eight of which played ball no further west than Big 12 country (Oklahoma, Baylor).
In your opinion, which of the players listed below is worthy of an investment one month prior to the start of the season? Arkansas signal-caller Tyler Wilson fits the above-mentioned criteria and comes at the reasonable price of 16/1, but does he have a realistic shot of capturing the country's most coveted individual prize?
Matt Barkley (QB, USC): 3/1
Montee Ball (RB, Wisconsin): 5/1
Denard Robinson (QB, Michigan): 11/2
Landry Jones (QB, Oklahoma): 7/1
Geno Smith (QB, West Virginia): 15/2
Aaron Murray (QB, Georgia): 15/1
Marcus Lattimore (RB, South Carolina): 15/1
Tyler Wilson (QB, Arkansas): 16/1
A.J. McCarron (QB, Alabama): 20/1
De'Anthony Thomas (RB, Oregon): 20/1
Rex Burkhead (RB, Nebraska): 25/1
25/1
Keith Price (QB, Washington): 30/1
Taylor Martinez (QB, Nebraska): 30/1
Robert Woods (WR, USC): 35/1
Tajh Boyd (QB, Clemson): 35/1
Tyrann Mathieu (CB, LSU): 35/1
Giovani Bernard (RB, North Carolina): 55/1
James Franklin (QB, Missouri): 60/1
Henry Josey (RB, Missouri): 75/1
Kenny Stills (WR, Oklahoma): 75/1
Malcolm Brown (RB, Texas): 75/1
Hit me up on Twitter: @JoeFortenbaugh