December 21, 2011 -
Barry Dorey
3 early point spreads to keep an eye on
Talk to anyone in Chicago this week and you'll hear more about Derrick Rose's new contract and the upcoming Bulls season than you will about the Bears.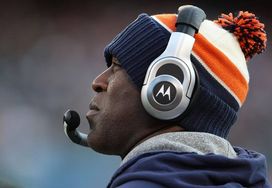 Four straight losses have the Bears reeling and the city of Chicago looking ahead to the NBA season.
Maybe it's because Lovie Smith's team has dropped four straight games after staring quarterback Jay Cutler went down with a thumb injury. Or maybe it has to do with the fact that Chicago travels to Green Bay on Christmas to take on an angry Packers team coming off their first loss of the season.
Either way, the response on twitter to the Bears opening as an 11.5-point underdog for their holiday clash at Lambeau has been overwhelming. Brad Biggs and I have been tweeting back and forth about the line all week and the feedback from Bears fans has been a cry to fade their hometown team.
"That's way too low."
"I need to convince my wife to let me put the mortgage on the Packers."
"The Packers are the pick. We can't score."
Stranger things have happened in the NFL, but with the Chicago-Green Bay line now sitting at GB -13.5, it appears as if it will take a Christmas miracle for the Bears to get the train back on the tracks.
But the Bears-Packers showdown isn't the only Week 16 game drawing attention. Here are three Saturday matchups we're keeping an eye on heading into the holiday weekend.
CLICK HERE to check out all of the lines for Week 16.
PHILADELPHIA EAGLES (6-8, 4-3 road) at DALLAS COWBOYS (8-6, 5-2 home)
Time: 4:15pm ET (Saturday)
Opening line: Dallas -3
Current line: Dallas -1.5
Current betting trends: 60% of the public is currently backing the Eagles.
Analysis: If the Eagles had lived up to expectations this season and were 10-4 heading into Week 15, what would the line be for this game?
You can bet your ass it wouldn't have opened Dallas -3.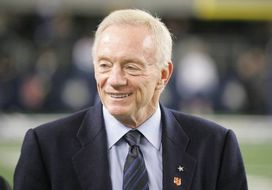 ICONDallas owner Jerry Jones isn't exactly thrilled to be playing the Eagles this weekend.
So after the Eagles' recent run of success, should we still view them as the same team that laid an egg at Seattle in Week 13?
Granted, Philadelphia is just 6-8 and has failed to meet the lofty hype that rained down after a late-summer spending spree, but this squad is playing outstanding football as of late. The Birds have posted 71 points and covered two straight spreads over their last two games and look poised to make one last run at an NFC East crown with just two weeks left to play.
Keep in mind that since 2000, Philadelphia is 36-13 (.734) in the month of December.
Tony Romo and the Cowboys are coming off an impressive win over a not-so-impressive Tampa Bay Buccaneers team last Saturday night, but the 'Boys are just 1-7 against the spread in their last eight games following a straight up win. Dallas is also 0-4 ATS in their last four games against NFC East opponents.
Meanwhile, the Eagles are 15-6 ATS in their last 21 road games against teams with a winning home record.
The pick: Eagles +1.5
ARIZONA CARDINALS (7-7, 2-5 road) at CINCINNATI BENGALS (8-6, 3-3 home)
Time: 1:00pm ET (Saturday)
Opening line: Cincinnati -5.5
Current line: Cincinnati -4
Current betting trends: 74% of the public is currently backing the Bengals.
Analysis: I've got some bad news for Bengals fans. Despite 74% of the action coming in on Cincinnati, this line has moved 1.5 points towards the Cardinals.
That's never a good sign, as this movement indicates that while the total number of bets being placed favor the Bengals, the majority of the money is coming in on Arizona.
This can likely be attributed to the fact that after a dreadful start to the season, the Cardinals have caught fire over the last few weeks. Arizona has won six of their last seven games and has covered the number in six of their last eight contests.
On the other side of the rock sits a Bengals team that is just 1-6 ATS in their last seven home games as a favorite of 3.5-10.0 and 0-4-2 ATS in their last six games overall.
Take note that the Cardinals are 8-1 ATS in their last nine games played on a Saturday.
The pick: Cardinals +4
MINNESOTA VIKINGS (2-12, 1-6 road) at WASHINGTON REDSKINS (5-9, 2-5 home)
Time: 1:00pm ET (Saturday)
Opening line: Washington -5.5
Current line: Washington -6.5
Current betting trends: 76% of the public is currently backing the Redskins.
Analysis: Credit the Washington Redskins for turning the corner and raising their game when they were given every opportunity to throw in the towel and call it a season. After a seven-game stretch in which the 'Skins scored 20 or more points only one time, Washington has won two of their last four contests and is averaging 23.2 points per game over their last five outings.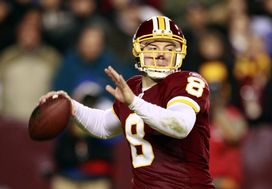 Rex Grossman and the 'Skins have figured out how to score over the second half of the season.
The early money is coming in on Mike Shanahan's squad and for good reason. The Redskins have covered the spread in four of their last five games and are 4-1-1 ATS in their last six games played in the month of December. Meanwhile, the Vikings have been downright awful this season, having cashed just one ticket for their backers over the last six weeks.
Take note that the Vikings are 5-13 ATS in their last 18 games played in the month of December and 5-12-2 ATS in their last 19 games as an underdog.
The pick: Redskins -6.5
Hit me up on Twitter: @JoeFortenbaugh