December 28, 2011 -
Joe Fortenbaugh
3 early point spreads to keep an eye on
Believe it or not, the final week of the 2011 NFL regular season is upon us. I'm not sure what comes as more of a surprise: the start of the postseason being just ten days away or the fact that I survived a season in Las Vegas without ending up in an anonymous hole out in the Nevada desert.
As you study the Week 17 lines, be sure to factor in the level of motivation that each team will be bringing to the table this Sunday. I'd love to believe that every NFL player will offer up his best effort considering they're being paid to do so, but plenty of these teams have already mailed it in and begun researching where to take their families on vacation.
If we can accurately predict which of these teams fall into that category, we may be able to turn enough of a profit to join them in the Caribbean.
CLICK HERE to check out all of the Week 17 lines.
TENNESSEE TITANS (8-7, 3-4 road) at HOUSTON TEXANS (10-5, 5-2 home)
Time: 1:00pm ET
Opening line: Tennessee -1.5
Current line: Tennessee -3
Current betting trends: 63% of the public is currently backing the Titans.
Interesting trend: The UNDERDOG is 11-5 against the spread in the last 16 meetings between these two teams.
Analysis: The Houston Texans are locked into the #3 seed in the AFC playoffs and have nothing to gain from a win this weekend. It's a shame, too, because had this team not chosen to lay down against the Panthers in Week 15 and the Colts in Week 16, they could have put themselves in position to secure a first-round bye. Limping into the postseason is never an attractive quality so don't be surprised if we write about the Texans being a one-and-done bust heading into the Divisional Round.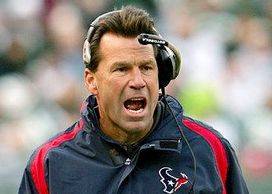 With a first-round bye no longer on the table, look for Gary Kubiak's Texans to shut it down on Sunday. Hell, this team couldn't beat the Colts when it mattered.
Believe it or not, the Titans can still qualify for postseason play with a win and a variety of help from around the AFC. With Cincinnati and Oakland playing later in the day, Tennessee can't officially be eliminated until the conclusion of the 4:00pm ET games, assuming they beat Houston. That's all the motivation this team should need.
The Texans have failed to cover the spread in two straight games and have no reason to show up for this game, but keep in mind the Titans are 1-4 ATS in their last five games against the AFC South and 2-5 ATS in their last seven games as a favorite.
The pick: Titans (buy the hook to -2.5)
TAMPA BAY BUCCANEERS (4-11, 1-6 road) at ATLANTA FALCONS (9-6, 5-2 home)
Time: 4:15pm ET
Opening line: Atlanta -10.5
Current line: Atlanta -12
Current betting trends: 85% of the public is currently backing the Falcons.
Interesting trend: The FAVORITE is 8-3 against the spread in the last 11 meetings between these two teams.
Analysis: This one comes down to which team wants it less.
The Buccaneers have lost nine straight games, are 2-10 ATS over their last 12 contests and—despite what some die-hard Tampa fans will tell you—have completely quit on the season. I guess that's what happens when you're coming off a fraudulent 10-win season expecting to contend for a playoff spot and then get punched in the mouth early in the year. Oh well. Better luck next year, Bucs.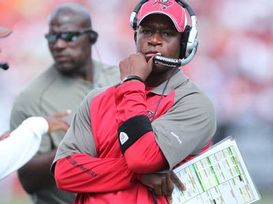 After nine straight losses, do you think Raheem Morris' Buccaneers have any plans to show up in Atlanta on Sunday?
<p> Meanwhile, the Falcons have already locked-up a wildcard spot despite getting lambasted 45-16 at New Orleans on Monday night. I'm sure Mike Smith's team would much rather travel to New York or Dallas for the opening round of the playoffs as opposed to New Orleans, but that decision likely won't be up to them. If the Lions beat the Packers at 1:00pm ET, Detroit will claim the #5 seed and the Falcons will be playing for nothing but pride.
So back to the question of the day: Which team wants it less?
I'd have to say Tampa Bay. The Buccaneers currently rank 31st in the NFL in turnover differential (-14), 30th in total defense (392.2 yds/gm) and third in penalties called against (143). That shows a complete lack of discipline and leadership. Couple that with the fact that a win wouldn't do anything to hurt Atlanta's playoff hopes and you get a team full of guys focused on which vacation spots they should hit starting next Monday.
The pick: Atlanta -12
CHICAGO BEARS (7-8, 2-5 road) at MINNESOTA VIKINGS (3-12, 1-6 home)
Time: 1:00pm ET
Opening line: O/U 39
Current line: O/U 41
Current betting trends: 75% of the public is currently backing the OVER.
Interesting trend: The OVER is 8-3-1 in the last 12 meetings between these two teams.
Analysis: After four miserable starts, the Chicago Bears finally pulled the plug on the Caleb Hanie experiment in favor of veteran journeyman Josh McCown. As a result, the Bears saw a nice uptick in offensive production:
4 games with Hanie: 11.75 pts/gm, 3.0 turnovers per game, 262.0 total yards/gm
1 game with Josh McCown: 21 points, 2.0 turnovers, 441 total yards of offense
As for Minnesota, it looks like the Vikings will make a switch at quarterback from the turnover-prone Christian Ponder to playmaker Joe Webb. In just two semi-legitimate appearances this season (Detroit, Washington), Webb has accounted for five total touchdowns and only one turnover. Even though this offense will be without Pro Bowl running back Adrian Peterson, Webb provides a spark that should lead to some points in a dome game that will feature pristine football conditions.
This total opened at 39 on Tuesday and was immediately bet up to 40.5 across the board. Take note that the OVER is 4-0 in the Vikings' last four games overall and 6-2 in the Bears' last eight games overall.
The pick: OVER 41
Hit me up on Twitter: @JoeFortenbaugh