December 07, 2012 -
Joe Fortenbaugh
3 NFL over/under picks for this Sunday
Since moving to Las Vegas 16 months ago, we've used this column to discuss several tricks of the trade for how to improve your overall winning percentage. The significance of shopping for the best numbers, the importance of bankroll management, the discipline to avoid making bad decisions when in the midst of a losing streak. These comprise just a few of the characteristics of the sharp sports bettor.
Before we jump into some Week 14 analysis, we're going to spend a few minutes discussing the importance of being organized—a hallmark of any successful businessman. If you're not keeping detailed logs of your various plays, how are you ever going to learn from your mistakes? Staying organized is this game is critical because it can sometimes shed light on which types of wagers produce more favorable results. If you're winning 6-point teaser bets 67% of the time but losing against the number on straight wagers 59% of the time, wouldn't it make sense to focus more of your attention on teasers?
Notebooks can get messy and not everyone is proficient in some of the finer points of using an excel spreadsheet, which is why we wanted to bring to your attention a new app that just hit the market called Bettor's Sidekick. Created by our friend Warren Sharp from the website Sharp Football Analysis.com—who was also kind enough provide us with today's over/under analysis—Bettor's Sidekick is a great organizational tool that will help you keep track all of your plays.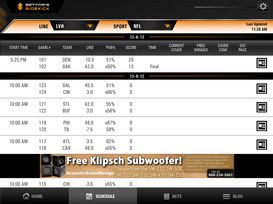 A look at the Week 14 odds from LVH on Bettor's Sidekick.
You'll have the ability to examine the lines from four different sports books, check out which teams are taking the most money and keep track of all of your wagers, among a variety of other things. There's also a blog with updated sports betting information and a leader board to see how you stack up against the rest of the users.
While professional and college football are the only two sports on the app at the moment, NBA and college hoops are on their way and baseball will be added in the spring, among a plethora of other sports. Bettor's Sidekick also offers information on both the weather and current injuries for each game posted.
We've had some fun playing with this app over the last few weeks and encourage you to give it a try and let us know what you think. The app is free, but for $4.99 you can unlock a host of additional features designed to help you enjoy the experience even more.
CLICK HERE to check out Bettor's Sidekick.
Kansas City Chiefs (2-10, 1-4 road) at Cleveland Browns (4-8, 3-3 home)
When: Sunday, 1:00pm ET
Open: O/U 37
Current: O/U 37.5
Sharp analysis: "Cleveland games have gone over the total just three times all year and these came way back in the early part of the season, when the Browns were consistently losing to teams like the Giants and the Bengals (twice). So aside from the battle of Ohio, their only game to go over the total came against the Giants.
Since 2011, when the Browns are at home and face any team other than the Bengals, the under is 10-1, going under an average total of 39 by 10 points per game.
This team now seems to have a formula for winning: Score 20 points and hold the opposition to less than 20 points. The Chiefs may oblige, as they've scored fewer than 20 points in seven of their last eight games and I don't expect their emotional performance and offensive output from last week to carry over to this game in Cleveland. The Chiefs are coming off three straight home games and I don't see Quinn playing as well or as comfortable in Cleveland on Sunday.
Last but not least, these offenses each rank in the bottom-3 inside the red zone and bottom-6 on third downs. Translation: Field goals and punting, which is not exactly a recipe for an over unless we see some explosive plays. But neither offense is significantly better than either defense in that area."
Arizona Cardinals (4-8, 1-5 road) at Seattle Seahawks (7-5, 5-0 home)
When: Sunday, 4:25pm ET
Open: O/U 35
Current: O/U 35.5
Sharp analysis: "I gave the over to my clients at 34.5 and would still take it at 35.5, though I'd prefer no worse than 35 if you can find it. I view Skelton as a big upgrade over Lindley. Even though you may argue that the team didn't fare well under Skelton, remember that in his starts, Arizona beat Seattle and then lost to Minnesota, San Francisco and Green Bay. None of those teams have a losing record and two are virtual locks for the postseason with Seattle battling for a wildcard spot.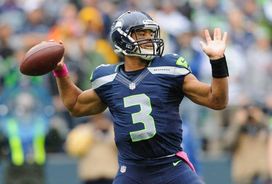 Russell Wilson and the Seahawks are scoring an average of 24.6 points per game in home contests this season.
As compared to the rookie Lindley, Skelton has a better passer rating, better yards per attempt average, better TD-INT ratio and better completion percentage.
People keep looking at the Cardinals as a big defensive team, but since the last week in October, this team has allowed 24, 31, 23 and 31 points prior to the Jets scoring just seven last weekend. That's an average of 27 points per game.
Seattle is a team that started out the year with five straight unders while holding their opponents to just 14 points per game. But since that time, the Seahawks have gone over in five of seven starts. Their offense is really clicking—converting a league best 88% in the red zone over the last three weeks—and since their final game in October, Seattle is scoring an average of 25 points per game.
34.5 was the absolute lowest total for either of these teams this year and it was almost entirely because of what we saw last week: The Cardinals played a rookie quarterback in only his second start on the road against a decent defense, whose offense stinks as well. So there was no offense and very few points scored.
The Seahawks haven't seen anything close to this kind of total at home, as their previous lowest home total since 2009 was 37. And since 2007, if Seattle's home total is less than 39, overs are 8-1, going over by 9 points per game."
New Orleans Saints (5-7, 2-4 road) at New York Giants (7-5, 4-2 home)
When: Sunday, 4:25pm ET
Open: O/U 53.5
Current: O/U 53
Sharp analysis: "Since last season, when the Saints play a team with a losing record on the road, the over is 6-1-1, going over by an average of four points per game on an average total of 51. But when they play a team at or above .500, New Orleans hasn't had a single game go over: 5-0 to the under, going under an average total of 51.5 by 8 points per game. This includes unders at Denver and at Atlanta this season.
The Giants have gone under the total in four straight games and have only gone over three times all season. New York has scored two or fewer touchdowns in five of their last seven games and their field goal kicker (Lawrence Tynes) leads the NFL in scoring.
Last week, quarterback Drew Brees threw five interceptions on the road. In addition, the New York run defense ranks 21st in the league and allows 4.6 yards per carry (25th). I see the Saints working hard to establish a run ga me. The Giants should do the same, as the Saints are dead last in yards per carry average (5.1 YPC) and have the 27th-ranked defense in terms of run efficiency. As such, I see both teams running the ball a bit more than normal. Take note that this is a late game in New York in December. It could be rainy."
Follow Sharp Football Analysis on Twitter: @SharpFootball
CLICK HERE to check out Warren's website.
Hit me up on Twitter: @JoeFortenbaugh
CLICK HERE to check out Bettor's Sidekick.