July 28, 2011 -
Barry Dorey
3 teams in the hunt for Darren Sproles
Having spent four years playing behind future Hall of Famer LaDanian Tomlinson in San Diego, Darren Sproles isn't exactly a household name.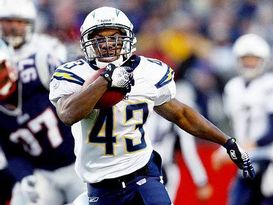 Three high-powered offenses with three good quarterbacks are after Darren Sproles.
But that doesn't mean a guy with his speed and elusiveness is going to go unnoticed on the open market.
Kevin Acee of the San Diego Union-Tribune is reporting that the race to land Sproles' services is down to three teams: New Orleans, Philadelphia and Sproles' old team, San Diego.
Considered by some to be too small (5-6, 190) to carry a heavy workload, the 28-year-old from Kansas State is a dynamic, dual threat back who has hauled in 104 passes over the last two seasons while averaging an impressive 4.6 yards per carry for his career.
If Sproles does land with one of those three aforementioned teams, we have a feeling he'll fit in nicely. After all, Philly, San Diego and New Orleans all ranked in the top-six in total offense last season.
Hit me up on Twitter: @JoeFortenbaugh