March 04, 2011 -
Joe Fortenbaugh
3 teams that can't miss in the first round
"Stay true to your board and select the best player available."
How many times have you heard the preaching of this draft philosophy over the past few weeks? NFL experts and analysts alike are constantly advocating that teams must draft the best player available in order to avoid reaching or overpaying. But how practical is this approach?
Think about it: If Cam Newton falls to the Lions at No. 13 and he's the top-rated prospect on their board at that moment, should they pull the trigger?
The answer is no, because the Lions already employ Matthew Stafford and have several other positions that require improvement.
A team's draft strategy has to incorporate a component for need. That's not to say that NFL front offices should employ a "tunnel vision" approach and only target the positions they need to upgrade. Far from it. But there are situations that occur in every draft that require teams to become a bit more liberal in their approach and incorporate more than just the "best player" concept into their selection process.
Below are three teams that can't afford to miss in the first round of the 2011 draft. Which players do you think these three organizations should be targeting?
CAROLINA PANTHERS
Pick: #1 Overall
2010 Record: 2-14
Team Needs: QB, WR, DL
ICONWith only one pick in the first two rounds, should Carolina take a chance on Newton?
With only one draft pick in the first two rounds, new head coach Ron Rivera can't afford to miss on the first overall selection, which raises an important question: Do the Panthers throw in the towel on Jimmy Clausen and look for a new franchise signal-caller, or does Rivera play it safe and land a bona fide Day 1 starter?
The former San Diego defensive coordinator could choose to hitch his wagon to Cam Newton, but that decision may prove disastrous if the Auburn quarterback doesn't provide a serious ROI within the next three years. Having spent the majority of his 2010 season playing from the shotgun in a spread offense, scouts and personnel executives recognize the fact that it will take time to develop Newton into a pro-style quarterback.
Time, however, is a luxury most NFL coaches are not afforded.
March Prediction: Rivera stays true to his heart and addresses the defensive side of the football with the first overall pick. With only one selection in the first two rounds, the Panthers must acquire a player that can come in and contribute in Week 1. Nick Fairley, Marcell Dareus and Patrick Peterson all fit the bill.
BUFFALO BILLS
Pick: #3 Overall
2010 Record: 4-12
Team Needs: QB, OL, DL, LB
The 2010 selection of Clemson running back C.J. Spiller is a perfect example of why "drafting the best player on the board" isn't always the soundest philosophy. With running backs Fred Jackson and Marshawn Lynch already on the roster, the Bills missed a golden opportunity to upgrade a defense that has ranked 27th or worse in sacks in three of the last four years. Not only that, but Spiller gave the Bills just 440 yards of offense and one touchdown in 2010. Having posted five-straight losing campaigns entering last season, Buffalo needed more out of that top-ten pick.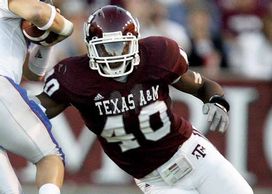 Von Miller would be a big upgrade for a shaky Buffalo pass rush.
Some experts think the Bills should be looking for a quarterback at No. 3, but Ryan Fitzpatrick did a respectable job running the offense last season and should prove serviceable enough to get head coach Chan Gailey through another year.
Before the Bills can start thinking about winning the AFC East, they have to figure out how to beat a Patriots team that has come away victorious in the last 15 meetings between these two franchises. During that stretch, quarterback Tom Brady is 13-0 with a QB rating of 111.5.
The time is now for the Bills to acquire a player that can help neutralize Brady.
March Prediction: Matt Bowen has been chewing my ear off for weeks about what should happen at No. 3 and I absolutely concur: Von Miller is the pick. The outside linebacker from Texas A&M is a perfect fit for the Bills' 3-4 defense, can start in Week 1 and will help bolster a pass rush that has been virtually non-existent for the last half decade.
HOUSTON TEXANS
Pick: #11 Overall
2010 Record: 6-10
Team Needs: Defense
The time is now for the Houston Texans to make their move. The Colts are getting older, the Titans are rebuilding and the Jaguars are still the Jaguars. 2011 will offer Houston a legitimate opportunity to win the AFC South and earn their first playoff berth since entering the league back in 2002.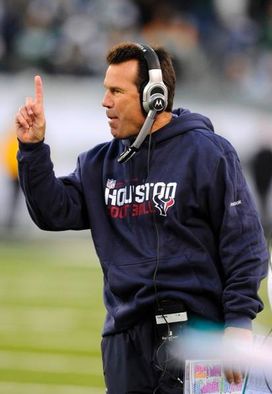 ICONKubiak already has an explosive offense.
However, to claim that coveted spot in the NFL postseason, the Texans have to be thinking defense first, second, third and fourth in this year's draft. Matt Schaub and Andre Johnson have provided the foundation for a Houston attack that has ranked in the top-four in total offense in each of the past three seasons, while the emergence of Pro Bowl running back Arian Foster in 2010 helped this team to achieve a very dangerous blend of aerial and all terrain firepower.
The other side of the football, however, is a completely different story. The Texans ranked 30th in total defense last season and gave up an average of 26.7 points per game (29th in NFL). In addition, the team went from 18th in pass defense in 2009 (217.9 yds/gm) to dead last in 2010 (267.5 yds/gm) after losing cornerback Dunta Robinson to free agency.
Pass rushers and cornerbacks need to be the focal point of this year's draft.
March Prediction: Cam Jordan (DE, California), Robert Quinn (DE, North Carolina) and Prince Amukamara (CB, Nebraska) all make sense here. With two selections in the first 42 picks, Houston needs to target defenders who can come in and contribute immediately in Wade Phillips' new defense. Time is running short for head coach Gary Kubiak, so he needs to make the most of this year's draft.
Hit me up on Twitter: @JoeFortenbaugh