July 03, 2013 -
Joe Fortenbaugh
30 college football season win totals hit the board in Vegas
An additional 30 college football betting propositions made their way into the Vegas market on Tuesday when local sports book Cantor Gaming became the first shop in town to post CFB season win totals.
Most of the big names are featured, but take note that more options will be posted in the coming weeks. For now, let's preview the lines that are currently available.
*Thanks to our friends at Beyond the Bets.com for the heads up on Cantor's release.
CANTOR GAMING 2013 COLLEGE FOOTBALL SEASON WIN TOTALS
Louisville Cardinals (11 Over: even, Under: -130): An 11-2 season from a year ago that was capped off with a convincing 33-23 victory over Florida in the Sugar Bowl has many a prognosticator predicting big things for the Cardinals in 2013. Heisman contender Teddy Bridgewater is back under center for his third campaign, bringing along his 160.5 QB rating from a year ago (11th in the country). 14 starters return and the schedule looks ripe for the picking, but just one loss means that over backers won't do any better than a push.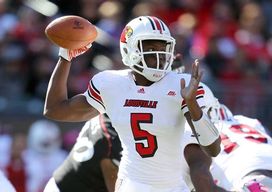 Quarterback Teddy Bridgewater has his eyes set on the national championship game.
Oregon Ducks (11 Over: +115, Under: -145): The only team in the country to average over 300 passing yards and 200 rushing yards per game in 2012 begins the post-Chip Kelly era with a relatively soft schedule that features just one road contest (at Virginia, September 7) prior to the month of October. USC isn't on the schedule this season, but a November 7 showdown at Stanford looms large. Again, one loss here and the best over bettors can do is hope for a push.
Alabama Crimson Tide (10.5 Over: -220, Under: +180): The back-to-back defending champs return 14 starters from last year's 13-1 squad. Head coach Nick Saban has posted a 63-12 regular season mark (.840) during his six campaigns in Tuscaloosa, with four of the last five years featuring 11 or more wins. Key showdowns on the 2013 schedule include a road trip to play Texas A&M on September 14 and a home date with rival LSU on November 9.
Ohio State Buckeyes (10.5 Over: -195, Under: +165): Junior signal-caller Braxton Miller experienced a significant uptick in production and efficiency thanks to the arrival of new head coach Urban Meyer, who went 12-0 amidst NCAA sanctions in his first year on the job. This season's schedule sets up nicely for the Buckeyes, with the finale at Michigan once again serving as the marquee matchup.
Florida State Seminoles (10 Over: -130, Under: even): Hard to back the 'Noles for 10 or more wins in 2013 with daunting road matchups at Clemson (October 19) and in-state rival Florida (November 30), not to mention the fact that this team is capable of producing a clunker, as was demonstrated in a 17-16 loss at 7-6 N.C. State last season. Take note that only four defensive starters return to a unit that ranked in the top-6 nationally in scoring, rushing, passing and total defense in 2012.
Clemson Tigers (9.5 Over: -120, Under: -110): Wide receiver DeAndre Hopkins is gone, having been selected in the first round of April's NFL draft by the Houston Texans. But quarterback Tajh Boyd, wideout Sammy Watkins and four of five offensive line starters are back for what some believe could be a legitimate run at a spot in the national championship game. That is, if the Tigers can emerge victorious from the season-opener against Georgia and successfully run a gauntlet that also features big-time showdowns with Florida State (home, October 19) and South Carolina (road, November 30).
Georgia Bulldogs (9.5 Over: -150, Under: +120): Eight starters return on offensive including senior quarterback Aaron Murray, who has already appeared in 41 games during his three seasons in Athens. But this bet is not for the faint of heart. Betting on or against the Bulldogs in 2013 means that you'll be glued to the television for three of Georgia's first four games, which come against Clemson (road, August 31), South Carolina (home, September 7) and LSU (home, September 28). Good luck.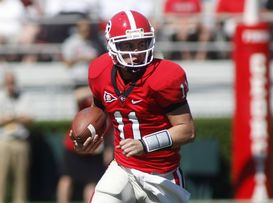 Aaron Murray and the Bulldogs hit the market with a win total of 9.5.
South Carolina Gamecocks (9.5 Over: -115, Under: -115): Head coach Steve Spurrier has reached the 10-win mark in each of his last two seasons at South Carolina and has to be excited for the return of quarterback Connor Shaw, who has completed 65.4% or more of his passes in each of the last three years. Should the Gamecocks make it through October unscathed, the team will enter the month of November staring down the barrel of four home dates to close out the season (Mississippi State, Florida, Coastal Carolina, Clemson).
Texas A&M Aggies (9.5 Over: -125, Under: -105): What do head coach Kevin Sumlin, quarterback Johnny Manziel and the Aggies have planned for an encore after becoming the first team in SEC history to surpass 7,000 total yards in a season? A home date on September 28 with an Alabama team that is out for revenge will be the first big test of the season and the November 23rd road trip to Baton Rouge could prove extremely crucial to the betting line late in the year.
USC Trojans (9.5 Over: even, Under: -130): Lane Kiffin couldn't coach his way out of a golf cart, but that didn't stop the Trojan boss from canning his father and defensive coordinator Monte in the wake of last year's disastrous 7-6 campaign. 15 starters are back in the fold and over bettors have the added bonus of a 13-game regular season, but it's tough to feel confident supporting a team that, while talented, will never possess a strategic or game management edge over the competition.
Notre Dame Fighting Irish (9 Over: -110, Under: -120): Starting quarterback Everett Golson has been suspended for the fall term due to "poor academic judgment" and will be replaced by senior signal-caller Tommy Rees. But the real question here is how much stock can we place in last season's 12-1 campaign? Notre Dame squeaked by lackluster competition in 2012 (Purdue, BYU, Pittsburgh) and got lucky in their home win over Stanford. I'm leaning to the under in this spot.
UNLV Rebels (3 Over: -200, Under: +170): The Rebels have gone a dismal 6-32 in their three years under head coach Bobby Hauck and have lost 22 consecutive road contests dating back to 2009. But with 14 starters set to return and a schedule that features home dates with Central Michigan, Western Illinois and Hawaii, there are some in town who believe that these Mountain West doormats could finally break through with a 4-win season in 2013. Progress!
THE REST
Arizona State Sun Devils: 8 (Over: -135, Under: +105)
Boise State Broncos: 9.5 (Over: -105, Under: -125)
Florida Gators: 9 (Over: +110, Under: -140)
Fresno State Bulldogs: 10 (Over: -115, Under: -115)
LSU Tigers: 8.5 (Over: -115, Under: -115)
Miami Hurricanes: 8.5 (Over: -135, Under: +105)
Michigan Wolverines: 8.5 (Over: -110, Under: -120)
Michigan State Spartans: 8.5 (Over: -135, Under: +105)
Nebraska Cornhuskers: 9.5 (Over: -115, Under: -115)
Nevada Wolf Pack: 6. 5 (Over: +155, Under: -185)
Oklahoma Sooners: 8.5 (Over: -135, Under: +105)
Oklahoma State Cowboys: 9.5 (Over: -115, Under: -115)
Stanford Cardinal: 9.5 (Over: -115, Under: -115)
TCU Horned Frogs: 8 (Over: -125, Under: -105)
Texas Longhorns: 9.5 (Over: -125, Under: -105)
UCLA Bruins: 7 (Over: -125, Under: -105)
Virginia Tech Hokies: 8.5 (Over: -115, Under: -115)
Wisconsin Badgers: 9 (Over: -115, Under: -115)
Hit me up on Twitter: @JoeFortenbaugh