May 09, 2014 -
Joe Fortenbaugh
32 down…
It took just under four Aloe Blacc-saturated hours to complete the first round of the 2014 NFL draft. That may seem like quite a while to some of you, but it's really nothing more than a 40-yard dash when compared to the four months and nine minutes it took the Houston Texans to pull the trigger on a guy we all predicted to go first overall more than a year ago after he decapitated some poor bastard in the Outback Bowl.
Seriously, Houston? Did you really need to run the entire clock on the first pick just to wind up with Jadeveon Clowney after all? Nobody was willing to trade 28 first round picks and a conditional fourth-rounder in 2019 for your spot. Turn in the card and let's get on with it.
Houston's retirement home pace aside, let's take a look at some of the other big storylines from Day 1 before Day 2 commences and Jon Gruden starts gushing over Johnny Manziel again.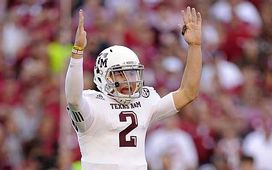 US PRESSWIRENext stop on the Johnny Manziel Tour: Cleveland.
1. For the third time in the last eight drafts, the Cleveland Browns selected a quarterback in the first round. After busting out with Notre Dame's Brady Quinn in 2007 and Oklahoma State's Brandon Weeden in 2012, the Browns used the second of their two first-round picks (No. 22 overall) on 2012 Heisman Trophy winner Johnny Manziel. At some point this fall, Manziel will become the 13th quarterback to start a game for the Browns since 2007, an astonishing statistic when you consider the fact that division rivals Pittsburgh, Baltimore and Cincinnati have started a combined total of just 11 quarterbacks during that same time span. Johnny Football will have the luxury of throwing to Pro Bowl wide receiver Josh Gordon on Sundays, but you can't help but wonder what this offense would have looked like if Cleveland had snagged Clemson wideout Sammy Watkins or Texas A&M pass-catcher Mike Evans—Manziel's collegiate teammate—with the fourth overall pick rather than trading back with the Buffalo Bills and opting for Oklahoma State cornerback Justin Gilbert.
2. Speaking of Evans, the 6-5, 231-pound future red zone assassin landed in Tampa Bay at pick No. 7. This Buccaneers team has the chance to be very scary next season with an offense that features Evans and Pro Bowler Vincent Jackson at the wide receiver positions and dual-threat running back Doug Martin lining up in the backfield behind Chicago castoff Josh McCown. McCown may not be a star, but he knows what it takes to protect the rock and move the sticks. And with the defense that will be backing him up on Sundays (FANTASY ALERT!), McCown and the Bucs won't need to score 35 points a game to win.
3. On the clock at pick No. 14, the Chicago Bears were in desperate need of a safety but had the luxury of knowing Pro Bowlers Tim Jennings and Charles Tillman were still on the roster to lock down the cornerback positions. So with every possible safety prospect still on the board, the Bears went out and drafted Virginia Tech cornerback Kyle Fuller. Nothing against Fuller, but how many impact snaps will you get out of this guy in 2014 as opposed to what would have come from landing Alabama safety Ha Ha Clinton-Dix or Louisville safety Calvin Pryor?
4. Ditto for the Tennessee Titans, who had—and still have—pressing needs all over their roster. With former Raven Michael Oher and nine-year veteran Michael Roos—who has started 143 of a possible 144 regular season games during his career—expected to start at the tackle positions this season, the Titans passed up on wide receivers, cornerbacks and every other position imaginable to select another offensive tackle in Michigan's Taylor Lewan. Good prospect, questionable selection.
5. Pittsburgh Panthers stalwart defensive tackle Aaron Donald "slipped" to the St. Louis Rams at No. 13. For those scoring at home, Jeff Fisher now has a defensive line that will feature the best interior defensive lineman in the 2014 draft, a freak DE who notched 19.0 sacks last season (second in NFL) in Robert Quinn and ultra-durable Chris "Son of Howie" Long. I can't wait for the first time this unit goes head-to-head with Marshawn Lynch.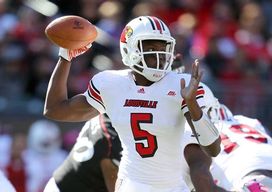 Bridgewater slipped into the first round at the last possible moment.
6. Slick work by the Minnesota Vikings trading back into the first round Thursday night (No. 32 via Seattle) to land Louisville quarterback Teddy Bridgewater. A three-year starter at Louisville who completed a staggering 68.4 percent of his career attempts with the Cardinals, Bridgewater is headed for a positional battle with 2011 first round pick Christian Ponder and Kansas City flame-out Matt Cassel. That competition should last all of 3.761 seconds before Mike Zimmer gives Teddy B the keys to the car. Minnesota GM Rick Spielman deserves a round of applause on two fronts for this move. First, by landing the franchise's quarterback of the future in the first round, the Vikings will own the rights to Bridgewater for five years (fifth-year option) instead of four, and second, it blocked the Houston Texans—who own the first pick in the second round—from having a shot at Bridgewater Friday evening. I'm sure the Vikings front office slept well Thursday night.
7. The Dallas Cowboys bypassed Johnny Manziel at pick No. 16, instead opting for Notre Dame offensive lineman Zack Martin. Martin is a severely underrated prospect, but I'm not sure how he helps a franchise that ranked dead last in total defense (415.3 yds/gm) and 26th in scoring defense (27.0 pts/gm) last season…and that was with pass rusher DeMarcus Ware, who signed with the Denver Broncos in March.
8. I really don't care whether it's ESPN or the NFL Network. Truth be told, I'll watch whichever broadcast is closest to the channel on which my television resides prior to the start of the draft. This year found me riding with the "Worldwide Leader," which commenced its draft day coverage with a debate over what Houston should do with the first overall selection. With the Texans on the clock, Jon "I love every quarterback I've ever worked with" Gruden, Ray "Former linebacker who recommends taking a linebacker" Lewis and Mel Kiper argued the various avenues available to the Texans at slot No. 1. Gruden pushed hard for Texas A&M signal-caller Johnny Manziel, Lewis professed his love for Buffalo linebacker Khalil Mack and Kiper backed South Carolina pass rusher Jadeveon Clowney. To me, this was a problem. Any schmuck with half a brain and a pair of sweatpants knew Clowney was the play. So either Gruden and Lewis were completely clueless as to what was about to transpire, or they were debating for debate's sake by backing an opinion in which they truly didn't believe. I'm not sure which it was, but opening your coverage with two of three analysts swinging and missing isn't exactly the best way to kick-off a broadcast.
9. On the flip side, ESPN no longer jams a camera into the face of an emotional prospect on the phone with his brand-new employer five minutes before the actual pick is announced. For those who like a little drama and suspense on draft day, this is big plus. And kudos to reporter Adam Schefter, who didn't feel required to report the earth-shattering news of which player was going where 20 seconds before Goodell hit the podium. Schefter already breaks 90 percent of all the NFL&r squo;s wheelings and dealings. He doesn't need to sneak a glance at the card and then share it with the world two sips of beer before it becomes public knowledge.
10. For the second straight year the first round concluded without the selection of a single running back…raw FSU wideout Kelvin Benjamin (Carolina) came off the board before polished USC standout Marqise Lee…Derek Carr is still available…the Jaguars need to acquire Blake Bortles some weapons…the Lions got better on offense with the addition of TE Eric Ebron, but that wasn't the problem in Detroit…Green Bay got excellent value in FS Ha Ha Clinton-Dix and the same can be said about Cincinnati in regards to CB Darqueze Dennard…Look out for Brandin Cooks in New Orleans.
Hit me up on Twitter: @JoeFortenbaugh