July 26, 2011 -
Barry Dorey
49ers, Alex Smith reach agreement
It looks like the Colin Kaepernick era in San Francisco may be on hold for just a bit.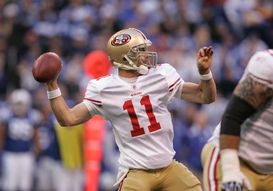 ICONAlex Smith is getting one last shot.
According to ESPN.com, the 49ers and veteran quarterback Alex Smith reached an agreement Tuesday on a one-year contract worth approximately $5 million.
Smith was the first overall selection in the 2005 NFL draft but has yet to live up to the billing. After five professional seasons in San Francisco, the former Utah standout has a career record of just 19-31 with QB Rating of 72.1.
Granted, Smith took a small step forward in 2010, but he completed only 59.6% of his passes and threw 10 interceptions to just 14 touchdowns.
While he may turn it around under new head coach John Harbaugh, we have a feeling Smith is being brought back solely to serve as a temporary stopgap before second-round pick Colin Kaepernick is ready to take over.
Would you have brought back Alex Smith? Let us know in the NFP Forums!
Hit me up on Twitter: @JoeFortenbaugh